Next fall, electric scooters could come to the University of Kansas, pending approval from the Lawrence City Commission.
The new e-scooters would come from VeoRide, the company the University uses for its bike sharing program. The process to access an e-scooter would be the same as for bikes, and students will not have to download another app. Money students deposit into the app can be used for either mode of transportation.
"In close range, we have e-scooters in Kansas City, and seeing how well the bikes have been doing with students using them, it seems like a natural progression to bring e-scooters to campus," student body president Tiara Floyd said.
The University would be the first school in Kansas to implement the scooters, according to Floyd. Spencer Dickerson, a general manager for VeoRide, said putting e-scooters on the University's campus is especially important for him because it will help the scooters' success.
"KU is an incredibly important market for me specifically. This is where my home is. This is where my office is. This is where I lead our team of fleet technicians directly," Dickerson said. "I lead a number of other markets remotely, but this one is my home and I have a vested interest in its success."
Dickerson believes e-scooters will positively impact the University in many ways, but the two major perks relate to parking and enrollment because the scooters will be attractive to prospective students.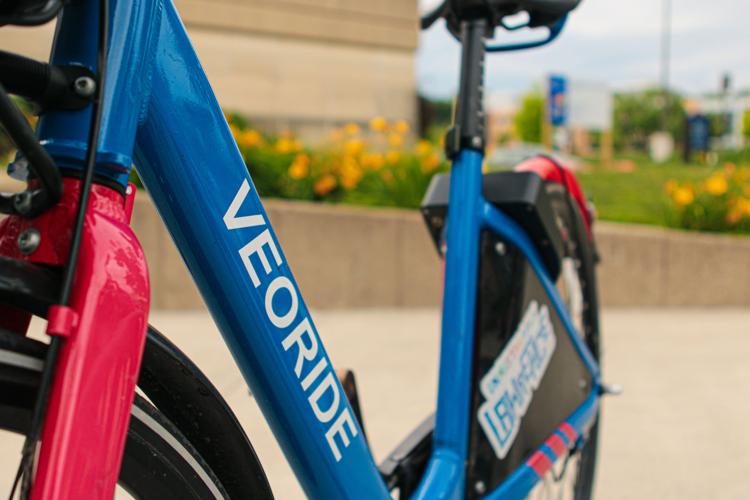 "Parking is notoriously difficult at KU, and the Parking and Transit Department is always looking for alternatives to cars for students," Dickerson said. "We are also providing students with increased mobility, and I like to say that mobility is freedom."
Though the e-scooters could be seen as an exciting feature, there are certain risk factors. The Center for Disease Control is studying e-scooter injuries because they are so extensive, according to CNBC.
Conner Titsworth is the social media content manager for the University of Michigan, where e-scooters are a popular product on campus. He said safety was an issue on campus because the speed was not regulated on the scooters; they would simply ride at top speed at all times.
Floyd said the University is seriously considering safety in talks about the e-scooters, and that VeoRide's safety stands apart from the competition because they are made for heavy wear such as hills.
"The main priority in my conversations with everyone I've been discussing this with is safety," Floyd said.
Other concerns include overcrowding and improper parking, but both Floyd and Dickerson said they had explored these concerns and were actively working to address them.
As far as overcrowding goes, Dickerson said some bikes would be taken out of rotation and donated to low-income communities. His plan is to have 150 e-bikes, 150 pedal bikes and 150 scooters in total. He also believes improper parking will not be an issue because scooters are rented so frequently.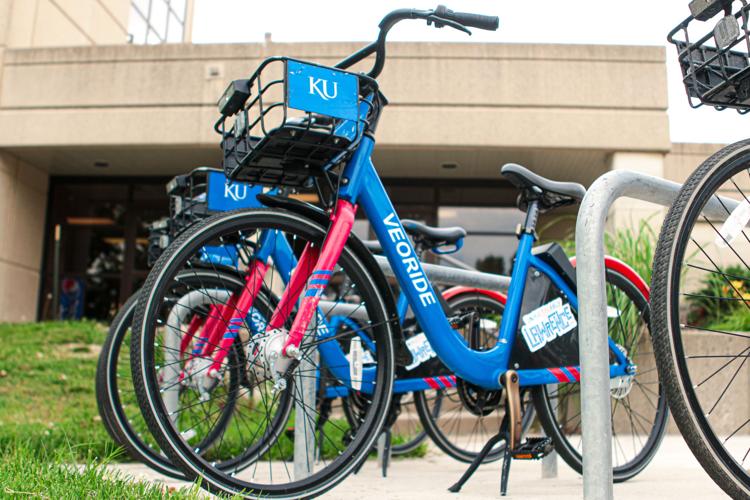 The final major concern, however, has to do with increased traffic on busy roads such as Jayhawk Boulevard. According to Titsworth, this was another issue for the University of Michigan.
"The big issues were with where [people] are allowed to ride the scooters," Titsworth said. "That was the big push that they made last fall … are these a motorized vehicle that needs to be ridden in the street? Are they allowed on sidewalks? The answer was kind of 'no' to both of those, so [the question was] what to do with them."
Whether the e-scooters will come to campus is still ultimately up to the Lawrence City Commission.
VeoRide made a formal request the city implement an electric scooter service. On June 4, the Lawrence City Commission decided to refer VeoRide's request to the city's Transportation Commission for review and recommendation.
The Transportation Commission meeting with take place on July 1 in City Hall, according to Dickerson. The meeting is open to the public and students can voice their opinions on the matter. If the Transportation Commission approves the request, the recommendation will return to the City Commission to be approved again.
If the request passes, e-scooters will be both downtown and on campus at the beginning of the fall semester, and possibly even earlier than that, according to Dickerson.