This story is part of the University Daily Question series, a platform for readers to submit their questions about the Lawrence and University of Kansas communities.
Have you ever walked down Jayhawk Boulevard, noticed the spikes on top of buildings and wondered why they were there? 
Junior Bea Reiter recently asked the question to the Kansan's University Daily Question series. But if you haven't caught sight of them, don't be shocked — the spikes lining campus buildings and residence halls are hard to spot. 
"I didn't really notice them until I saw them on all the dorms, and then I started seeing them everywhere," Reiter, a Spanish and anthropology student, said. "I wasn't sure if they had been there the first year I lived in the dorms, so I was a little confused when I saw them." 
Director of Facilities Services Shawn Harding said the spikes are the lightning protection system on campus. When lightning strikes, the rods disperse the currents to the ground in a safe way. These lightning rods have been put into place to ensure student and staff safety on campus by preventing fires and lightning strikes in other areas.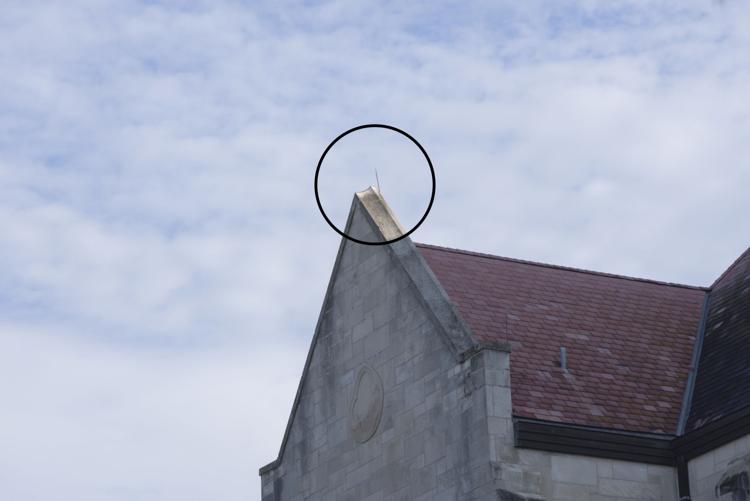 University Engineer Phillip Ellsworth said most of the buildings on campus have a lightning rod system.
"They have been installed on the larger buildings, including all that we consider critical to our teaching and research mission," Ellsworth said in an email with the Kansan. 
Campus has two main types of lightning rods installed, including the Franklin system and the Early Streamer system.
The University added the Franklin system in the early 1900s, and it is used on every building except one. The Dole Institute of Politics uses the Early Streamer system. 
"[The Franklin system] provides a low-impedance path utilizing air terminals (lightning rods) and down conductors to provide a path to ground to prevent damage to the building," Ellsworth said. "In addition, there is also a surge suppression module to protect the electrical service from transient voltage spikes."
Ellsworth said the Early Streamer system "is designed to attract lightning and provide a path to the ground." It uses an adjacent pole with a special head, he said. 
An article from the Lightning Protection Institute explains that direct lightning strikes cause more than $200 million in fire damage each year, which is why lightning protection systems are required on top of some larger buildings and residence halls. 
The University has quite literally been struck by lightning before. In March, 1898, lightning struck the engineering building and heating plant, causing both to burn down completely.
On June 15, 1991, lightning struck Budig Hall, and the fire destroyed the building within hours. 
After both of these major instances, lightning rods were put on top of buildings, and further safety measures were taken to try to prevent buildings from catching fire. 
Have a question of your own? Submit here.