The Kansas Fraternity Landlords' League hosted its third annual Building Brothers Freshman Orientation event Thursday night to welcome new Inter-Fraternity Council members and educate members on the consequences of underage drinking.
Over 450 IFC members were greeted by KFLL Executive Director Aaron Racine in the Kansas Memorial Union Ballroom as Racine explained the values and purpose of KFLL.
"Chief among our concerns is academic and personal success for you as students of the University of Kansas," Racine said.
The University's Greek life has held national intrigue over the course of the past few years. 
In March 2018, the University IFC froze all social activities of the 24 fraternities on campus after suspension of two fraternities and allegations of hazing among the chapters. The University created a Greek life task force the following semester with 27 sorority and fraternity alumni and representatives.
The event included speakers such as Chancellor Douglas Girod's Chief of Staff Julie Murray, IFC President Kyle Svoboda, Senior Assistant District Attorney of Douglas County CJ Rieg, and Sexual Assault Prevention and Education Center Program Educator Dustin Struble.
Rieg, who has spoken at each Building Brothers event since the first one in 2017, explained to the crowd of mostly freshmen what the legal repercussions are for Minors in Possession, fake ID cards and obstructing police officers.
She encouraged the men to take accountability for themselves and each other.
"If you permit it, you promote it," Rieg said. "You guys are your own police."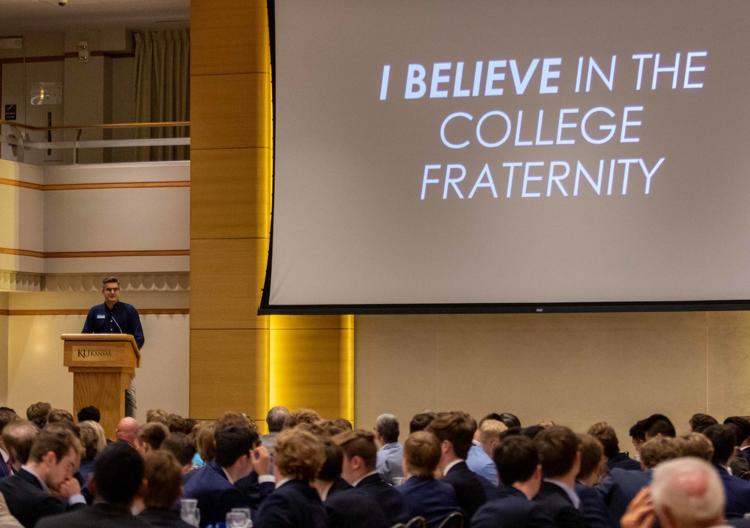 Struble, the educator from SAPEC, emphasized what the obligations of the men should be in order to prevent sexual assault.
"Fraternities are seen as a place for fear, a place where bad things happen. And the reality is, when we talk about this in context with sexual assault, more people think about women and other folks running away from fraternity houses rather than running to them," Struble said. "I believe we can switch that up."
Struble displayed statistics of sexual assault and explained his belief that fraternities can become a place where people feel safe. To do this, Struble said, members must open up a conversation about sexual assault and discuss measures that must be taken as brothers and bystanders to prevent sexual assault.
Struble said members of KFLL had 100% attendance to this year's Jayhawks Give a Flock, a bystander intervention training for freshmen.
KFLL was created in 2015 to represent landlords of 11 KU fraternities. Their mission is to help continue the success of the houses and their members, Racine said.
The 11 fraternities who are represented by KFLL are Beta Theta Pi, Delta Chi, Delta Tau Delta, Kappa Sigma, Phi Delta Theta, Phi Gamma Delta, Phi Kappa Psi, Sigma Chi, Sigma Nu, Sigma Phi Epsilon and Theta Chi.