Opinion
Yesterday, the University of Kansas experienced the game of a lifetime… followed by an NHL style smackdown that took a scarily long time to be broken up. While coach Bill Self called the incident 'an embarrassment' to the team, it is fair to analyze the fight from all sides.
Violence should never be condoned and is inexcusable in most circumstances, however, from the view at Allen Fieldhouse that night, as well as from the many angles of videos afterward, my takeaway was quite clear: Silvio De Sousa was defending himself, and the fight demonstrated at least a level of character that many in that situation may have not had.
As Jayhawks, we hold our basketball team to high standards of behavior and excellence, and while the violent display yesterday was reactionary, it could have been much worse and happened much sooner. 
The valid rejection of the ball in the games final moments was followed by an intense moment between two players. While the players may have exchanged their own moment and demeanor, it was not De Sousa who initiated a fight.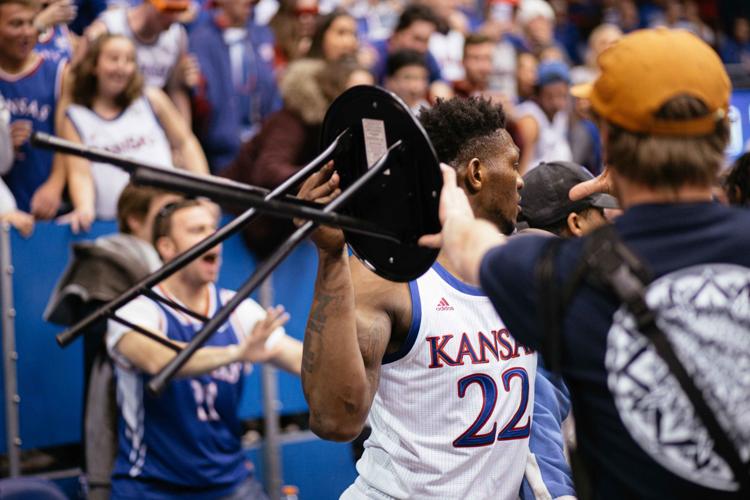 While many became involved soon after, De Sousa should not be blamed so harshly. It took not one, not two, not even three pushes to shake the famed Kansas player, but a fourth and final, hard shove to initiate backlash.
De Sousa demonstrated a level of restraint that, I say, many would not have been able to maintain in such a tense moment, much less when one's adrenaline was already heightened to an extreme. 
While our institutions, fans, and students hold our players to a high standard, it is important to remember that those involved will be held accountable and suspended. It is not our job to pass judgment or reason consequence and fault where it does not belong, but rather it is a choice and an opportunity for empathy from our supportive student body.
Who knows how they would react in such a situation? As a non-basketball player, as well as someone who does not condone violence, I believe De Sousa was defending himself and could have been immature and initiated punching and shoving at the start, but he didn't. 
Of course, a physical fight will hardly ever be viewed positively, and violence is never the answer to a problem. But in the face of terror and attack from another, it becomes a truly admirable quality that few possess, to simply ignore and 'turn the other cheek'. Nevertheless, it is naive to think that every other person in that situation would have acted in such a manner.  
At what point in a fight, with a grown man violently running at you and shoving you, does it become OK to fight back? At what point is it socially acceptable to defend oneself? The answers to these questions may vary from person to person, but in a court of law, self-defense is not frowned upon.
Thankfully, no stool was thrown in Tuesday's game, and no one was terribly injured. While a stool may not have been the best mechanism of defense, in this case it will most likely serve as an important reminder to all to practice self-restraint in frustrating scenarios, as well as to not pass negative judgment in scenarios that we ourselves aren't privy to.
And to all the critics who fail at every turn on entertaining the latter, Silvio was acting in defense, and that's that.
Don't make a steel recliner out of a plastic stool.
Sarah Grindstaff is a sophomore from St. Louis studying political science.