When I graduated from high school in June 2015, I had it all planned out. I would graduate from KU with a degree in music therapy and a minor in psychology, move back home to Houston, and begin my internship.
Only one of those things happened.  
I never should have been a part of the Kansan. Journalism wasn't even in my wheelhouse. But then I took a step and my entire life changed.
And I'm not being dramatic when I say that. A step changed my life. In that step, my knee hyperextended, dislocated and in a millisecond, I tore my artery, three of my four ligaments, both my meniscus and a whole bunch of other things. One physical therapist told me that, aside from soldiers recovering from IED explosions, my injury was the worst he had seen.
I spent 13 days in the hospital recovering and moved into a hotel room to finish out my semester. I had turned 19 a few weeks before the event that is now known to my friends and family as "the incident." I was told to drop out, but I didn't. I couldn't.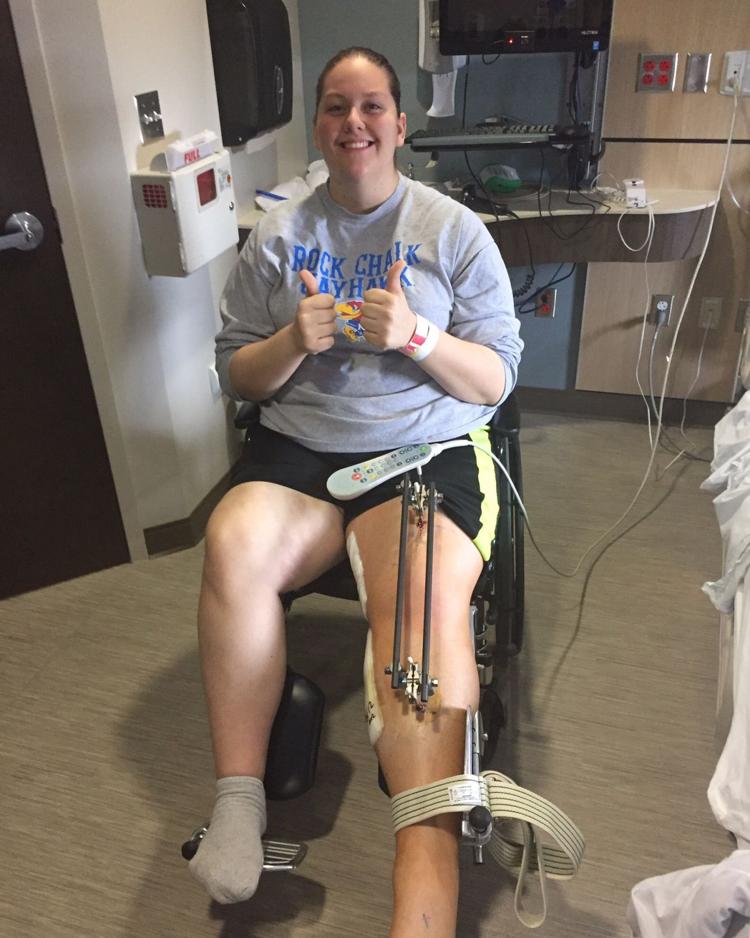 I was always drawn to popular culture; I have the memory for it. I remember everything I hear and almost everything I read. It's why sports and arts journalism work so well for me. It's why, in January of 2017, I enrolled in J101 with the memorable Kerry Benson.
After that semester, I considered dropping music therapy. I hadn't started my practicum yet; I was in a summer internship with FC Kansas City and I just finished my first semester at the Kansan. Journalism seemed to be tugging at my heart strings more and more.
I did not switch. I stayed in music therapy. And in fall 2018, I received my clinical practicum placement: LMH Health Adult Rehabilitation floor. The very unit I was in for eight days after I got injured. The first time I went back, I panicked. But I found myself able to connect with the patients through music on another level because I had been there.
While I love music therapy, journalism is always in my heart, along with the Kansan. My semester duties with the Kansan are as followed: correspondent, reporter, associate editor, reporter, correspondent. It's fitting I end with the job that made me love it.
As I sit in Murphy Hall less than two weeks from graduation, I can't help but wonder what my life would have been if I hadn't taken that step; if I had stayed home from the basketball game or if I hadn't signed up to pick up my camping groups number during final roll call. See, it was before senior night my freshmen year that I was injured. The sport and team I cared so deeply about was why my life forever altered. After my initial surgery, my first question when I woke up was, "Did we win?" (Don't worry, we did).
Since then every game for me has meant something; my first game back, my first time drawing for my group (we were group #1), my first-time seeing KU play Iowa State (the team they were playing on that senior night). Then this past March, I had my final milestone: my own senior night. It was a different vibe because there were no senior players to celebrate. For the crowd it may have been just another game, but for me it was full-circle.
I care about basketball deeply. I care about soccer and baseball. But there's nothing that compares to my love for the arts. Movies, music, television — any art form is special is to me. The creativity and intimacy are on another level. Art is personal.
In high school, I wasn't in journalism. I never worked for my school newspaper. I was a choir kid and a choir kid only. I love music. And I love music therapy. It is such an incredible form of helping. I get to use music — use elements like lyrics and melody and rhythm; tempo, timbre, harmony, form style. I use all of these to help people whether that is working on language skills or helping with emotional expression. The possibilities are endless with this medium.
It's why I stayed in the program. It's why I am moving to Sacramento, California, the midwest of California, in July to begin my six-month internship at UC Davis Children's Hospital. It's why I have an amazing group of friends that have constantly supported me long after I was injured. Music is why I am still living and breathing here today.
But the reason I am still in music will always be journalism. During my time in the journalism school, I have rediscovered my love for the arts and for music. I have had the opportunities to interview bands — notably New Politics — and even an original Power Ranger. I've reviewed movies and TV shows and have featured wonderful people at the University of Kansas. I have been told by people that I would make a great journalist. And every time they say that, I know that I will make a great therapist.
So, as I graduate from school in 2019 with a major in music therapy and minor in journalism; as I get ready to move to California for my internship, I say thank you to the Kansan. It was the job I was never supposed to have. But it was the job that led me to where I am supposed to be.