I don't think I have really processed these last eight months yet.
My life was right on pace for a great year until I got a strange phone call from my mom at the end of last February. It was a Thursday, and she and my dad wanted to drive to Lawrence for the weekend. For our family, that was odd. My parents live in Columbus, Ind., which is a nine-hour drive. I was confused and slightly panicked because my parents never just drop in.
From the minute my parents arrived, I knew something was off. There was a weight in the air. And after some small talk as my parents, my best friend and I sat in the living room, my mom explained that after several weeks of pain in her abdomen, she finally went to the doctor. The doctor did some bloodwork but gave her no news. Next, he did an ultrasound but still no news. After that, her doctor performed a CT scan and then asked her to come into his office. He found cancer in her liver, lungs and on her spine.
My mom had cancer. My mom had cancer.
The next week, doctors discovered that the origin of my mom's cancer was breast cancer. The weird part? My mom had a mammogram in October 2014, but they didn't find anything. Four months later she was stage 4.
People always say, "You never think it will happen to you." How could it happen to me? My mom has always been a healthy woman. She exercised and drank homemade juice every morning. She didn't smoke and rarely drank. There is no way this woman could get breast cancer.
And since I believed my mom couldn't get cancer, I never really had to stop and think about the disease. For the past 21 years, I wrote off all the pink.
Wearing pink and posting pictures on social media? What a flashy way to deal with something so serious. It all seemed frivolous and trite to me.
Wearing pink is about the exact opposite. It's about showing a sign of solidarity. It's a visible sign that our family — especially my mom and dad — endured a lot of pain this year. It's about educating anyone we can about how seriously you should take your health. It's about saying that getting a mammogram, while important, is not always enough. You have to listen to your body, even if you think it's just a stomachache. And It's about hugging your people extra tight.
Cancer is horrible and ruthless and heartbreaking — but it puts your life into perspective. You care about spending quality time with people rather than prioritizing work or school. You realize that you're really lucky to have an amazing best friend and boyfriend who will let you cry on their shoulders but tell you when enough's enough. Suddenly, you call home more often and send more random text messages. Your life goals start to shift from entirely career-focused to more people-focused.
You realize how much of a superhero your own mother is. Mine owns her own business and managed operations all throughout her treatments. She is an incredibly supportive mother to my sister and me; she's the best Gigi to my two nephews; and she has to keep my dad in check. (And that's a full-time job on its own!)
By July, my mom had the best news of my entire life; her cancer was inactive. After nine rounds of chemotherapy, my mom kicked stage 4 breast cancer's ass in six months.
In a positive for my mom, she decided to sell her business. She wants to focus on reprioritizing herself. I am so proud of her.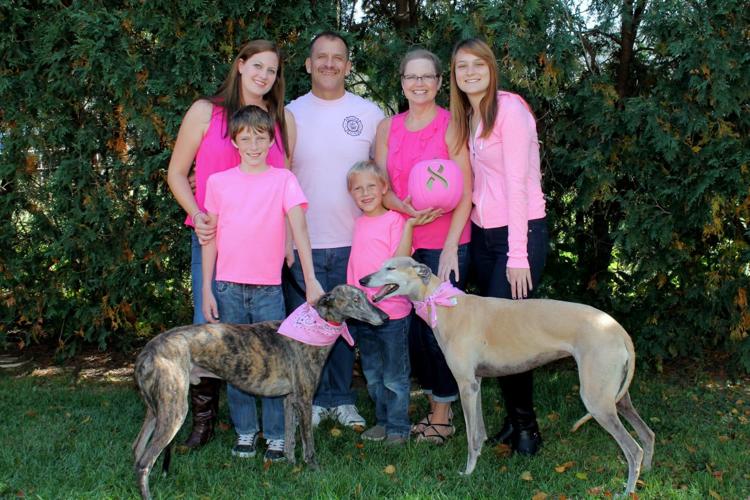 My family is still processing what happened this year. Finally, over fall break we got to help each other do just that. We gathered for a pink photoshoot. My dad, mom, sister, nephews, me, and even our dogs, wore pink. We all stood around my mom and smiled easily. Giant, goofy smiles. We posted it all on social media.
The world needed to know she won. And you're damn right it was flashy.