Raeley Youngs is the current associate audience engagement editor at the Kansan, majoring in Strategic Communications and News and Information. 
A lot is happening for me this week. I will turn 22, I will attend my last college classes, and my time working at The University Daily Kansan will come to an end. 
In the midst of all this, plus finishing final projects, searching for jobs and trying to grasp the fact that I'm old enough to be graduating college, I haven't taken much time until now to reflect on one of the most constant parts of my life for the last three and a half years, which has been the Kansan. 
From the time I was a meek freshman, the Kansan has always felt like home to me. And while I might be a little — or a very — jealous that the Kansan staff will get a brand new home in the J-School next semester, I wouldn't have traded our perpetually messy newsroom for anything. It's where some of my coworkers became my dearest friends and where I learned what it takes to work in journalism. It's where I've always felt I could be myself, whether that meant blasting Taylor Swift on production nights or screaming about why Patrick Mahomes is the best thing to happen to the Kansas City Chiefs like, ever. 
As a sports reporter, copy chief, marketing specialist and now associate audience engagement editor, I've worked nearly every type of job offered here at the Kansan for the past six semesters. When I tell people I've held this variety of roles, I usually play it off that I'm just trying to become a "well-rounded journalist" — whatever that means. But honestly, it's more so that I had no idea what I wanted to do, so I just kept trying new things in hopes of finding my "calling."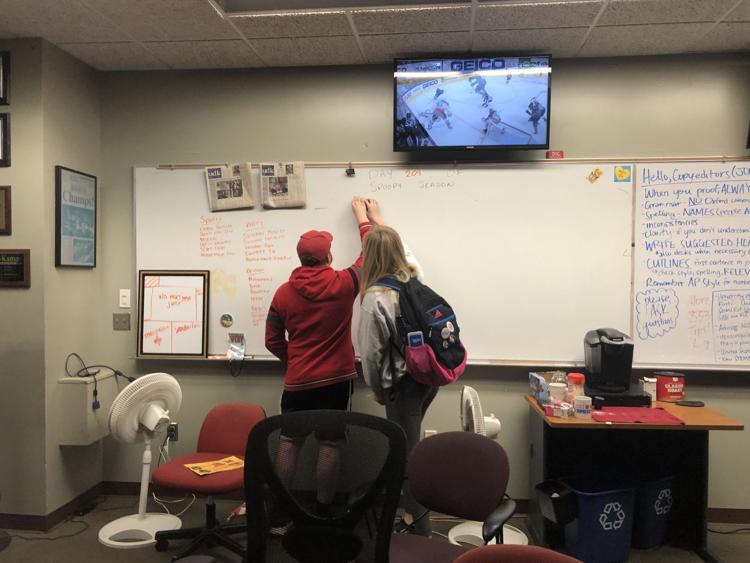 I've spent long days covering a one-win football team and long nights copy editing and getting headlines just right. I've had exciting times, like interviewing a former Kansas basketball player who was coached by Phog Allen and former Kansas runner Sharon Lokedi after a record-breaking Kansas Relays performance. I've also had absolute nightmares — well, really just one — like when I realized I didn't notice a typo in the headline of a front-page story before it was printed… Oops!
None of these individual experiences gave me that "ah hah" moment of what I wanted to do with my career. But whether I knew it in those moments or not, all of these experiences and more at the Kansan have ultimately helped shape me into who I am today. I am not scared to speak up, to make mistakes or to take chances. I may still not know exactly what I want to do in my life, but I know who I am and what I am capable of. I am proud of who I have become, and I have the Kansan to thank for much of that.
So, thank you, University Daily Kansan, from the bottom of my heart for the good, the bad and everything in between that you've given me.
Will I miss you? Probably. Will I be glad to never work a production shift until 1 a.m. again? Most definitely.