For the few, The Granada on Massachusetts Street can be just another flashy sign they pass on the way to start their Friday nights. A vestige of the past with towering white letters across a star-clad backdrop — a vintage movie display board to boot.
But, for the many, the building has character and life; a living pantheon of the up and coming in the music industry. Names like The Killers, John Mayer, Carly Rae Jepsen and Rae Sremmurd have walked across the stage as mid-level starlets and left as A-list to-be's. 
That's why, after over 80 years since the building opened, those behind The Granada's success don't want it to settle to be just another voiceless venue. Its history demands otherwise. 
"We didn't want to have that corporate promoter vibe," Mary Costello, current manager at The Granada, said. "A voiceless venue, like 'here's the show, here's the doors.' We try to have a personality." 
The Granada, formally The Granada Theater, a name established during its day as a silent movie theater in the early 30s, is home to what many may now call the best in live music in Lawrence. Starting in 1993, the location has made its focus to serve a variety of local and nationally-recognized talent to the University community. 
Its key to remain at the top has been an emphasis in its concert production and, most importantly, a lively social media presence. It's a recipe that keeps audiences wanting to come back and stay up-to-date. According to Costello, The Granada saw record fall numbers in attendance in 2016. 
"A lot of the college kids continue to go to shows. We also have a really hardworking staff and we have a pretty full calendar," she said.
Robert Bohm, an Auburn native, is a Granada regular. A senior in information systems and technology, Bohm said he has been attending shows at The Granada since high school, and he hasn't gotten tired of being in the intimate venue. 
"I would say The Granada is my home away from home," he said. " Some of my best memories have been made here and it gives me an escape from the pressure of school and working several jobs."
Eli Mitchell is the promotions manager at The Granada. When he started in Aug. 2015, it was important to effectively communicate with their audience, like Bohm, that they could come to them on social media for more than just the next show time. 
"It's a lot of sharing funny articles and memes," he said. "You want to maintain this casual relationship with your audience and kind of play around with them in the comments, that sort of thing."
March 17, 2017
Being successful as a concert venue in a college town also means prepping for the inevitable: rowdy, raucous crowds looking to have a good time. The Granada has between 20-25 production staff members on hand to prep for, and work during and after the concert. Each members' weekly schedules vary, but what never changes is the daylong gauntlet to make each concert experience unforgettable. 
A concert workday typically starts at 8 a.m., with anywhere from stage setups and lighting on the docket. The work winds down somewhere around 3 a.m. the next day.
"In any kind of event production, they have to be able to roll with the punches," Costello said.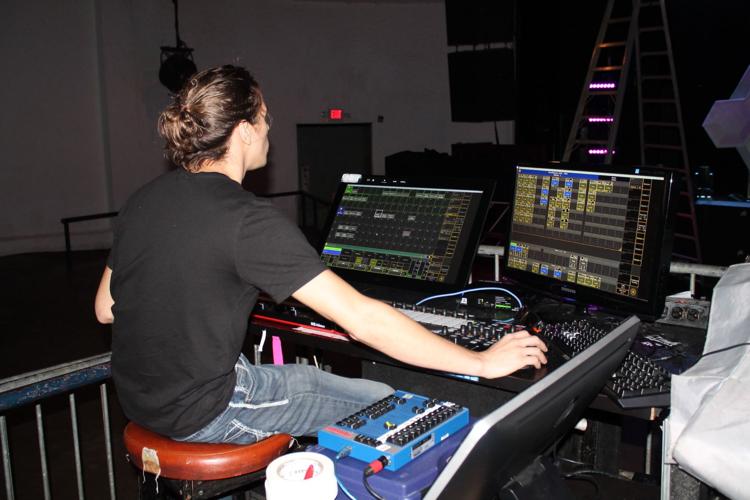 Their ability to roll with the punches is also what Mitchell calls "the chill factor." Avoiding disaster, like when their most recent #AssJamz event turned into a full-on parade, with "someone with a massive subwoofer in their car just bumping tracks and people dancing in the street," means staying even-keeled and keeping the safety and happiness of event-goers in mind. 
"It's being able to put out the fires, because you never really know what's going to happen," Costello said.
Looking to the future, Costello said The Granada is going to start collaborating with other locations around Mass Street, like next-door neighbor Lucia Beer Garden, for more outdoor events in the summer. The Granada is also ready to give Lawrence music festivals that are coming through the Midwest. 
"I would attribute [The Granada's success] to Lawrence continuing to support live music," Costello said. 
— Edited by Allison Crist