Ten years ago, Leslie Soden never imagined that joining the East Lawrence Neighborhood Association would lead to her becoming the mayor of Kansas' sixth-most-populous city. 
Soden, a Topeka native, moved to Lawrence in 1999 to settle down after having lived in Topeka; Kansas City, Kansas; Phoenix and San Francisco.
"I'm going to have my own house, and I'm going to have a dog and a garden. That was the extent of my dreams," Soden said.
At the time, Soden worked with computers, and she got her wish of owning her own home in 2003 — which inadvertently led her to City Hall.
"I bought my house in 2003, and then I joined the East Lawrence Neighborhood Association," Soden said. "That's where I first started learning about zoning, neighborhoods and how City Hall works. It just kind of came naturally to me. I understood the legalese. I understood the hierarchies, so I was able to learn how to get things going. I just liked it." 
By 2015, Soden became a city commissioner, and in January she became mayor. However, much of her daily activities are entirely unrelated to her duties at City Hall.
When she's not working for the citizens of Lawrence, Soden manages her pet-sitting company "Pet Minders," which she founded in 2006. Soden founded the pet care business because she could never find anyone to watch her own dogs.
Since becoming a city commissioner, Soden said she's slightly dialed down Minders. However, after attending a National League of Cities conference in Pittsburgh, she became interested in another service: Uber.
"I'd been with people that used Uber before, but I'd never really used it myself," Soden said. "So, it was just like I need to figure out how to do this: I could totally do this. So, I came back and did it."
Soden drives for Uber a few times a week, which she says is a nice change of pace compared to her other duties.
"It's very part time," Soden said. "I don't even have to think about it when I go home, which is nice because when you own your own business, you think about it constantly."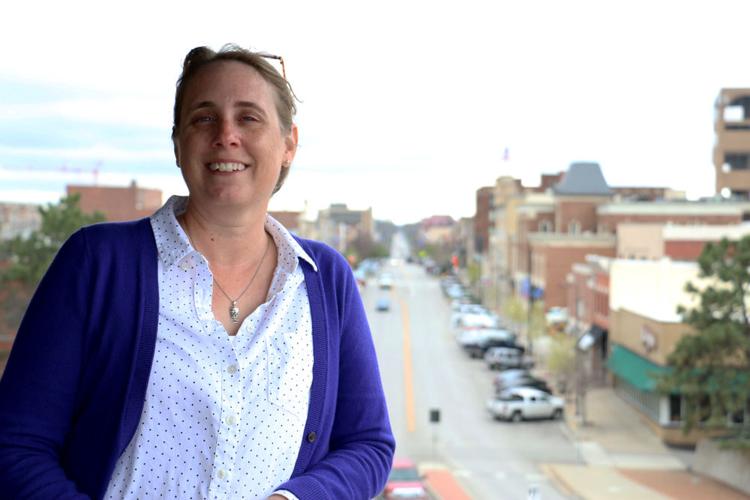 As mayor, much of her time is spent communicating with Lawrence citizens, where she helps to decode the often-arcane workings of City Hall for constituents.
"Acting as the funnel is really helpful because it shouldn't be a requirement for the average citizen to understand all the departments of City Hall and what they do," Soden said.
Additionally, one of Soden's most important jobs is leading the City Commission meetings. Soden said her style is different from others, and that allows her to see the bigger picture. 
"I'm different," Soden said. "Sometimes, I'll lapse, and I'll call people by their first names. I'm not as annoyed when people start railing against something, and I don't take it personally. I'm better at not taking things personally. It's just, people express themselves in different ways. It's important to not take that personally."
Soden also said that her style is more outward and informal.
"I also tend to kind of think out loud more, which some people really like because they want to follow what you're thinking or your decision-making," Soden said. "Some people don't like that, though. Some people want this kind of formal distance between themselves. Some people prefer a banker look, but I'm not a banker." 
Furthermore, Soden said making decisions can be difficult, but trust plays a key role in decision-making.
"You have to have faith that legal knows what they're talking about," Soden said. "You have to have faith that [the] DA knows what he's talking about and then try to somehow give everyone what they want without making it worthless. It's really hard."
Diane Stoddard, Lawrence's assistant city manager, has known Soden since her days at the East Lawrence Neighborhood Association and says she's good to work with.
"She's a very enthusiastic person," Stoddard said. "She is driven by causes and her interests in neighborhood issues, which is how she really got involved in working with the city in the first place, and I think that really drives her. I think she cares about how things affect the regular person in Lawrence and cares about Lawrence and the community."
Stoddard said that Soden's unique background serves her well in many ways.
"I think she does have an interesting perspective with her life background, her view of issues and it's always helpful to have those different viewpoints when people are looking at an issue," Stoddard said. 
Despite the stress, Soden said she enjoys working for the people of Lawrence and talking about issues. She especially enjoys the nonpartisan nature of city issues.
"The city is not partisan," Soden said. "What we do is not partisan. Streets are not partisan."
Moreover, Soden said she hopes that citizens feel connected to their officials.
"I'd like people to think that they're connected and that not everyone here is just a professional that's not interested in what they think, and I know from personal experience that there's a really high bar that feels unachievable in understanding issues," Soden said. "Because once you start getting into them, it's like this black hole is what you enter. You just keeping going farther and farther and farther. That can be very overwhelming. I don't want people to feel like that."
— Edited by Allison Crist