Weaving through the hectic lunchtime traffic of downtown Atlanta, New York Yankees area scout Darryl Monroe wandered momentarily away from the stats and figures of the baseball youth of America. For a short time, he was instead focused on a time nearly a quarter of a century ago, when he was a young player himself playing for the Kansas baseball program.
"It's hard to believe it was so long ago ... that was a fun time for sure," Monroe said.
Monroe was part of the 1993 Jayhawk baseball team that had arguably the program's best season to date. Finishing then-Big 8 championship runners-up to Oklahoma State, head coach David Bingham's team was the only Jayhawk team to-date to make the trip to Omaha, Nebraska, to compete in the College World Series.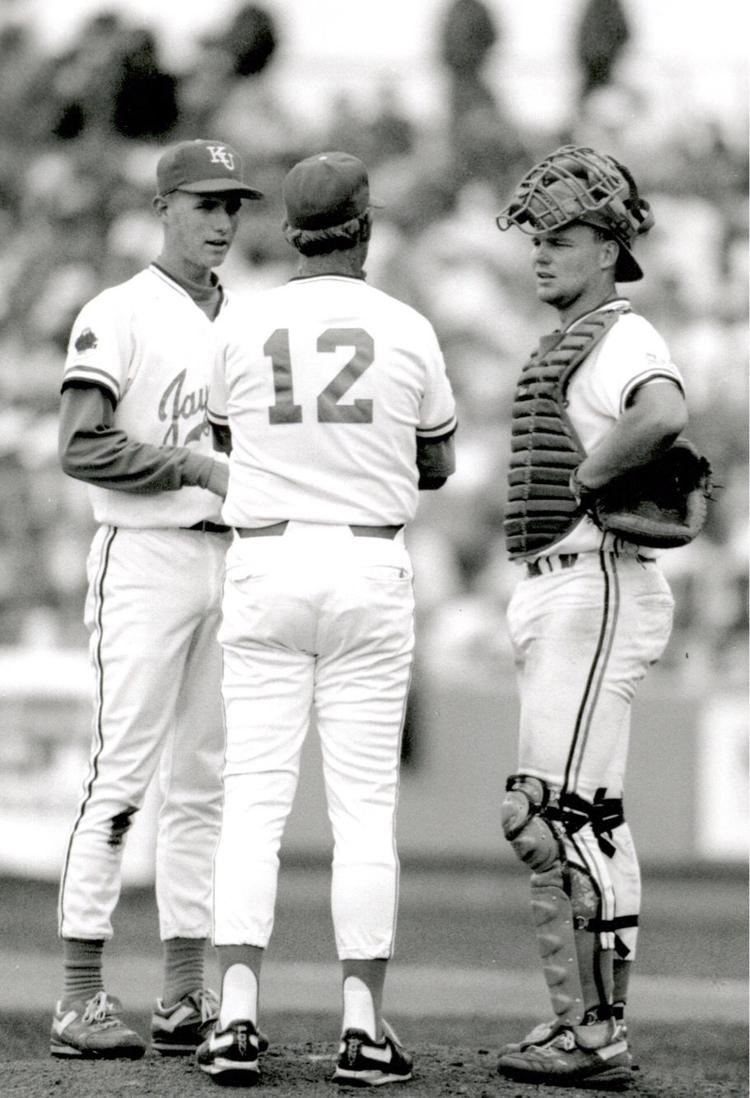 A junior at the time, Monroe was a key piece in that CWS team, playing in 55 of Kansas' 63 games that season as the Jayhawks went 45-18. Despite hovering around .500 in Monroe's previous two seasons, .525 (31-28) in 1991 and .472 (25-28) in 1992, Monroe claims that Bingham set the highest of goals for the team that season.
"We had high expectations, but it wasn't really based on what we had done prior to that. That was one thing that Coach Bingham was really good at, he set expectations high in the beginning of the season," Monroe said. "Our goals that year — we had very specific goals — were to win the Big 8 conference, win regional, and then win the College World Series."
Bingham was known by his players as an intense coach, as well as a man who wasn't afraid to rip into his players to get the best out of them.
Having coached on the U.S. team for the 1984 and 1988 Summer Olympics, as well as the 1988 Baseball World Cup, he was no stranger to success, and never doubted his group of players.
"I don't know if the players were so much convinced we could do that, but he set the goals very high," Monroe said. "We knew we had some talent, but the program hadn't had a ton of success prior to that."
Despite the players not being as convinced as Bingham, his passion and drive led Kansas to a Big 8 second-place finish. Ending the regular season with a conference record of 17-9, the Jayhawks fell behind reigning champions Oklahoma State in overall record.
The Jayhawks and Cowboys faced off five times that season, twice in Stillwater, Oklahoma, and a further three times in Lawrence.
"I think we played five games against them — two at their place, three at our place. We split down there and we won two out of three at our place," Monroe said with excitement growing in his voice. "And there was a game we came back and won, and I think that was sort of the turning point that gave us real confidence that we were good and we could compete with anybody in the country."
Throughout the course of the season, Kansas had other big wins against nationally-ranked schools, such as 1993 CWS runner-up Wichita State.
--------
With confidence heading into the Big 8 tournament, the Jayhawks breezed through the first three games of the tournament before coming up against No. 1 seeded Oklahoma State. After going a game up, the Jayhawks eventually fell to the Cowboys 2-1, and subsequently lost the chance to host a regional tournament.
Instead, the Jayhawks headed to Knoxville, Tennessee, as the No. 3 seed in the region. Losing their first game against No. 4 Fresno State, 4-3, Kansas were set up to face Southeastern Conference Eastern division champions, and hosts, Tennessee. Spearheaded by starting pitcher Jamie Splittorff, son of Kansas City Royals Hall of Famer, the Kansas City, Missouri, native pitched 8.1 innings in a tight 3-2 victory for the visiting Jayhawks.
"We were confident that we could beat Tennessee, and then from there we knew we were good," Monroe said, with a sense of pride.
The Jayhawks swept past their next two opponents, Rutgers and Clemson, before setting up an all-important rematch against Fresno State.
In perhaps the biggest, but most crucial decision of the whole season, Bingham turned toward season-long reliever Jimmy Walker to start the regional final against the Bulldogs. Behind a complete game from Walker in which he only allowed two runs, the Jayhawks completed one of the most memorable comebacks in program history.
Heading into the bottom of the ninth 2-1 down, future St. Louis Cardinal Jeff Berblinger tripled with one out to put the tying run 90 yards away from home plate.
"He was a huge factor in that team being very good. He was an exciting player – he had speed, power, he was a really good defender," Monroe said. "Watching him play from centerfield — watching him play second base — was a lot of fun."
Following an infield hit from outfielder Josh Igou, Berblinger reached home plate to force the game into extra innings. After another solid inning from Walker in the top of 10th, Monroe hit the scoring RBI to send third baseman Brent Wilhelm home and the Jayhawks onto the College World Series.
-----------
"We should have felt more pressure than we really did."
Quickly snapping back to reality as a car cut a bit too close to his own, Monroe returned back to the summer of 1993 as he recalled his team's disappointing showing.
"We know we didn't play well, we didn't play to our capabilities. We were very confident, we knew we belonged there, but it may have just been one of those stages that were a little too big for us at the time," Monroe said.
Not a single player on the team had been to a College World Series before – none of them had even played in the conference tournament before 1993. After spending half of their season playing at the 2,500 capacity Hoglund Ballpark, the Jayhawks were now playing in the spotlight of college baseball at Johnny Rosenblatt Stadium in Omaha, Nebraska, which has a capacity of 23,145.
Kansas only lasted a total of three days at the CWS, from June 4-6, thanks to two losses in two games for the Jayhawks. In the first game of the CWS, Kansas lost 5-1 to Texas A&M, then fell to Long Beach State 6-1 two days later.
"It wasn't a matter of knowing that we were good or feeling that we belonged there. We knew we belonged there, but just maybe the stage was just a little overwhelming for us," Monroe said.
---------
The 1993 team hasn't met as a group collectively now since 2003, when they met for a 10-year reunion. In the 24 years since the Jayhawks' sole CWS appearance, many of the players have found themselves down many different paths of life.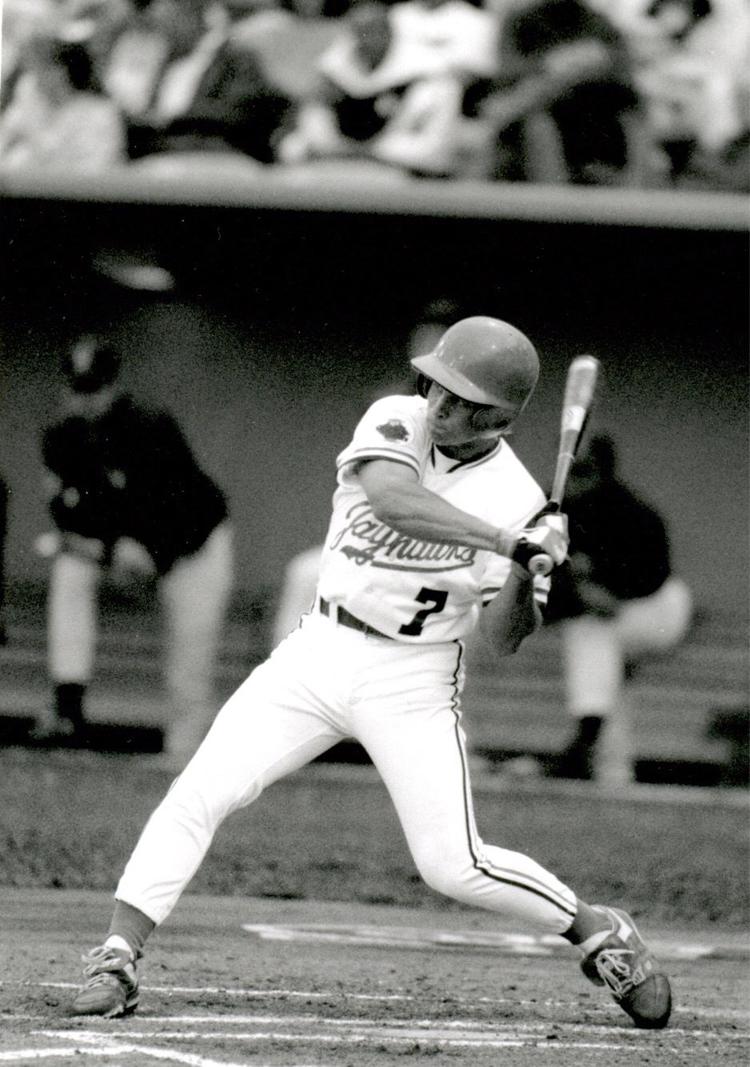 Some of Monroe's teammates are now in careers that are non-sport related.
Following his short stint in the Majors, All-American Jeff Berblinger is director of safety and compliance at American Piping Inspection Inc .
After sitting behind home plate catching balls from left-hander Tom Stewart , Jeff Niemeier  ended up as a sales manager for Stewart's company, Apollo Surgical Group .
But for Monroe, he couldn't leave baseball following his four years spent in the minor leagues. In January 1998, Monroe signed with the Montreal Expos as a scout. It was with the Expos that Monroe captured perhaps his most-successful player currently in the majors – three-time All-Star and four-time Golden Glove Award winner Brandon Phillips.
"Baseball was my love, baseball was my passion starting from a very early age," Monroe said. "I'd started playing baseball when I was 6 years old. I was able to play all the way through high school and college and professionally, and I knew I wanted to stay in the game."
Since then, Monroe scouted for the Atlanta Braves in 2003, a year before the Expos relocated to Washington, and has scouted for the New York Yankees since 2007.
Monroe said it's been tough staying in touch with some of his former teammates. 
"A little bit, not as much as I'd like," Monroe said. "It's been 24 years, so you do lose touch a little bit, but with social media these days it's a little bit easier to at least keep tabs on what people are doing."
But with a reunion perhaps on the horizon, according to Senior Director of K Club and Traditions Candace Dunback, the Kansas baseball squad of 1993 may not have to wait much longer to celebrate the moment when the Jayhawks first stepped on the field for their lone College World Series appearance.
— Edited by Emma Green