The line is usually out the door as Lawrence residents flock to The Roost on Sunday Mornings. 
The Roost, a restaurant on Massachusetts Street that specializes in breakfast foods, is located in the space previously occupied by Milton's, a breakfast spot now located on New Hampshire Street.
The husband and wife partnership of Sean and Manda Jolly brought the Roost to life. They both worked at Milton's before discovering that the restaurant was planning to close.
"When we found out [the space] was opening up, we reached out to the landlords and they wanted to work with us," Sean, who is also the Roost's head chef, said.
Officially opened in the summer of 2013, the restaurant is nearing its fourth summer in business, serving around 1,500 customers each weekend. The restaurant also won "Best Breakfast Spot" in the 2015 Best of Lawrence awards. Sean said the Roost is successful not only because of its location, but because of the food they serve.
"I like to think that we offer a good product," Sean said. "Good food, good service."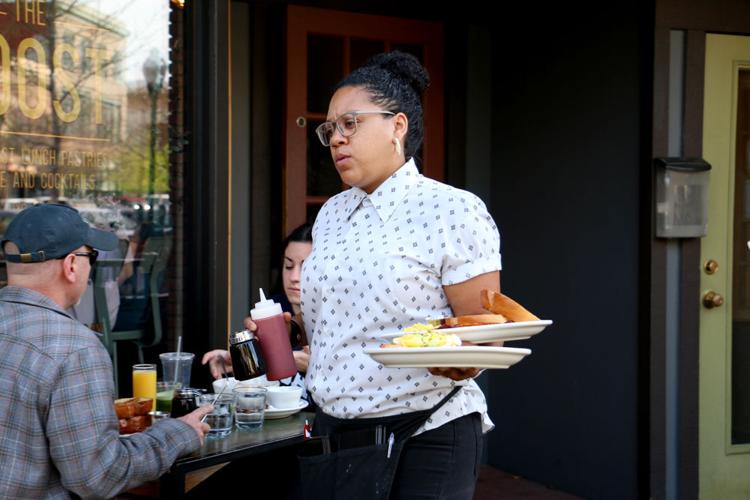 Sean said The Roost tries to be different from other chains around Lawrence by cooking all of their menu items from scratch. Whether it's baking their own biscuits or making their own sauces and gravy, the recipes are all created by Sean and the rest of the kitchen staff. The Roost also offers a variety for breakfast, listing dishes from "Breakfast Sammys" (sandwiches) to a wide range of omelets.
"We offer something a little more unique," Sean said. "Be it the chorizo and eggs or the campfire breakfast."
The most popular item The Roost has to offer is the Rooster, Sean said. The Rooster is a breakfast plate with the choice of French toast; pancakes or potato pancakes; two eggs; and the choice of bacon, sausage, ham or fruit. Sean said that is the biggest breakfast plate that The Roost offers.
What also makes The Roost unique is its love for anything and everything eggs Benedict. Sean said it offers him a creative outlet in cooking and is excited for the restaurant's love of the dish.
"On Fridays, we do an eggs Benedict special," he said. "I kind of look around and see what we've got, or maybe take inspiration from wherever else."
Students who do not have morning classes also take to The Roost for a big breakfast or a light snack. Steven Davis, a diner at the restaurant and sophomore at the University, said he likes to go to The Roost occasionally on Friday mornings.
"I love the variety [the Roost] has to offer, especially with a new [dish] to try every Friday," Davis said.
— Edited by Casey Brown