Today, the Memorial Union is a popular stop on campus for students and visitors alike. But almost 50 years ago the building was nearly burnt to the ground as anti-war and racial tensions came to a head in April 1970.
A week of tension in an era of civil unrest, referred to by some as the "days of rage" escalated drastically when the Union burned out of control through the night time hours of April 20 and into the early morning hours of April 21, according to KU History. The blaze caused nearly a million dollars worth of damage and the case remains unsolved to this day.
University alumnus Russell "Rusty" Leffel said the sight was something he will never forget.
"I was president of my fraternity at the time, so my place was to keep track of the 60-some people living in the house," Leffel said. "Seeing that fire on the horizon was terrible, it was awful. I can see it right now in my head. It's a sight I'll never be able to forget."
Leffel said there was a general feeling of deep concern following the fire, not just about the happenings on campus, but on issues that the nation as a whole was facing during that time.
"The thing for students at the time was we were confronted with not just local issues, but national issues and how we were going to move forward," he said. "You can't ignore the war during this time, because it was such a personal issue for us. People we knew were off in Vietnam fighting this war. There was so much national opposition for the war, and students were on the front lines fighting it."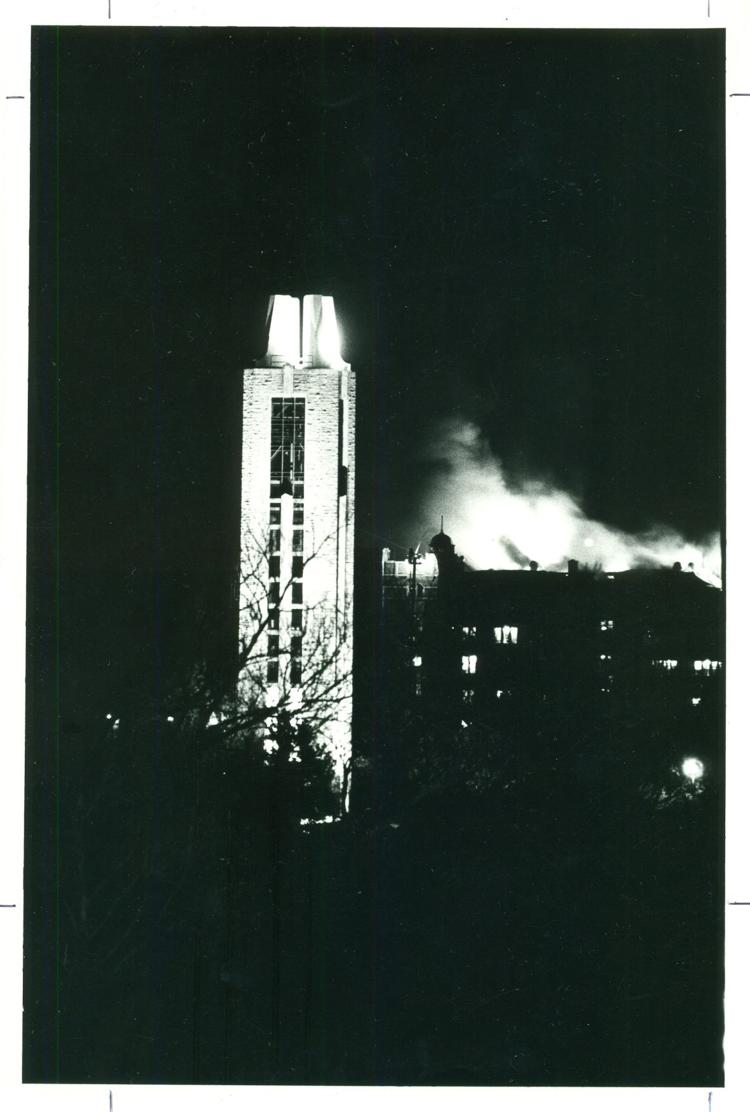 Leffel said the atmosphere on campus, even before the fire, was not one in which studying and going to class was easy to do.
"Everyday at KU was not quiet, calm and studious. The academic concept of a university is difficult to maintain when you have all of this going on, and you have to find some way out of it," he said.
Alumnus David Awbrey, who had been the student body president only weeks before the fire, was much closer to the Union, as flames consumed the historic building.
"I lived in a house down by where the Wheel is. Myself and a few friends were sitting outside when we saw an orange glow, which could only be a fire, so we ran up the hill and saw it was engulfed in flames," he said.
Awbrey said it was a time of anticipation and tension on campus.
"It was kind of a combination of anticipation and expectation," he said. "There was really this heightened era of tension and everyday you just wondered if something was going to happen. All the time you worried that something was about to happen."
For Awbrey, the Union burning was an awe-inspiring sight, but not one that necessarily caused any fear.
"It was more or less we weren't surprised. We were thinking, 'Well, they did a good job,' if burning down our Union was what they had in mind. So it wasn't fear or anything," he said. "The imagery was really strong, being such a large building burning at night. The heat from the building, the color of the flames, the contrast of the firemen doing their thing, hoses going in, just a lot of activity. No one was yelling or screaming or anything like that. It was just really amazing."
Awbrey, who had finished his term as student body president only two weeks before the fire, was highly involved in activist protests on campus, and even spent two weeks in jail after being arrested following the fire.
"I had just turned the job over to the next president at the time. I was very much a campus activist at the time, so we just waited to see what would happen next," he said. "Right after the fire, the city instituted a curfew which got everyone going. There were a lot of demonstrations and around 60 people got arrested, including myself. We were all hauled down to the Lawrence Police Station and put in jail. I went to court that next morning and was sentenced to six months in jail, which of course I appealed. So I ended up spending two weeks in jail that following August."
"In those following weeks, several other things happened, including the invasion of Cambodia. So only a couple of weeks after the fire, all hell broke loose again, and school was eventually called off early," he said.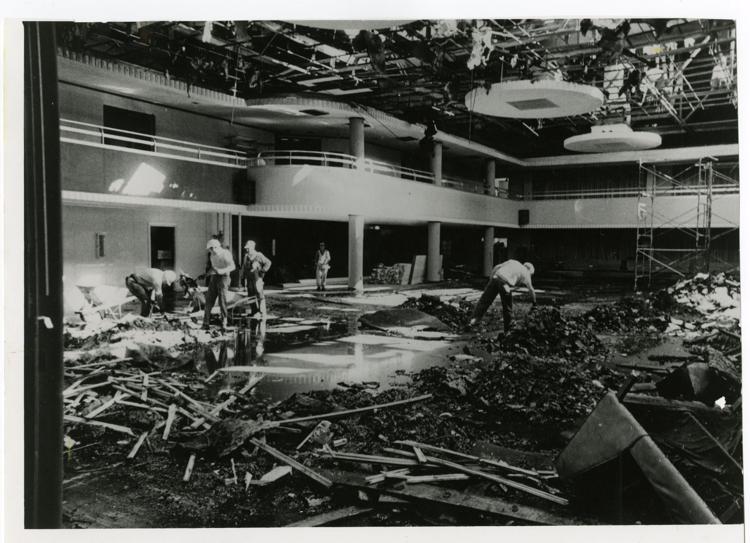 The fire was ruled arson in the following days, and many different individuals and groups were suspected of starting the blaze, according to KU History. Some believed the fire was started by an outside group, but Awbrey said he suspects it was someone within the University community.
"Everybody was asking who did it and there were all sorts of rumors about who did it, like a black student did it or an outside arson group did it, but I'm almost certain it was done by an activist in the KU community," he said. "I'm 99 percent sure I know who did it and I know the person who provided accelerant for it, which is what they used. It was a homegrown arson, not some outside conspiracy," he said.
Leffel, on the other hand, would become a key player in student activism following the fire, giving a presentation called "Cause for Concern," which called students to action in the face of major budget cuts to the University and key faculty leaving due to the chaotic environment.
The University created a student activist award in Leffel's name, to commemorate his actions during such an uncertain time.
Leffel said he still refers to that year as a turn for the worst, but also said it was a time that today's students and activists should look to when considering modern issues.
"It was a time that really made you question what our country is. What was our country going to become? What did our constitution mean? Were we going to honor the words in our constitution, or what direction were we headed in? These are all questions students should be asking themselves today, and you need look no further than the words written on the Campanile," he said.
The phrase to which Leffel refers is by Allen Crafton, founder and former chairman of the speech and drama department at the University. It reads, "Free government does not bestow repose upon its citizens, but sets them in the vanguard of battle to defend the liberty of every man."
— Edited by Missy Minear