No. 11 Loyola-Chicago (32-5)
By the numbers
Final Fours: 2
Championships: 1
How they got here
First round: Defeated No. 6 Miami 64-62
Second round: Defeated No. 3 Tennessee 63-62
Sweet 16: Defeated No. 7 Nevada 69-68
Elite Eight: Defeated No. 9 Kansas State 78-62
Breakdown
The Ramblers are have put both themselves and the Missouri Valley Conference back on the map. With Wichita State making the switch to the American Athletic Conference, the MVC opened up for a new champion, and Loyola-Chicago took that chance with both hands.
Behind solid veteran leadership, the Ramblers stunned the nation behind their incredibly stingy defense and lethal offense. Shooting a third-best in the nation 50.9 field goal percentage, including shooting 40 percent from beyond the arc, you know more often than not that the Ramblers are about to put the ball in the bucket if given the chance.
It's no accident that the Ramblers are heading to San Antonio, and their annihilation of Kansas State in the Elite Eight should give Jayhawk fans even more reason to cheer on the Ramblers — at least until a potential championship matchup.
Two reasons why they'll win:
The Ramblers are clutch. And it's not just one guy they turn to on the final possession. Aside from its blowout of K-State, Loyola-Chicago won its first three games of the tournament by a total margin of four points, with three different guys making the game-winning shot each game. In game one, it was Donte Ingram with 1 second remaining, in game two it was Clayton Custer with 3.6 seconds remaining, and the last was Marques Townes with 6 seconds left. The Ramblers have plenty of weapons.
"Cinderella" is too nice of a term for this Ramblers team — they know how to fight. But at the same time, they know all too well that they're still the underdog here, and that's what's keeping them grounded. It's becoming dangerous to bet against the Ramblers, as their belief in themselves and will to win is powerful enough to beat nearly any team in the country under the bright lights of the NCAA tournament.
Two reasons why they'll go home:
At the end of the day, Loyola-Chicago shouldn't be here by any sort of logical argument. This is a bunch of guys who couldn't or wouldn't make it on the top teams in the country who usually find themselves in the Final Four. One would think that at the end of the day, pure NBA-level talent will, at one point, overcome the Ramblers, and that's what they'll come up against. Michigan are also in the Final Four due to getting hot at the right time, but Kansas or Villanova waits in the championship game, and either team may just be too much for Loyola-Chicago.
Loyola-Chicago only averages 72 points a game, ranking a lowly 223rd in the nation. While it does have a great defense too, averaging 62.4 points against, that was against mostly MVC teams. Even on their road to the Final Four, again apart from K-State, the Ramblers haven't scored more than 69 points. They're heating up on offense, but against the elite defenses of the remaining three other teams, plus their powerful offenses, the Ramblers may finally bite off more than they can chew.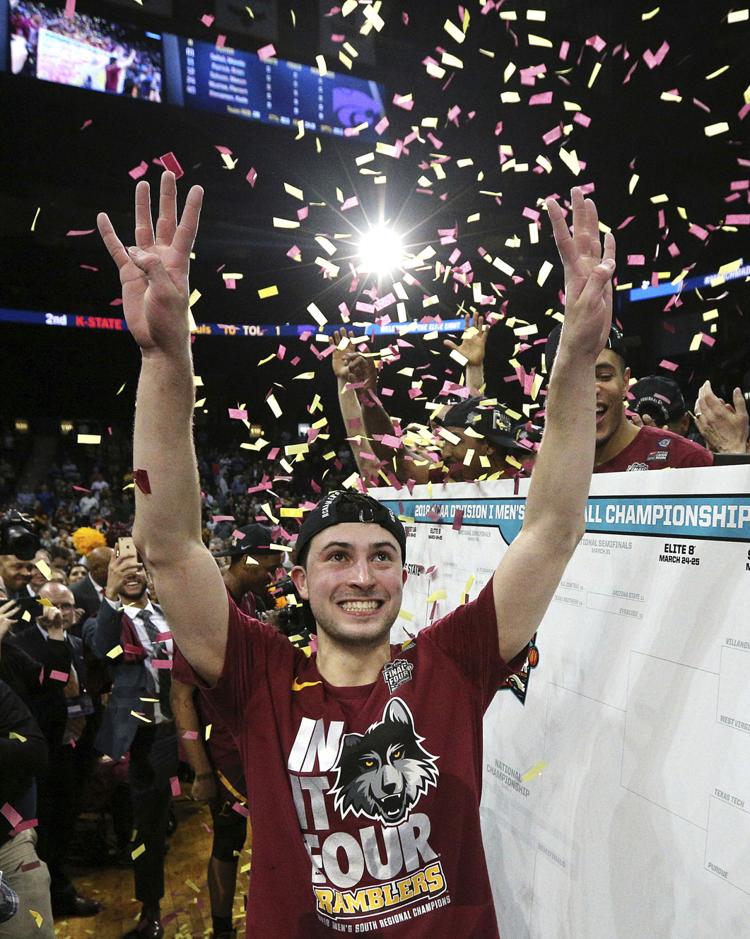 Key player
Clayton Custer | redshirt junior guard
Kansas coach Bill Self said on Tuesday that Custer could actually play for Kansas and did scout him during Custer's high school days — that's high praise coming from Self. After transferring from Iowa State to Loyola-Chicago following his freshman year, Custer has grown into the MVC Player of the Year. The high-flying point guard has it all — shooting, passing, leadership. His partnership with high school teammate and lifelong friend senior Ben Richardson also seems telepathic, with the pair offering a threat during any moment of the game.
Key stats: Custer is averaging a team-high 13.2 points per game, as well as possessing a team-high 135 assists, despite having played five fewer games than six players on the team, due to injury.
---
No. 3 Michigan (32-7)
By the numbers
Final Fours: 7
Championships: 1
How they got here:
First round: Defeated No. 14 Montana 61-47
Second round: Defeated No. 6 Houston 64-63
Sweet 16: Defeated No. 7 Texas A&M 99-72
Elite Eight: Defeated No. 9 Florida State 58-54
Breakdown
The Michigan Wolverines are what the Virginia Cavaliers wanted to be: a slow-paced team that prides itself on getting stops on the defensive end. Michigan is eighth in the nation in points allowed with just over 63 per game. Working as a unit, there is no single gamemaker on the Wolverines' roster, and that plays in their favor when it comes to rebounding the ball. Junior forward Moritz Wagner could be considered the standout player, as he has as much playing experience in tournament as any player on the team.
Two reasons why they'll win
Defense wins championships. You can find your own ways to score by creating opportunities on the other side of the ball, and that is what Michigan does better than any of the other remaining contenders. The Wolverines don't rebound the ball particularly well, but make up for it in steals and blocks with their size. They force the offense to take bad shots, and that is plenty enough when it comes to winning on any given day.
The Wolverines have great size in Wagner and senior center Jon Teske. Teske comes in at 7-foot-1, which is taller than anything an inspired Ramblers team will field. There is also motivation. Teske and Wagner dealt with earlier exits than they would've liked the past two years and facing even a talented 11 seed in the first Final Four game is an excellent opportunity for them to get to a championship game. 
Two reasons why they'll go home
Michigan really isn't that good at scoring the ball, and Loyola has shown they really don't care who you are or what teams you've played. The Ramblers are here to get buckets and move on. Loyola put a hot Kansas State team out with ease in a 20-point blowout and had a week to prepare for a team that focuses on defense. If Loyola can put together a game plan that gives them a lead, the Wolverines may have a hard time climbing back.
Like Loyola, Michigan was one shot away from being eliminated in the first weekend of the tournament. If it wasn't for a miraculous buzzer beater, the Wolverines wouldn't be here. The wins since then have been somewhat convincing, but the Michigan was only really tested against Houston. Michigan may not find as much luck in a close game against a team that everyone who's not a Kansas, Villanova, or Michigan fan is cheering for.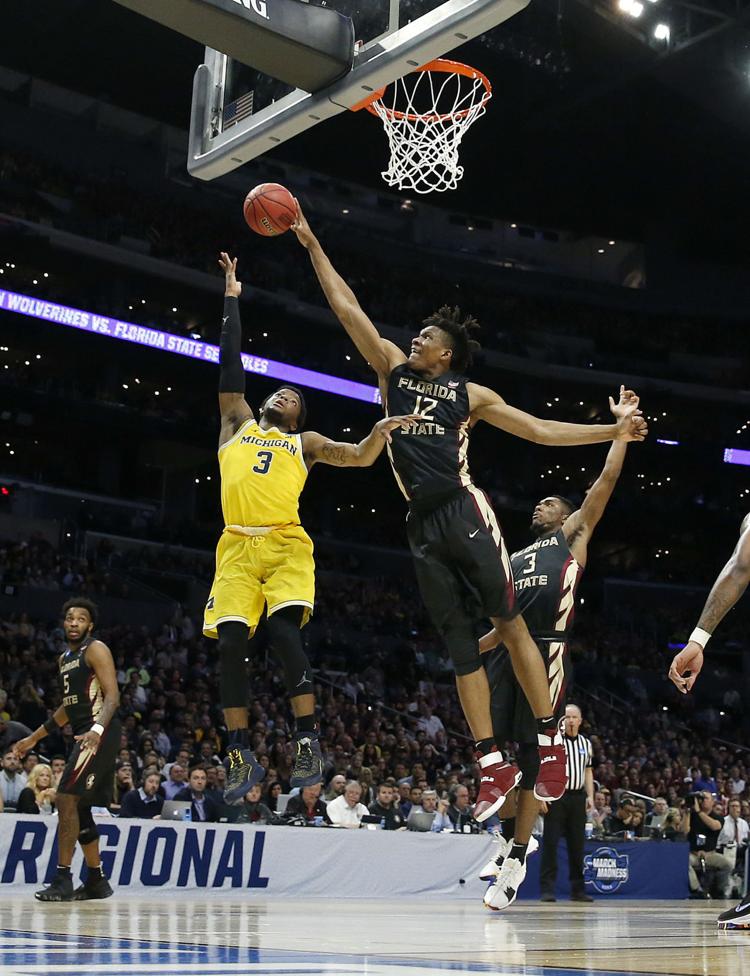 Key player 
Zavier Simpson | sophomore guard
It doesn't matter that your best players are forwards, in March, it's the guards who win championships. As the leading assist man on the Wolverines, that pressure falls on Simpson, which is a lot to ask of a sophomore. Simpson will have his hands full guarding Custer on the defensive end, and that matchup will be the most important in the game.
Key stats: Simpson averages 7.5 points a game. He's going to need to break double digits because Custer will score at least that much, and that's a matchup the Wolverines can't afford to lose.
---
No. 1 Villanova (34-4)
By the numbers
Final Fours: 5
Championships: 2
How they got here
First round: Defeated No. 16 Radford 87-61
Second round: Defeated No. 9 Alabama 81-58
Sweet 16: Defeated No. 5 West Virginia 90-78
Elite Eight: Defeated No. 3 Texas Tech 71-59
Breakdown
The Wildcats are no stranger to this stage. Villanova is a bonafide offensive juggernaut, and anyone standing in their way will behold their scoring prowess. Led by junior guard Jalen Brunson, who averages 19.2 points a game, the Wildcats average 86 points a game — the best in all of college basketball. The Wildcats plays a lineup similar to the Jayhawks, putting four guards on the floor at all times. Everyone on the lineup can shoot the ball effectively, which will make an excellent matchup with the electric Jayhawks.
Two reasons why they'll win
They've been here recently. Villanova won the title in 2016 on a miraculous buzzer beater to take down North Carolina. As a No. 1 seed, the Wildcats have no fear of anyone and use that to boost confidence. Their top four guys in scoring played every game this season, so their chemistry together is as good as it gets.
Offense, offense, offense. If the Jayhawks can't make the Wildcats uncomfortable on the offensive end, it will be a long night. Villanova plays a slower pace than Kansas, so if there is limited transition, the Wildcats will be in favor. After Brunson, there are still five Wildcats who average double-digit scoring including junior guard Mikal Bridges, who scores 17 points a game. Kansas can't afford to play Villanova's game, or it will lose.
Two reasons why they'll go home
At this point nobody can stop Kansas redshirt sophomore guard Malik Newman. He is the ender of all basketball worlds right now, claiming the nickname "Mr. March." Since the Big 12 tournament, nobody in the country scores like Newman, and in the most efficient of ways. The corner three-pointer is Newman's greatest asset right now, because it allows senior guard Devonte' Graham to penetrate into the lane and dish out. Newman's man cannot leave him open, but with Kansas' scoring guards, Villanova may have several lapses.
Villanova's greatest strength is also its greatest weakness. The Wildcats play slow, and if Graham pushes the pace to get in transition and find open players, Kansas will score a lot of points. Kansas coach Bill Self also finds a way to take out the other team's best player. The game plan against Duke's freshman forward Marvin Bagley III worked perfectly, so expect the Jayhawks to go at Brunson locked and loaded.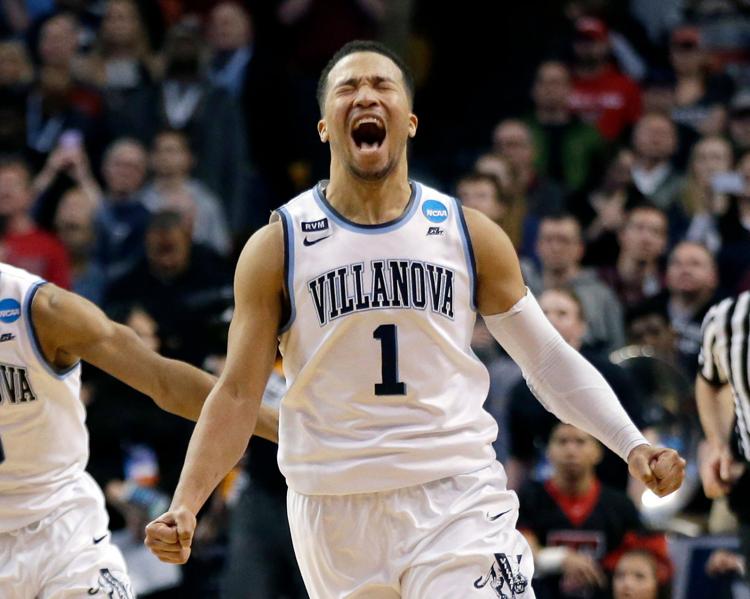 Key player
Jalen Brunson | junior guard
This is the obvious choice, because he is not only Villanova's best player, he's the best player in the nation. However, Self will do everything he can to take the national player of the year out of the game, even if it means putting senior guard Svi Mykhailiuk on him. If Brunson can weather the Jayhawk storm, the Wildcats will have a great opportunity to win, especially if they play at their pace.
Key stats: Brunson is averaging a team-high 19.2 points per game, and dishes for 4.6 assists a game. Brunson also won a national championship his freshman year in 2016.
---
No. 1 Kansas (31-7)
By the numbers
Final Fours: 15
Championships: 3
How they got here
First round: Defeated No. 16 Penn 76-60
Second round: Defeated No. 8 Seton Hall 83-79
Sweet 16: Defeated No. 5 Clemson 80-76
Elite Eight: Defeated No. 2 Duke 85-81
Breakdown
The mantra has been the same for Kansas all season — live and die by the three. Making an average 10 three-pointers per game on an equally impressive 40 three-point field goal percentage, Kansas is unstoppable when hot. In the tournament, Kansas is right on cue, shooting 39-for-96 from three — 40.6 percent. Kansas' whole starting five is averaging at least 12 points or more on the season, causing a headache for opposition defenses. On offense, the one thing that may hurt the Jayhawks is their poor free-throw shooting percentage of just 70.5 percent. Senior guards Devonte' Graham and Svi Mykhailiuk, as well as redshirt sophomore Malik Newman, all shoot above 80 percent from the line, but if anybody else is forced to shoot free throws, Kansas may be in trouble.
Two reasons why they'll win
Graham has been picking up All-American first-team accolades from media outlets across the nation in the past few weeks — and he still hasn't been the best player on Kansas during the postseason. Newman has been the man on form this tournament, showing that the Jayhawks aren't just a one man show in Graham. The three other starters on the team — Mykhailiuk, junior guard Lagerald Vick and sophomore center Udoka Azubuike — have all shown flashes of brilliance too throughout the tournament.
The veterans on this Jayhawk team have a point to prove. Graham and Mykhailiuk, along with Vick who has also been a regular for Kansas the past three seasons, have suffered the pain of defeat in the Elite Eight twice already. Now they're past that "hump" as Graham calls it, the will and drive to go keep the momentum going will be strong. In Graham's metaphorical hump, the Jayhawks have struggled over the top, and now it's a fast-paced slope back down.
Two reasons why they'll go home
The Jayhawks have seen it before too many times this season: if the shots aren't falling, Bill Self's men are in trouble. In five of Kansas' seven losses this season, or 71 percent of them, the Jayhawks have made just single-digit three-pointers. In Kansas' 31 wins, the Jayhawks have shot single-digit threes 14 times (45 percent), but four of those games came during Kansas' nonconference schedule against weaker opposition. While the Jayhawks have been getting better about getting points inside the paint, a rough night shooting against high-quality opposition can often spell doom for Kansas.
Somehow, Kansas outrebounded Duke 47-32 in the Elite Eight, but generally the Jayhawks have struggled greatly on the boards this year. They have earned a rebound margin of 0.4, essentially breaking even, but that stat has been padded by earlier season results. Kansas is a small team, and with guards often unwilling to crash the glass, Azubuike has little help inside when trying to bring in the ball. Villanova will be Kansas' toughest competition to pull down rebounds, but Duke were one of the best rebounding teams in the nation, so who knows what the Jayhawks will do.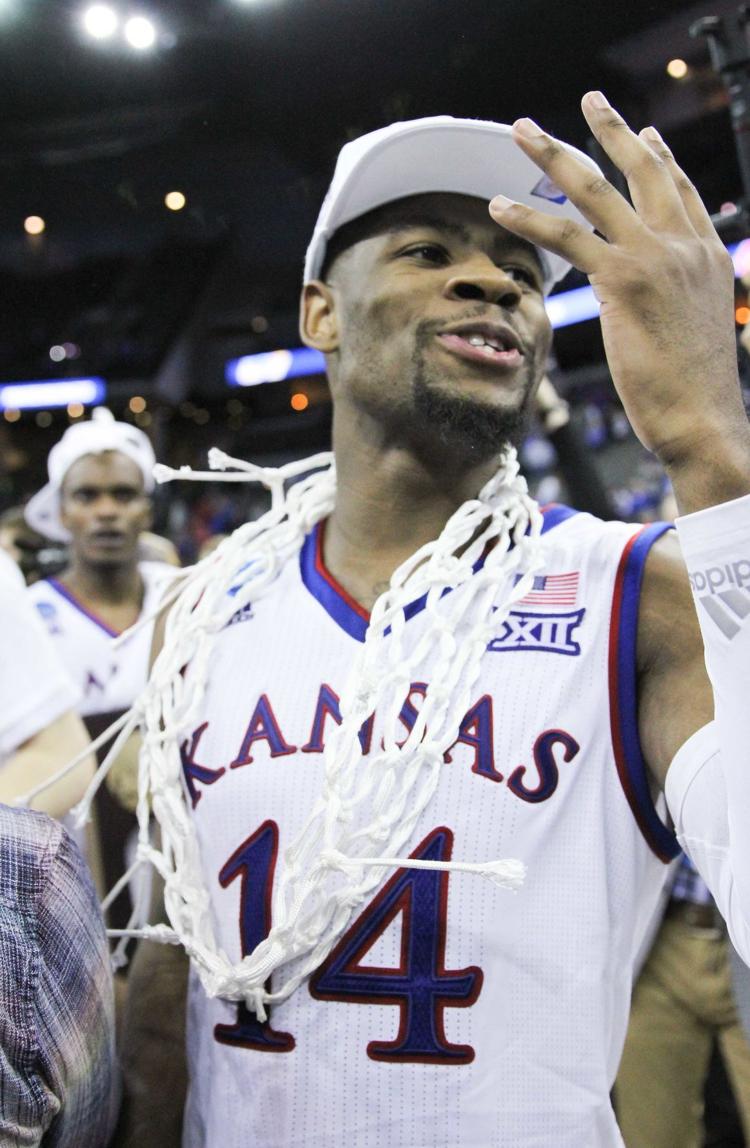 Key player
Malik Newman | redshirt sophomore guard
Malik Newman has hit a new level during the postseason — so much so that if Kansas does go on to win a national championship, he may have worked his way to a second-round draft pick in the NBA Draft. Since the beginning of the Big 12 tournament, Newman has averaged 22.7 points per game. The transfer from Mississippi State has already shown he can be relied on, scoring all 13 of Kansas' overtime points against Duke in the Elite Eight.
Key stats: Newman scored a career-high 28 points against Seton Hall in the round of 32. Not stopping there, he then broke that record by scoring 32 points against Duke in the Elite Eight.