Along with both the men's and women's basketball teams, the fall sports currently underway will be recognized at Late Night in the Phog. Each team will be presented on the court in Allen Fieldhouse with their season accomplishments read aloud for the crowd.
Volleyball (8-4, 1-0)
Coming into this year, the team expected a drop-off from last season with the Jayhawks losing multiple All-Americans, including setter Ainise Havili and right side hitter Kelsie Payne. More adversity came later in the season as well, with standout junior hitter Patricia Montero going out in a match against Kentucky, later having to get knee surgery, effectively ending her season.
With those absences, others have stepped up, such as junior hitter Jada Burse, who leads the team in kills (164) and freshman libero Lacey Angello who leads the team in digs (159).
Kansas has dropped four matches thus far this season, with early season losses to Arkansas and then-No. 16 Kentucky, along with back-to-back defeats to Auburn and Loyola Marymount in the Kansas Invitational. However, the Jayhawks bounced back this past week, with home victories over Drake and TCU, opening up Big 12 play at 1-0.
Kansas volleyball next takes on West Virginia at home on Wednesday, Oct. 3, with first serve set for 6:30 p.m.
Football (2-2, 0-1)
Despite a surprising opening loss to FCS side Nicholls State in the home opener, Kansas football rebounded against Central Michigan with a convincing 31-7 victory on the road, the first of its kind since 2009. The winning trend continued the following week with a 55-14 win over Rutgers at home, starting the first winning streak for the team since 2011. However, the streak would end at two with a setback against Baylor on Sept. 22, with a 26-7 loss.
The Jayhawks have seemingly switched to a more run-oriented offense with the emergence of freshman running back Pooka Williams Jr., who has accumulated 377 yards rushing this season, paired with a two-quarterback system of senior Peyton Bender and sophomore Miles Kendrick. The defense has also stepped up, at one time leading the nation in turnover margin (+12).
The Jayhawks look to get back on track for a homecoming match-up against No. 15 Oklahoma State on Sept. 29.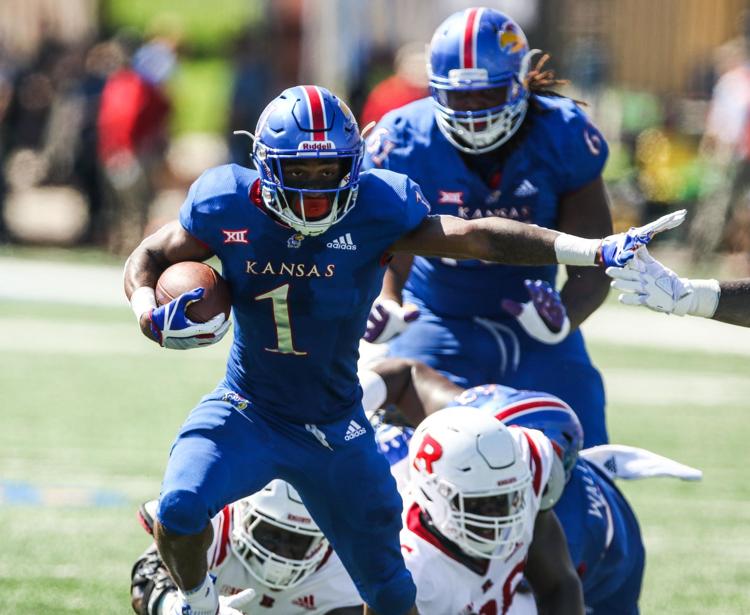 Soccer (7-2-2, 1-1)
Kansas soccer started the season with a bang, jumping into the United Soccer Coaches poll for five-straight weeks, the longest stretch for the team since 2014, peaking at No. 16 so far this season. Kansas also has numerous resume-building victories on the schedule, defeating then-No. 18 Pepperdine and then-No. 25 Butler at Rock Chalk Park.
Kansas is led by freshman goalkeeper Sarah Peters, who has 22 saves on the season, as well as junior forward Katie McClure, who has scored a team-leading six goals, 15 points and been named both a National Player of the Week as well as Big 12 Player of the Week multiple times.
The Jayhawks have lost twice, to then-No. 4 Texas A&M and then-No. 15 Oklahoma State. With Big 12 play underway, Kansas has a record of 1-1, with a 2-1 victory over Oklahoma and the aforementioned defeat to Oklahoma State.
The Jayhawks will next take on Iowa State at Rock Chalk Park on Saturday, Sept. 29, with match time set for 7 p.m.
Tennis
Kansas tennis began its season at the Big 5 Challenge hosted by TCU in Fort Worth, Texas. The team is led by a trio of nationally ranked seniors in Anastasia Rychagova (No. 6), Nina Khmelnitckaia (No. 106) and Janet Koch (No. 124), along with promising young talent in freshmen Malkia Ngounoue and Julia Deming.
In the first competition of the season, Khmelnitckaia finished 3-0 in singles play, along with junior Maria Toran Ribes, and was crowned champion of the Big 5 Challenge. Also, the team went 8-1 on day three of the tournament, including a 4-0 day from Koch and Khmelnitckaia.
Khmelnitckaia and Koch will next compete in the pre-qualifying stage at the ITA All-American Championships, which will begin play on Thursday, Sept. 27 at the Riviera Tennis Club in Pacific Palisades, California.
Women's Golf 
Through two competitions, the Minnesota Invitational and the Lady Paladin Invitational, Kansas women's golf has finished tied for eighth and tied for fifth place, respectively. The tied for eighth finish at the Minnesota Invitational was the highest finish at the event since the 2014-15 season, finishing with a score of 883. At the Lady Paladin Invitational, the team finished with a mark of 881 and 17-over-par, but shot a 289 in the last round, the lowest round score since last season at the Westbrook Spring Invitational (288).
Women's golf will next travel to Highlands Ranch, Colorado, for the Ron Moore Intercollegiate, hosted by the University of Denver. The competition will begin on Friday, Oct. 5.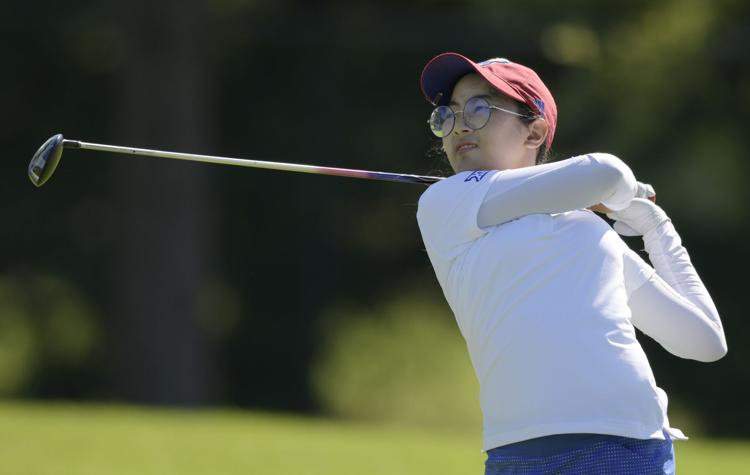 Men's Golf
Kansas men's golf has also competed in two competitions thus far, in the Badger Invitational and the Shoal Creek Intercollegiate. At the Badger Invitational, the team finished in second, thanks to top-20 finishes from sophomore Harry Hillier, junior Andy Spencer, redshirt sophomore Drew Shepherd and sophomore Ben Sigel. Kansas has now finished first or second at the Badger Invitational in four of the last five years. Also, this is the 41st top-five tournament finish under coach Jamie Bermel.
Kansas men's golf will next compete at The Jackrabbit, with competition beginning on Sunday, Sept. 30.
Cross Country
With one meet under their belts, both the men's and women's cross country teams swept the Bob Timmons Classic at Rim Rock Farms against UMKC and Oral Roberts on Saturday, Sept. 1. This was the seventh-straight victory at this meet for the women's team, while the men's team took first place for the third-straight season. Both races were also won by first-time victors sophomores Chace Hale on the men's side (19:25.3 in the 6k) and Catherine Liggett on the women's side (18:44.0 in the 5k).
Hale was followed by redshirt senior Chris Melgares (19:32.3), sophomore Ben Butler (19:38.8) and senior Michael Melgares (19:40.6). Liggett was followed by junior Lauren Harrell (18:51.0), freshman McKenzie Wilks (19:05.0) and junior Riley Cooney (19:11.5).
Kansas cross country will next compete at the Rim Rock Farm Collegiate Classic on Saturday, Sept. 29