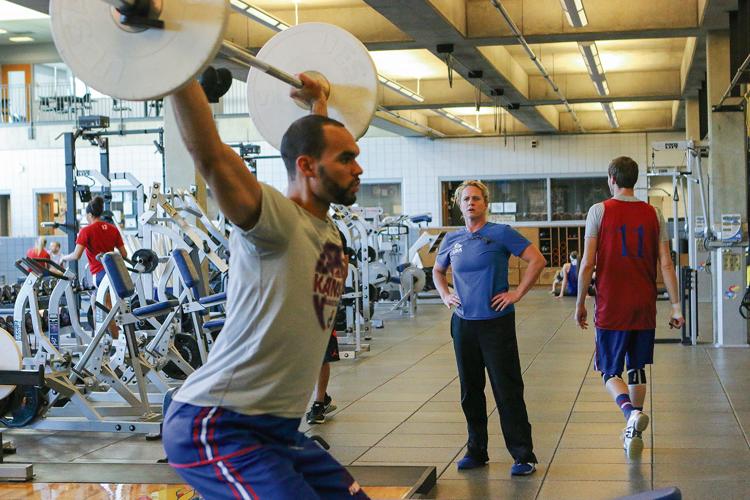 On Thursday evening, sources announced Kansas basketball strength and conditioning coach, Andrea Hudy, accepted a job at the University of Texas, the Lawrence Journal-World reported Thursday.
In a text message from Kansas coach Bill Self to The Kansas City Star, it was confirmed that Hudy accepted a job at Texas and would be leaving the Jayhawks' basketball program.
The Journal-World reported Hudy would be leaving Lawrence sometime Friday.
Hudy arrived at Kansas in 2004. Before then, she spent nine years as the University of Connecticut men and women's strength coach. In all, she was a part of eight national championship teams while at UConn (two men's basketball, five women's basketball and one men's soccer).
Hudy earned numerous honors during her 15 seasons in Lawrence.
In 2013, she was named the National College Strength and Conditioning Coach of the Year by the National Strength and Conditioning Association. Four years later, Hudy was awarded the NSCA's Impact Award.
As a strength and conditioning coach, she's worked with 19 Jayhawks who continued to play professional basketball. Overall, she's worked with 37 student-athletes who played in the NBA and 21 eventual WNBA players.
For Texas, their need for Hudy doesn't come as much of a shock. Daniel Roose, the Longhorn's strength and conditioning coach for the last four years, decided to return to VCU in the offseason.
In the wake of the Hudy's departure, the Lawrence-Journal World confirmed that Self said he did not yet know what direction he would go as he searches for a replacement for Hudy in a text exchange.
Without Hudy for the first time in a decade and a half, the Jayhawks will surely look in-house and elsewhere to fill the void.