Chris and Michael Melgares never planned to run at the same university, and they certainly never planned to finish their cross country careers at the same time.
Chris is a year older than Michael, but, as redshirt senior Chris put it, the "stars aligned" for them to be deemed central to Kansas cross country's two-year plan and have them leave the University with a bang.
"We were exposed to running at an early age, because of our parents, they both ran in college," Chris said. "So we were familiar with it, but personally I didn't take it too seriously until freshman year of high school, and then started running year round."
Their father, Pat Melgares, ran at Adams State, while their mother, Susan Melgares, ran at Emporia State.
With the pair running a successful high school career together at Manhattan High School, where their mother coaches, Chris began to look at potential destinations to further his running career. After paying visits to Kansas, Kansas State and Wichita State, the elder Melgares brother only had one choice in his mind following the three visits.
"After the KU visit, there was really no choice for me," Chris said. "It was head and shoulders above all the others, so it became clear this was the place to be."
A year later, his younger brother Michael, now a junior, also began the hunt for a place to continue his passion for running. After several discussions with Kansas assistant coach Michael Whittlesey about the possibility of running alongside his brother again, Michael also came to the decision to become a Jayhawk.
Chris immediately became a sensation during his freshman year as a Jayhawk after he was a top-three Kansas finisher in all five races he competed in. He would go on to finish in 30th place at the 2014 Big 12 Championships in the 8k race with a time of 25:00.2.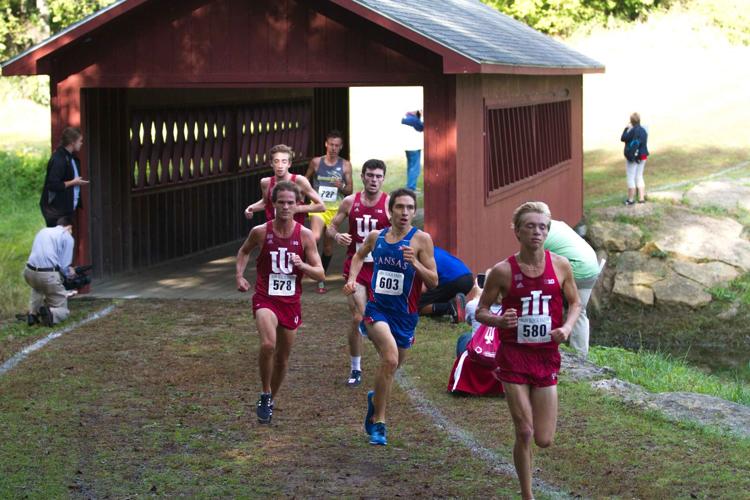 And although Michael did not have quite the electric start as his older brother, he did catch up to him soon enough during his sophomore year. During the 2016 Big 12 Championships, Michael finished in 19th place in the 8k race with a time of 26:06.6, just two places and 2.2 seconds behind Chris.
With the pair showing such promise and effortless teamwork when it came to grouping, Chris came to a decision with coach Stanley Redwine and coach Whittlesey to redshirt his senior year in order for him and Michael to potentially guide Kansas to the NCAA championships in 2018.
"It's all just one process. The idea behind it is to help us be as good as we can be next year," Chris said. "And that doesn't start next year, it starts today."
Michael agreed with his brother's thoughts. 
"Everything we're trying to do this year really contributes to next year ultimately," Michael said. "So we do have next year in mind, but right now it's really a process driven type of goal to where every day 'what can you do to get better.'"
One of the big things both runners expressed was the need for everybody on the team to take accountability. Although Chris was recently picked as a team captain, he doesn't see it as any extra responsibility or weight on his shoulders.
Several athletes representing Kansas led the pack and finished in the top 12 in the Bob Timmons Dual Classic on Saturday. 
"It's really just about everyone on the team leading," Chris said. "So my approach isn't any different to Michael's approach. We all just try and do what we can to get our team to achieve what we want to achieve."
At the end of the day, while the pair thinks it's exciting that they get to finish their collegiate cross country careers together, in the end, it's all about the team for them. When asked about individual goals for the next two years, both men had the same mindset.
"Do whatever [we can] for the team," Michael and Chris said. "Just do everything we can to get the team there."
—Edited by Jake Stephens