Column
Freshman guard Christian Braun's performance against Kansas State Tuesday night was overshadowed by the chaos at the end of the game, but he showed signs of becoming a starter for coach Bill Self in the coming weeks. 
Braun scored a career-high 20 points, mostly because of his prowess from beyond the arc. He was 6-for-10 from behind the 3-point line, hitting three in each half. 
He got started early because of Self's quick decision making with substitutions.
After substituting senior guard Isaiah Moss in for junior forward David McCormack 1:55 into the game, Self only waited 1:28 to bring Braun into the game for Moss. 
So, Braun saw his most minutes since playing against the West Virginia Mountaineers on Jan. 4, and took advantage of the opportunity.
He made his first two 3-pointers within his first two minutes on the floor. 
The first came when he deflected a pass that ended up in the hands of sophomore guard Devon Dotson, who pushed the ball down the court in a 3-on-3 situation. Dotson threw a pass that Braun had to corral before it went out of bounds in the left corner. Then Braun made his opening shot of the night. 
The play gave the Jayhawks a spark as they had committed three turnovers in the opening minutes and made just one shot before Braun's 3-pointer. 
The next shot Kansas put up was from the freshman guard as well, and it was another made 3-pointer. He slid over to the left wing after K-State double-teamed senior center Udoka Azubuike in the post.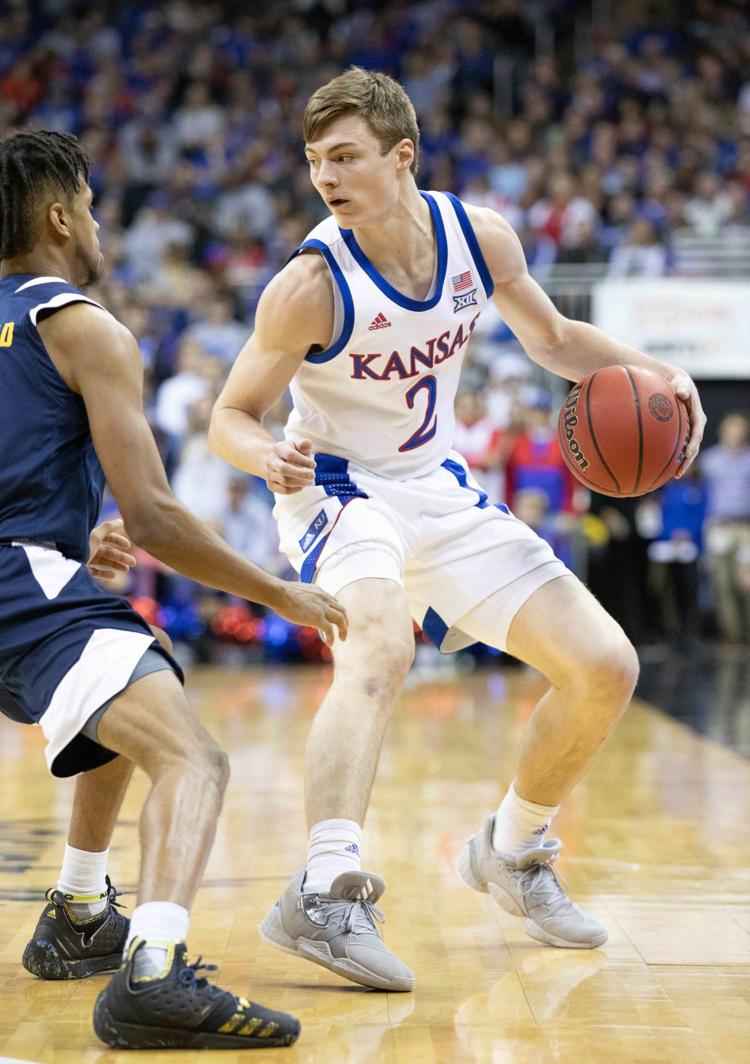 Braun caught the pass from Azubuike and released it just in time over the close out effort of K-State freshman forward Montavious Murphy and drained his second consecutive shot from behind the arc. 
It provided momentum for the Jayhawks, who led for the rest of the game after the shot made the score 10-7 with 14:39 left in the first half. 
Self said Braun was "by far the best player in the game" Tuesday night. 
With Braun's ability to space the floor and the sense of awareness he showed against K-State, Self can feel more comfortable with starting him in a four-guard lineup.
For at least the next two games, the starting position should come down to Braun and senior guard Isaiah Moss as sophomore forward David McCormack has been suspended for his involvement in the brawl late in the game.
With Braun's next potential start being his first, perhaps he can step up and become a perimeter threat the Jayhawks need to put them over the top in March and April.