The Kansas men's basketball team will officially open its Big 12 title defense in December against Texas, but there will be several other crucial conference games for Kansas as it aims to surpass UCLA and secure a record 14-straight conference championships this season.
Here are the Kansan's three most vital Big 12 games for the Jayhawks in the 2017-18 season:
Kansas at TCU on Jan. 6
Coach Bill Self wasn't shy talking about TCU and the threat they pose to the rest of the Big 12 in the upcoming season. Self told reporters at Big 12 Media Day that TCU is "going to be a force" in the conference as long as coach Jamie Dixon is there.
The Horned Frogs return a lot of players including sophomore guard Jaylen Fisher, who averaged 9.9 points and 4 assists per game in his 2016 freshman season.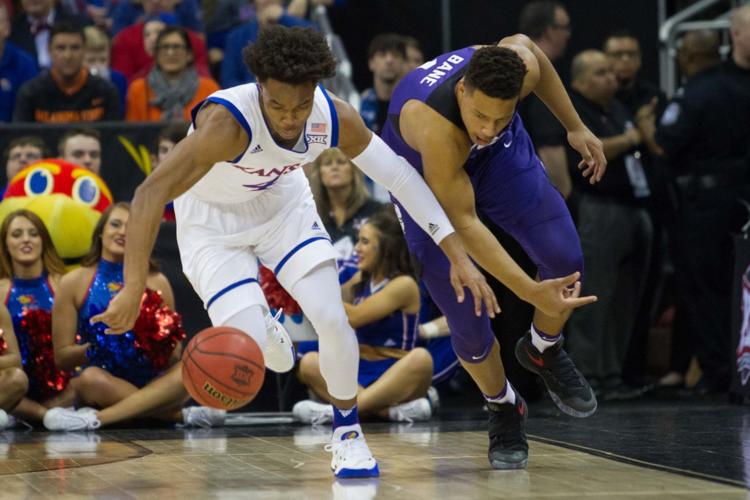 The Jayhawks match up well against TCU. The four-guard lineup Self plans to run includes seniors Devonte' Graham and Svi Mykhailiuk, junior Lagerald Vick, and redshirt sophomore Malik Newman will be a terror on the perimeter.
However, the Horned Frogs were able to bounce the Jayhawks out of the Big 12 tournament in 2016 when the Jayhawks had Josh Jackson and Frank Mason III.
Dixon discussed the surprise around his team in 2016-17 at Big 12 Media Day.
"We expected to win, and we expected to win now, and that was our mentality. It was great for us," Dixon told reporters. "We won 24 games, nobody ever thought, but in my mind we should have won more, so I wasn't satisfied."
While the Jayhawks may be sitting pretty at the top of the Big 12 rankings, playing the Horned Frogs in Fort Worth, Texas won't be a cake walk.
Kansas at West Virginia on Jan. 15
Despite the Kansas basketball team's dominance over the conference during its 13-year run of Big 12 championships, the Jayhawks have struggled mightily on the road against the Mountaineers in recent years.
In fact, the last time Kansas defeated West Virginia in Morgantown was in the 2012-13 season, when Perry Ellis was a freshman.
This season, coach Bob Huggins' squad will return top scorers Jevon Carter and Esa Ahmad. Carter, now a senior and an evident leader on the team, averaged 13.5 points per game and shot 43.9 percent from the floor in 2016-17.
The 6-foot-8 Ahmad averaged 11.3 points per game and scored a game-high 27 points in West Virginia's 85-69 home win over Kansas last season.
Although Ahmad — who started 32 games last year — figures to make an impact in this game, he will miss the first half the season after failing to meet NCAA eligibility requirements.
This has created uncertainty for Huggins and his starting lineup to begin the season.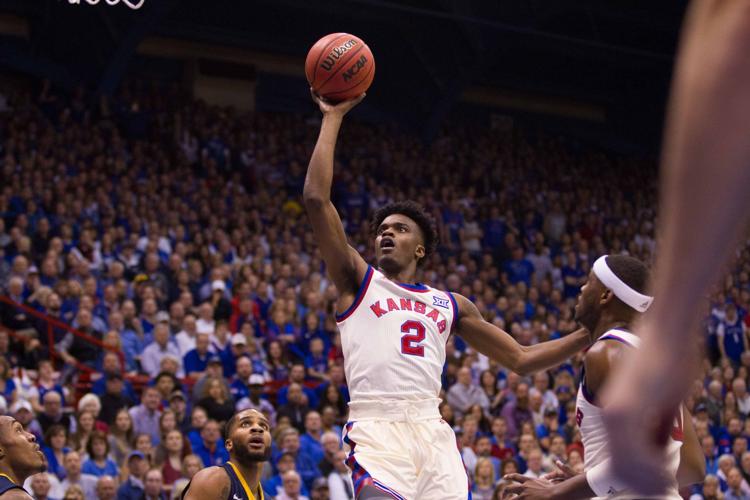 "[Ahmad's] good, you know, I mean, he's — it's hard to replace somebody that good. We'll do it by committee," Huggins said at Big 12 Media Day. "I would be lying if I told you I knew what we were going to do. I don't. It seems like every time people ask me who your starter is going to be, and I tell them, it ends up not being those guys. So honestly, I don't know."
The Mountaineers also lost forward Nathan Adrian, guard Tarik Phillip and forward Elijah Macon, who all started games for West Virginia last season.
Huggins remains confident in his backcourt of Carter and Daxter Miles, who averaged 8.8 points and 2.5 rebounds per game in his junior campaign, but is unsure of how the rest of his starting lineup will fill out, most notably his front court. 
"I think Jevon Carter and Daxter Miles are as good a pair of guards as there are anywhere in the country," Huggins said at Big 12 Media Day. "Then we've got a bunch of young guys. We will have to find out."
The inexperience of many of the Mountaineers' big men could prove to be an advantage to Kansas sophomore center Udoka Azubuike, who has the potential to make the biggest impact in this game due to his size.  
"To be real with you, the reason he's so good is because he's so hard to guard," sophomore forward Mitch Lightfoot said on Monday. "He's such a big man … he's quicker and makes moves without hesitating … he's super athletic for how big he is."  
Securing a win over the Mountaineers — who have finished second in the Big 12 the past two seasons — could be key to a 14th straight title for the Jayhawks. 
Kansas at Iowa State on Feb. 13
The last time Kansas swept Iowa State in Big 12 play, Kansas guard Frank Mason III was just a freshman and guard Andrew Wiggins was still donning the crimson and blue.
Since that 2013-14 season, Kansas has split the series with Iowa State over the past three seasons, including two losses in Ames, Iowa, and the defeat in overtime at Allen Fieldhouse last season, which snapped Kansas' streak of 51 wins at home.
Although Iowa State is predicted to finish ninth in the Big 12 this year following the loss of important players such as guards Monte Morris and Matt Thomas, the Cyclones inside Hilton Coliseum will still pose a difficult challenge for Kansas.
Since the Jayhawks won both games in the series in 2013-14, Kansas has only defeated Iowa State by double digits once, with the Cyclones having an uncanny ability to turn on their A-game when facing Kansas.
Not only did the Cyclones defeat the Jayhawks inside Allen Fieldhouse last year in overtime by a score of 92-89, they also defeated the Jayhawks at the Sprint Center en route to the 2015 Big 12 Tournament championship.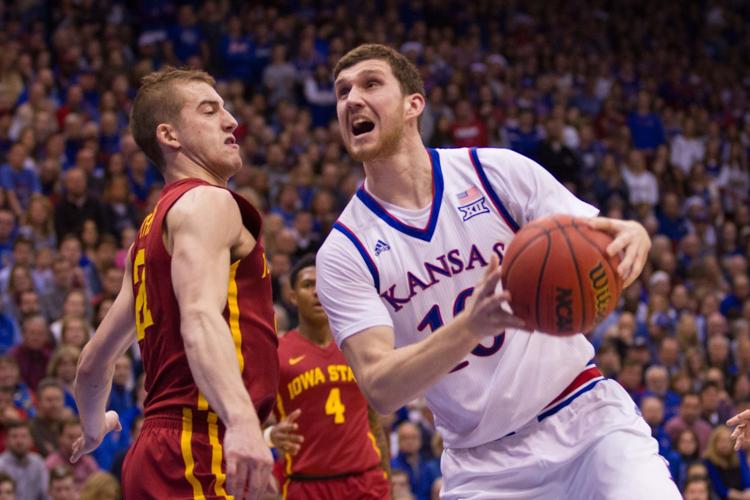 Many Iowa State fans also regard Hilton Coliseum as great a home court advantage as Allen Fieldhouse, and they are always willing to prove that when Kansas heads to Ames. Iowa State coach Steve Prohm echoed the fans' sentiment at Big 12 Media Day on Oct. 24.
"I would think though that [Hilton] and Allen Fieldhouse are the top two in the league, and I think I would match Hilton with anybody in the country," Prohm said. "There's not five better – name five better than Hilton and Hilton Magic, and it'd be hard, you'd be hard pressed to do that."
On the court, one of the most interesting battles will be between Kansas junior guard Lagerald Vick and Iowa State freshman guard Lindell Wigginton. A matchup in the No. 2 spot between perhaps the two best transition players on the court will be a big factor in deciding which way momentum shifts.
In a road game that many of the teams challenging Kansas for the Big 12 title this season will be expecting to win, all the factors mentioned above may create the perfect storm for the Jayhawks.
If teams such as West Virginia and TCU head to Hilton and earn a win, and then Kansas goes there and loses, it'll be a huge loss for the Jayhawks against an inferior team that could go a long way when it comes to the end of the season.
— Edited by Danya Issawi