Few sports reporters can regularly end their interviews with "thanks dad," but for Smacker Miles, that is exactly the case.
Soon after her father Les was named Kansas football's 39th head coach, Smacker found an opportunity to make the move to Lawrence a family affair, joining Kansas Athletics' Jayhawk Insider to report on her dad's new program.
"Obviously I love to be around the family, so it was a great opportunity to bring some positive publicity to Kansas and support the football team and get to see the family," Smacker said.
Making her Kansas Athletics' debut at the beginning of the spring football season, the former University of Texas swimmer reported on each of the squad's spring practices, a process she explained would begin at around 2 p.m. each day with a discussion with Kansas football sports information director Katy Lonergan.
"I get [to campus] at like two and I talk to Katy Lonergan and she would basically help me a little bit because she is such a wealth of knowledge about KU football and I'm still a little bit new to it," Smacker said.
While Lonergan and Les would communicate with Smacker about what they wanted to cover that day, she explained that she took a lot of pride in coming up with creative angles and new ideas.
"A lot of it was my creativity so I could decide within the parameters what I wanted to talk about specifically and then get into practice. And then I would watch practice just to see if there was anything specifically that I noticed that no one else had noticed," Smacker said.
"I think it's always valuable to really be into what you're doing," she continued. "I would never want to just take someone else's notes and do my work from it so I appreciate the help, but I also like to watch practice."
After watching practice and taking note of anything else that may have stood out, the real fun began for Smacker—getting to see her dad. The pair obviously comfortable working with one another, recording each interview never took more than two takes.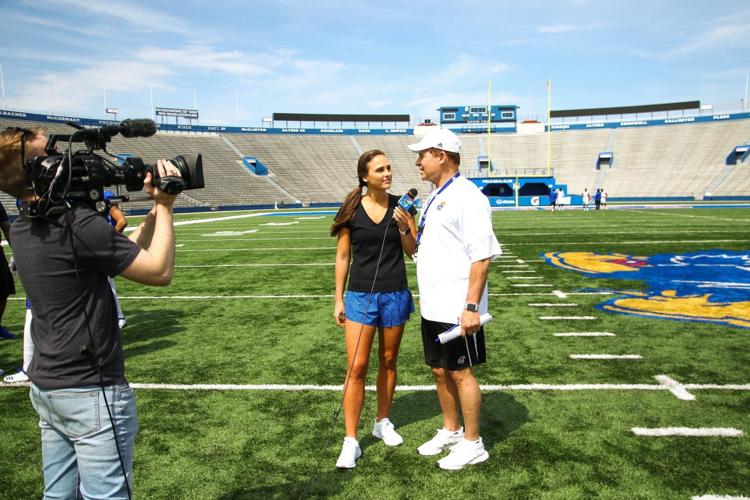 "it's pretty natural because I would normally ask him how practice is and he's not like a different guy on camera or off camera, so it's made my job really easy just because he is really genuine and doesn't change when a camera is on or not," Smacker said.
After recording with Les and the players, Smacker edited the video herself using Premiere, rewatching practice and choosing clips to tie in with her interviews from that day. Having experience in editing from working in local news, Smacker enjoyed the opportunity to construct the videos herself, wanting to represent the Kansas football program she has grown so passionate about in the best way possible.
Taking much pride in her work, Smacker explained that the most difficult part of her job is being too hard on herself.
"It's tough because I care so much I guess. You're hard on yourself when you care about things and I've found that there were times that I was like 'Ugh I wish I would've been better here' or 'I wish we would've talked more about this or that' or 'I wish I had more time on this interview because I would love to talk to this player more in depth about a certain issue,'" Smacker said. 
With coach Les Miles' first season with the Jayhawks rapidly approaching, Smacker has quickly integrated into the Kansas Athletics family, appreciating getting to know everyone who is affiliated with the program and of course getting to spend time with her dad.
"We just have a lot of fun with it and there's never any pressure, never anything that was too much of a job it's kind of a hobby for me," Smacker said.