On Sunday, Kansas was able to come away with a 1-0 victory over the Florida Atlantic Owls on the back of a goal from senior forward Katie McClure. 
Partly cloudy, decent heat index. Following the emotional high of the Jayhawks' win on Thursday against No. 20 Memphis, Kansas was able to move to 4-0. The Jayhawks came out with a determination the team has been devoid of in previous Sunday matchups.
"The game Thursday against Memphis took a lot out of the group physically," coach Mark Francis said. "I just think we were reeling a little bit today. The intensity that FAU brought, we really had to battle and compete. Especially with the second half, with guys subbing in, it was really a group effort."
The first 12 minutes of the game was marked by the pressure Kansas applied in the game. FAU looked blindsided and ill-prepared for the effort in the game. McClure's goal came early in the eighth minute of the contest. The rest of the game was a grind-it-out performance for Kansas doing its best to thwart off the attack of an FAU side trying to get the team's footing back.
Sophomore goalkeeper Sarah Peters was able to stonewall the attempts of an aggressive FAU team throughout the game, especially early in the first half of play.
"I think we had the rhythm early on in the match first half," Peters said. "We let go of it a bit in the second half. Overall I think we kept a good momentum throughout the game."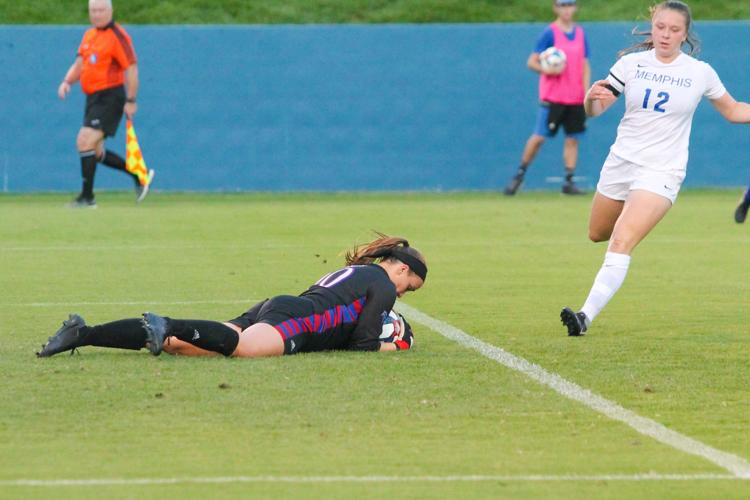 Despite getting down early in the contest, the play of the Owls to start the game was something that impressed Francis.
"First of all, I was impressed with FAU. Two great opponents for us this weekend," Francis said. "They're going to win a lot of games this year. To be fair, they probably had the better of it in a lot of areas in the game, but we scored a great goal."
After a huge win for the Jayhawks, they will embark on a four-game road stretch that should be sure to challenge them as they move into conference play.
Kansas next travels to Lafayette, Indiana, to defend its undefeated streak against DePaul.