"Give it all that you have! Right here!"
The voice of senior coxswain Bailey Coolidge could easily be heard from several hundred feet away, as she was shouting non-stop at the eight rowers in front of her, propelling their boat through the murky waters of the Kansas River.
On the banks of the river, hundreds of spectators—wearing the colors of several schools from the Midwest—intermingled with one another, cheering on the boats that streamed by.
Groups of rowers from different schools would gather near the water's edge, trying to outshout one another. "Rock Chalk, Jayhawk" chants rang out at one end of the dock, while a group of Iowa rowers countered with chants of "Let's go Hawks, go Hawks" down the other end.
"It was a great day for racing. It was great to have this many people down to watch not only our crews, kind of the Pride of the Midwest crews. Definitely great to have everybody down here supporting - gave us the start to our season," said Kansas rowing coach Carrie Cook-Callen following the meet.
Before their freshmen years on the team, Brianna Dittberner and Caitlin McNulty had no rowing experience. Now seniors, Dittberner and McNulty are leaders on the team, have helped along many other freshmen rowers and are grateful for the opportunities the program has created for them. 
The Jayhawk Jamboree is Kansas rowing's one true home meet of the season, with the meet happening on the doorstep of its boathouse, the banks of the Kansas River inside Burcham Park.
Despite not having any first-place finishes on the day, Kansas' First Varsity Eight did claim a sixth-place finish, rowing its 4k in 13:04.62.
"I love it, I love having everyone here," said junior Abigale Lane, who was coxswain on the First Varsity Eight shell. "The parents are awesome about traveling to the regatta's, so that's really nice. But having all the alumni, and this is our one team event, so tons of other athletes were here, it's always fun to have the support."
Lane was also coxswain of the Second Varsity Four squad that claimed a 10th-place finish with a time of 14:26.87.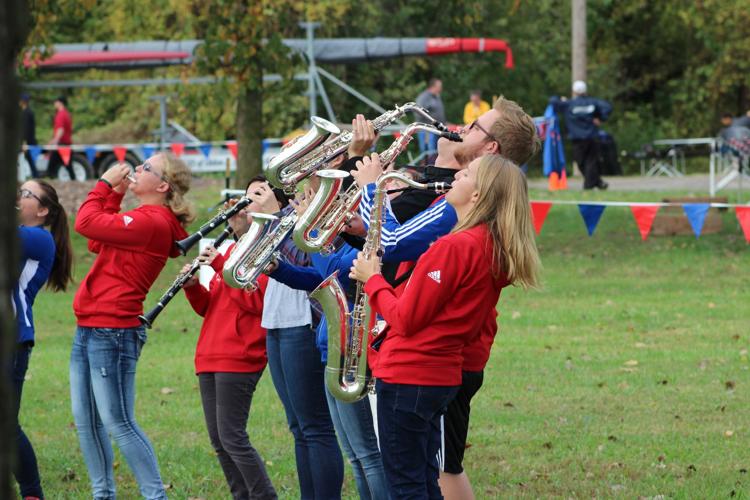 "I'm pretty happy, but definitely after that we can still improve, and I think you're going to see a lot improvement from us the rest of the season," said redshirt junior McKayla Ross, who also joined Lane on the First Varsity Eight and Second Varsity Four.
While part of that improvement is down to the rowers, it all begins with Cook-Callen, who was coaching her first meet as a head coach at the Jayhawk Jamboree. Cook-Callen was previously an assistant coach at Kansas.
Carrie Cook-Callen will lead the Kansas rowing team this 2017 season. Cook-Callen has been in and around the Kansas rowing team since 2002. 
"It's just a tad more stressful," Cook-Callen said with a laugh. "It just kind of falls on your shoulders a tad more. But I have a great support system behind me, with our facilities crew, our timers and officials. So there's so many people that make an event like this happen – it's definitely not just me."
Both Lane and Ross agreed that Cook-Callen is a great coach for their team, saying that she brings a lot of positivity to the team while staying cool, calm and collected.
A big step in the right direction for Cook-Callen is to measure the team's performance up against other top teams in the Big 12, such as Kansas State and Oklahoma, with the Sooners ranked sixth in the South region.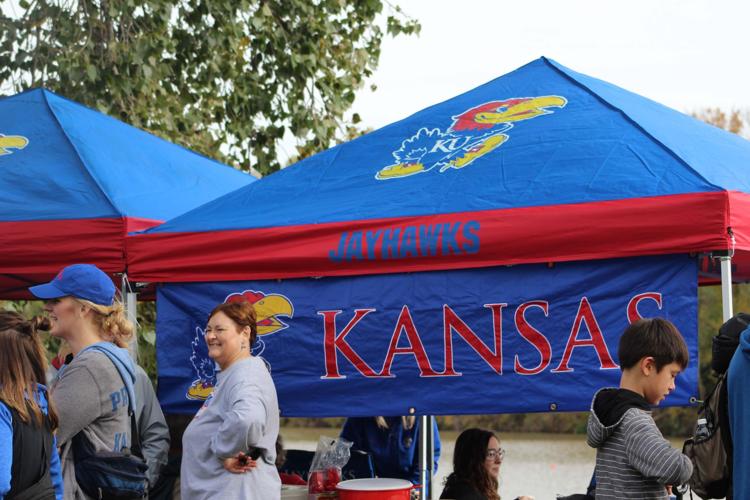 "We've got two weeks until we go down to Tulsa, so we will see a couple of the same crews – Tulsa and Central Oklahoma," Cook-Callen said. "And then SMU will also be there, so that'll give us a test to see where we measure and race against the crews that were here today. Making some changes within our team and things like that. We'll just take it one day at a time, but really keep focus two weeks down the line."
With several alumni, in the form of both former players and coaches, the team finished the event with a hearty rendition of the Kansas alma mater, along with several alumni joining in.
Your @KU_Rowing team with a loud rendition of the Kansas alma mater after a successful #JayhawkJamboree pic.twitter.com/PMxTza6I6A

— Shaun Goodwin (@ShaunGoodwinUDK) October 23, 2017
The Jayhawks' next meet will be in two weeks when they travel to Tulsa, Oklahoma, to compete in the Tulsa Falls Regatta on Nov. 3 and 4.
— Edited by Abi Gleckler