Coming off a loss to Coastal Carolina last Saturday, Kansas football heads to the east coast for a matchup with Boston College. The Eagles opened their season 2-0 and most recently blasted Richmond by a score of 45-13. On the other hand, the Jayhawks have been stuck in the mud offensively, averaging 15.5 points per game through two games.
Despite sophomore running back Pooka Williams Jr. returning to the field last week, Kansas put up just seven points and failed to score after its opening drive. Slated as a 21-point underdog, the Jayhawks will hope to pull off a shocker against the Eagles on Friday. Kickoff is set for 6:30 p.m.
Boston College Eagles: 2-0, ACC (1-0)
Junior running back A.J. Dillon - ★ ★ ★ ★
Stopping Dillon should be top priority for the Kansas defense. Standing at 6-feet, 250 pounds, the junior running back is the key piece to Boston College's offense. Through two games, Dillon has 167 rushing yards while averaging 4.2 yards per carry.
Kansas has struggled to stop the run in the first two games of the season — allowing 159 rushing yards per game — meaning the Jayhawks are up for a real test against the preseason All-ACC selection.
Redshirt junior quarterback Anthony Brown - ★ ★ ★
Although Brown mainly serves as a game manager, the two-year starter has a good arm and is athletic enough to scramble when he needs to. But, the junior from New Jersey has only 40 pass attempts through the first two games, completing 23 of them.
If Kansas can first stop Boston College's running backs, forcing Brown to make a play through the air could play into Kansas' strengths.
Redshirt sophomore cornerback Tate Haynes - ★ ★
If the Jayhawks want to give the Eagles a run for their money, Kansas can't shy away from the pass game. Most of the players in Boston College's secondary are inexperienced, with multiple players making their first career starts this season.
The sophomore from San Diego in particular fell victim to a couple of deep balls versus Virginia Tech and could be the weak spot on the Eagles' physical defense.
Kansas Jayhawks: 1-1, Big 12 (0-0)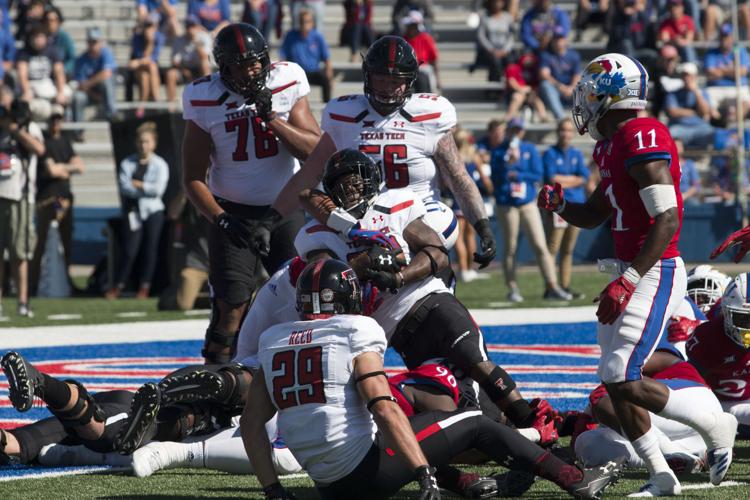 Junior linebacker Dru Prox - ★ ★ ★ ★
Prox has emerged as the most active member in the Kansas front seven, ranking fourth in the conference with 20 tackles and tied for eighth in sacks with one. Recording a career-high 11 tackles (10 solo) against Coastal Carolina, the junior from Kaufman, Texas, has relished in his new role as a starter on defense.
With Boston College averaging 251.5 rushing yards per game, Prox will shoulder the load in slowing down the production of Dillon and sophomore running back David Bailey.
Senior cornerback Hasan Defense - ★ ★ ★
After returning an interception for a score in the home opener against Indiana State, Defense cooled off this past Saturday as he only recorded one pass breakup.
Headlining a secondary that currently ranks sixth in the Big 12 in pass defense and seventh in pass defense efficiency, the senior's next test will be causing issues for Eagles quarterback Anthony Brown. With Brown yet to throw an interception this season, Defense will have to take advantage of any potential mistake Friday night.
Senior tight end James Sosinksi- ★ ★
To the surprise of many, Sosinksi has been one of senior quarterback Carter Stanley's favorite offensive weapons through two games. Hauling in two catches for 25 yards and a touchdown against Indiana State, the former Kansas men's basketball walk-on followed up with three receptions for 36 yards against Coastal Carolina.
With Kansas struggling to get the offense going last week, Stanley will have to rely on his 6-foot-7, 260-pound target in the redzone if the Jayhawks hope to keep up with Boston College.
Beat Writer Predictions:
Jakob Katzenberg: Boston College 31, Kansas 10
Jack Johnson: Boston College 35, Kansas 17