Heading into The Basketball Tournament, former Kansas guard Elijah Johnson is still bringing the same competitive fire he did during his four-year career at Kansas. 
"People are out here trying to secure money for their families and their futures," Johnson said. "So nobody's laughing at all. We're trying to win."
The Basketball Tournament is a collegiate alumni tournament, where the winning team takes home a prize of $2 million. The first three rounds are hosted in eight different cities across the nation, with the last three rounds hosted in Chicago. 
Johnson is the general manager of "Self Made," a 10-man squad of Kansas basketball alumni that will compete as the No. 3 seed in the Wichita region of the 64-team, single-elimination tournament. Should Self Made advance past the Super 16 of the tournament, they will compete in the quarterfinals in Chicago.
The Wichita side of the bracket features the possibility of Self Made facing Purple & Black, Kansas State's alumni team. Despite the buzz that potential Super 16 matchup might drum up among rival fans, Johnson said he won't allow anything to distract him or his team from capturing the tournament title.
"I'm not even thinking about them," Johnson said. "I hear it every day that there are different teams speculating about us and what we got going on. But I'm not worried about any of these other teams."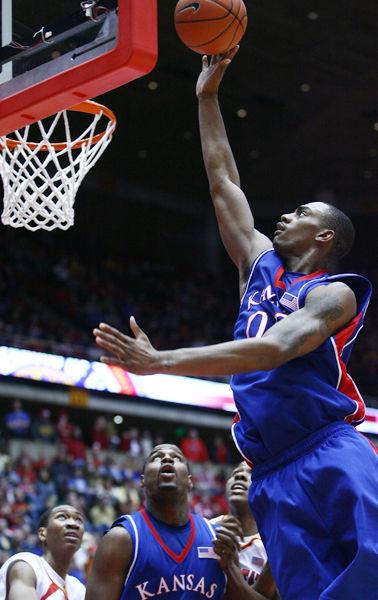 Given he has played with every member of the team in some capacity, it's safe to say Johnson is confident in the team's overall chemistry, describing the team's training camp and practice sessions as "fluid" so far.
He pointed to former Kansas power forward Darrell Arthur as a practice standout, citing Arthur's experience winning a national championship with the Jayhawks in 2008. 
Arthur, a 10-year NBA veteran, has already solidified himself as one of the key leaders for Self Made, according to Johnson. Despite not being able to play with Arthur in college, Johnson said he knows what Arthur brings to the table as a player and leader.
"I see why [the 2008 team] won now," Johnson said. "Every day I'm watching him do things that I'm learning from."
Despite experiencing a steep learning curve in his duties as general manager, Johnson remains grateful to play alongside his fellow Jayhawk alumni.
"Getting back in the gym with those guys made it all worth it," Johnson said. "It reminded me why I did it."
Self Made will face Sideline Cancer in the first round of the tournament on Thursday at 6 p.m. at Wichita State's Koch Arena.
PF Darrell Arthur
PG Jeremy Case
PF Perry Ellis
PG Elijah Johnson
SF Mario Little
C Landen Lucas
SG Travis Releford
SG Tyshawn Taylor
PG Naadir Tharpe
PF Kevin Young