In a battle against the Oral Roberts Golden Eagles, Kansas women's basketball managed to walk away with a 70-58 victory on Tuesday to push its season record to 2-0, but it was the freshmen for Kansas who showed out.
After scoring a combined two points against UMKC, the freshman duo of guards Brooklyn Mitchell and Aniya Thomas would stand out for Kansas on the night. Thomas led all Jayhawks in scoring with 17 while Mitchell followed suit with 13. The tandem shot a combined 11-for-16 from the field and combined for 7-for-8 from the free throw line.
"My mentality was to play lock down defense and contribute to the team as much as I could on offense," Thomas said. "I just wanted to play my game."
Both Thomas and Mitchell only appeared for seven minutes each against UMKC, as opposed to their combined 39 minutes against Oral Roberts.
"In the UMKC game they threw it to the other team too much," Kansas coach Brandon Schneider said. "In this game, I thought they did a better job taking care of the ball and being very aggressive, attacking the basket."
The duo also got up on the defensive end of the court as Thomas would pick off a pass and swipe another ball leading to two wide open layups while Mitchell would also pick off a pass, eventually leading to a Thomas three pointer.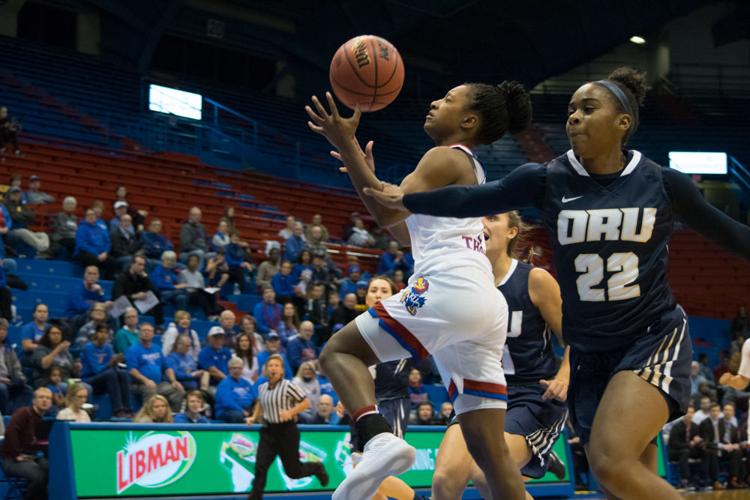 Each player would go on scoring sprees of her own in the first quarter as Mitchell scored seven straight points for Kansas followed by Thomas, who would score nine-straight for the Jayhawks. At the end of the quarter, Kansas was leading 29-11.
"We're all confident in [Thomas and Mitchell] and know they can contribute to our team, its great they could bounce back from their first game," sophomore center Bailey Helgren said.
On a night which senior point guard Christalah Lyons would struggle with fouls, having four in the game, Mitchell and Thomas stepped up and filled a much-needed role.
"I think when [Mitchell and Thomas] play like they did tonight, obviously I have more confidence in them and I trust them more," Schneider said. "It's nice to see them respond from the UMKC game when they didn't play probably like we would expect them to."
The Jayhawks will now be looking forward to their matchup against the Alabama A&M Bulldogs, a game which will see the first appearance of senior guard Jessica Washington as Schneider announced she will play on Sunday.
Kansas will tipoff against the Bulldogs on Sunday at 7 P.M. in Allen Fieldhouse.