COLUMN
Since his arrival in 2015 — though the on-court results may not indicate it — Kansas women's basketball coach Brandon Schneider has made huge strides in improving the women's basketball program.
During his first season, Schneider's squad went 6-25, not winning a single game in conference play. Now entering his fourth season, Schneider is coming off a year where his team started 7-0, before finishing the year 12-18 without the Jayhawks' best player, then-senior guard Jessica Washington, through injury.
This season, the Jayhawks will have a veteran presence, as the squad boasts seven seniors and three juniors, two of which will be playing their first season at Kansas.
Both coming from Highland Community College, juniors Mariane De Carvalho, who was rated the sixth-best junior college player in the country, and Niccolly Ramalho will bring new competition to the table, something Schneider has become accustomed to creating, as now seven of his players have transferred into the program.
In addition to Ramalho and De Carvalho, the Jayhawks will be gaining two freshmen and two other players who redshirted last season due to injury.
Starting with the freshmen, five-star guard Brooklyn Mitchell and three-star guard Aniya Thomas will be joining the Jayhawks this season. Also, adding to the veteran leadership, the team's leading scorer in 2016-17, Washington, will also be returning after missing the 2017-18 campaign due to an anterior cruciate ligament tear.
Kansas will also have a lot of competition within the roster for this upcoming season. 2017-18 All-Big 12 honorable mention senior guard Christalah Lyons will be returning, but, with the addition of both Ramalho and Mitchell, she will be faced with a lot of competition for her starting spot.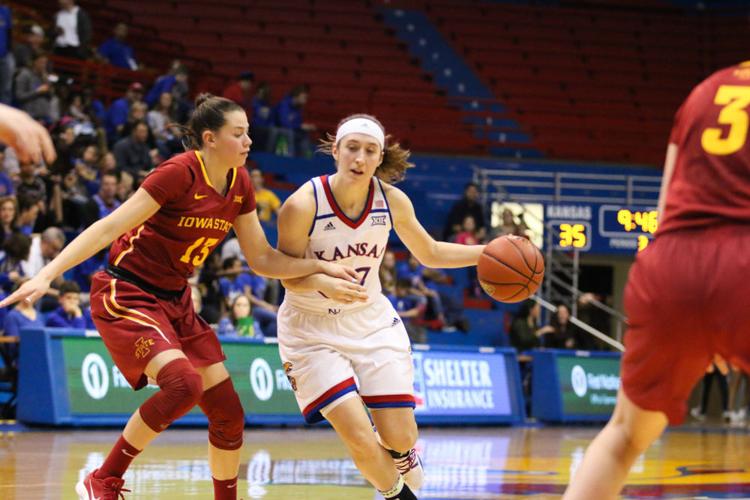 Senior guard Brianna Osorio, who filled in as a shooting guard last season, will likely see a decrease in playing time now that Washington has returned. As for senior guard Kylee Kopatich, she will likely fill in at the three-spot due to her strong ability to shoot from distance.
There is a chance that Schneider plays a four-guard lineup at times, especially considering how loaded the Jayhawks are at the position. The most likely scenario to start the season will be a three-guard lineup with either senior forward Austin Richardson or De Carvalho filling in at the four spot.
There is quite a toss-up at the five spot, as Schneider was unable to find a consistent starter last season and, now with redshirt freshman center Brittany Franklin back in the mix, there could be even more questions at the position.
Loaded with talent, Schneider's squad has a strong chance to at least go .500 this season, but nearly all their wins will come in non-conference play as the Big 12 is loaded with talented rosters, especially in the form of powerhouses Baylor and Texas.
Four teams from the Big 12 went on to the NCAA Tournament last season, as well as two other teams that went on to play in the NIT tournament.
The Jayhawks are likely to get swept by both Baylor and Texas but, if they can escape non-conference with at least nine victories and sweep a couple other teams in the Big 12, they will have a shot to make an NIT appearance.
For Kansas to escape being labeled a bottom feeder once again in the Big 12, consistent improvement will be key throughout this upcoming season.