Coming off of the unsuccessful games in the First Pitch Invitational, Kansas baseball returned to Lawrence for their home opener at Hoglund Ballpark.
The Jayhawks (6-6) hosted the Creighton Bluejays (4-6), and came out with a 3-2 win. 
"I've been here 18 years and this is by far the best weather we've ever had for a home opener," coach Ritch Price said. "We've played three weeks on the road and it's been freezing cold everywhere we've been, so it was really fun to play and have a nice game."
Junior Steve Washilewski was the starting pitcher for Kansas and pitched for three innings. He was able to keep the Bluejays quiet for the first two innings, but Creighton struck with a run in the top of the third. Washilewski pitched for a total of three innings and only allowed four hits.  
The Jayhawks responded with a run of their own by sophomore outfielder Casey Burnham in the bottom of the third. 
In the top of the fourth inning, senior pitcher Cole Larsen came on in relief. Larsen conquered the mound for three innings, allowing two hits and just one run.
In the bottom of the fifth, bases were loaded, but the Jayhawks only scored one run on a hit by the pitch.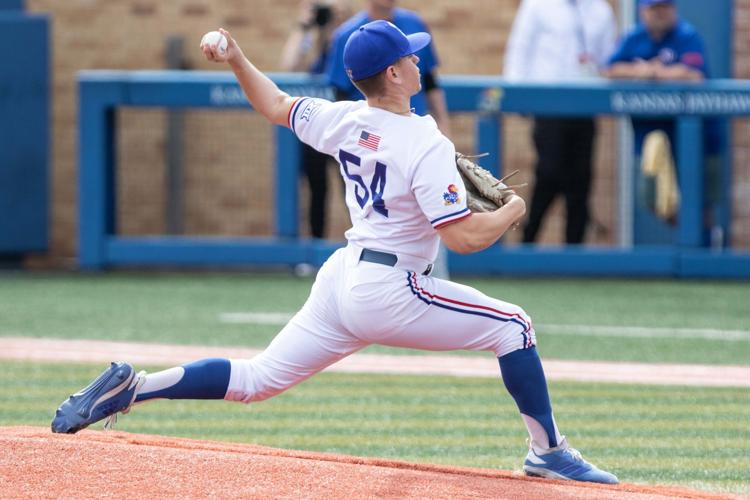 Creighton answered the bell in the top of the sixth with a solo home run by junior catcher David Vilches tying the score at 2-2.
An RBI-single through the left side of the infield by junior catcher/first baseman Nolan Metcalf gave the Jayhawks the lead in the bottom of the seventh.
Senior Blake Goldsberry took over the mound in the top of the eighth inning and tossed a scoreless frame. 
Junior pitcher Jonah Ulane got his chance to slam the door in the ninth inning and did just that.
Burnham had a stellar game recording three runs and one hit against Creighton.
"The [win] against Creighton was a big one," Price said. "[They're] a team that won the Big East championship last year and played in the NCAA tournament, a really good college baseball team. We found a way to beat a really good team today with two starters out of the lineup."
Price is excited for his team once they get a little healthier. 
"We are gonna keep getting better the more games we can play when we get healthier and get a chance to get our reps but it was an important game for us."
The Jayhawks host Indiana State Friday, March 6, at 3 p.m.