Kansas cross country opened its season on Saturday at the Bob Timmons Dual Classic at Rim Rock Farm in Lawrence. Competing against UMKC and Oral Roberts University, the Jayhawks won both titles in the men's and women's heats.
In the men's 6K run, Kansas claimed the top two spots on the podium with senior Ben Burchstead and sophomore Avery Hale taking first and second, respectively. All nine racers representing Kansas finished in the top 12, taking four out of the top five spots.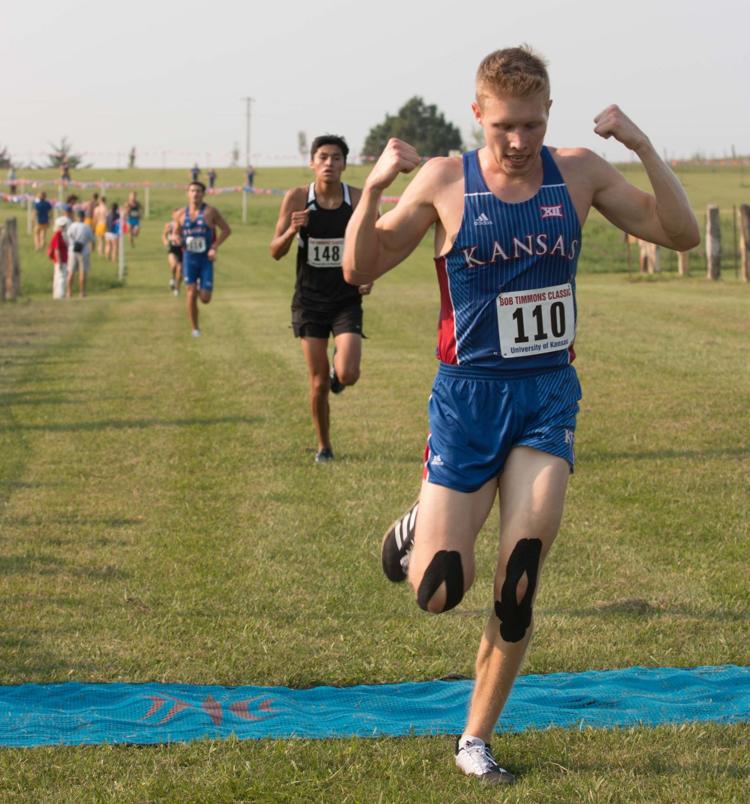 Senior Chris Melgares had the best time on the course today, the only runner finishing under 19 minutes, but ran unattached as he is considering redshirting this season.
In the women's 5K race, the eight runners representing Kansas all finished in the top 12, and four runners finished second through fifth.
Junior Alaina Schroeder finished second and had the best finish for the Jayhawks, topping her 2016 time by over a minute. Last year's winner, junior Hannah Dimmick, took third, but only finished a second different from last year.
"The team did awesome," Dimmick said.
Coach Stanley Redwine was pleased with the meet today. "We love to watch our athletes compete, and we wanted to see how we compete as a group," Redwine said. "Overall, I'm really excited about both teams."
Redwine did see room for improvement.
"We packed okay, I think we can do a better job on that and that's something we need to work on in the future for both men and women," Redwine said. "The goal is to keep the pack tight and run well as a pack and we have to continue to work on that."
On goals for the year, Dimmick said the team is hoping to get top 15 in nationals.
"Personally I would like to be in the 20:40 range for a 6K," he said.
The next meet for the Jayhawks will be in four weeks when they return to Rim Rock Farm for the Rim Rock Classic. That will precede two meets in October, with the Pre-National Invitational in Louisville, Kentucky, and the Big 12 Championship in Round Rock, Texas.