Column
Kansas football has grown tremendously since its devastating 12-7 loss to Coastal Carolina. Coach Les Miles said he knew his team was capable of bouncing back because he could sense how much the loss meant to both the players and the coaching staff.
"When you finish second in a game, and you are exposed, your heart is in it," Miles said. "There's no pretending. There's no nonchalant, 'This ain't that big of a deal.' No, it's your heart. You're listening to the beat of it every pound, every stinking second. And your players, when they have that same issue and affect, boy, you've got a good team."
In Kansas' dominating 48-24 win over Boston College, Kansas played a much different style offense than the week prior. On Friday, Kansas ran a run-pass-option, or RPO-based, offense that featured a lot more three and four wide receiver sets.
Miles said the spread-type offense is the "same stuff" Kansas had been practicing since spring, but it was the first time Kansas had put it to the test in-game.
The change seemed to have a great impact on how the Jayhawks were able to move the ball down the field as they finished with 567 yards, over double the yardage they recorded against Coastal Carolina.
While Kansas' offense was able to move the ball down the field at an alarming rate, senior quarterback Carter Stanley said, during the game, he didn't really notice. He said it just felt like they were simply doing their job.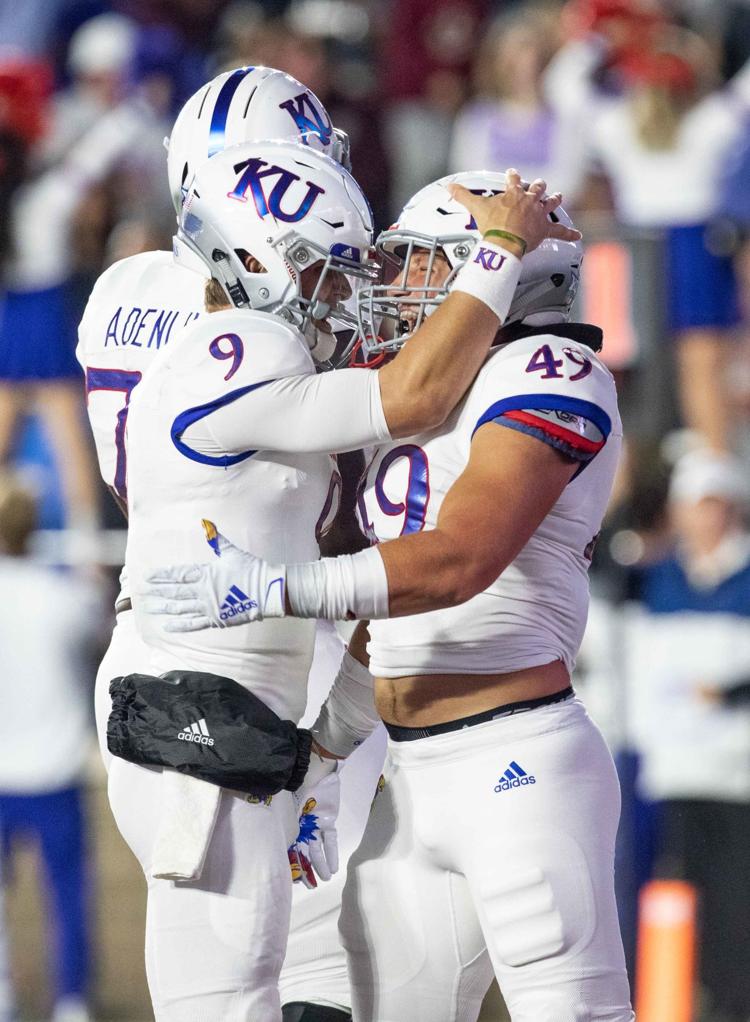 "It didn't feel like we were doing anything extraordinary by any means," Stanley said. "I talked with the guys on offense, it was just kind of cool how we thought like 'oh, it wasn't like crazy', it just felt like what we were supposed to do."
Running a new offense in a game usually results in growing pains, but there wasn't much of that for Kansas. Stanley said he was proud of the way his team executed the new offense.
"I'm really happy with our guys. We had a really good week of executing it," Stanley said. "This was definitely the most we've worked on it since this coaching staff has been here, but we all bought in and they did a pretty good job of executing it."
What makes the RPO effective is that the defense has to account for three different potential playmakers in the same play: the running back, the quarterback and the receivers. Junior receiver Kwamie Lassiter II said he thinks the RPO is especially effective for Kansas because of how deep its backfield is.
"We got some lethal running backs," Lassiter said. "When [the defense] bites in, it just opens the field up more for the receivers, and we got some playmakers out here too."
Stanley said he could tell early on that Boston College was going to struggle with the Jayhawks offense by the way they were playing: reacting and not attacking.
"I just kind of felt like [the defense was] kind of on their heels the whole time, especially after that second possession we had," Stanley said.
Although the Jayhawks were able to sprinkle in RPOs and use them effectively, they also showed the flexibility to switch back into I-Formation as well. Stanley said mixing in several different offenses could be beneficial to them moving forward.
"That's the awesome part about these coaches and the potential that this offense has: we have a lot of different coaches from different backgrounds," Stanley said. "To be able to run that much of different stuff is a really cool thing."
The integration of RPOs seems to be here to stay – for now at least. Miles said Kansas will continue utilize them throughout the season as long as it works.
"The opportunity for us to continue that direction -- as long as we can stay accomplished at the things we are doing while in that style of offense, we'll stay there," Miles said.