Kansas football will once again be searching for its starting quarterback this offseason. If the past season was any indication, Les Miles needs a quarterback for a successful rebuild. Former quarterback Carter Stanley performed admirably in his time in Lawrence and was a source of leadership of the team this past season. Stanley leaves Lawrence in sole possession of second place in total touchdown passes, trailing only Todd Reesing, who has 90.
The challenge now for Miles and his staff is to find the signal caller to make sure the rebuild is headed in the right direction.
The transfer portal isn't where coaches typically go for quarterbacks, but recently several quarterbacks have revitalized their careers with a change of scenery. A quarterback is something that Kansas' staff has prioritized and was the first thing mentioned by Miles when asked about recruiting in the post game presser of the Baylor game. 
"We certainly need a quarterback," said Miles. "We like MacVittie. We like the other Miles lad. But, if we a find a great quarterback in this class, we'll take one, although we have another good quarterback that is a part of us already."
Here are some the options that Les Miles and company can explore this offseason.
Redshirt senior Feleipe Franks, Florida
Franks is just one of the quarterbacks on this list that is coming off an injury. Franks' time in Gainesville was a mixed bag of incredible highs and head shaking lows. He put up just over 4,500 yards and 38 touchdowns as a two-year starter. 
Before playing for the Gators, he was also being recruited by LSU. Franks was a four star prospect in 2016 and the coach of LSU at the time was Les Miles.
Past relationships could play a key role in trying to get Franks to come to Lawrence. The flashes of brilliance that the offense showed this season under Brent Dearmon might be too enticing for Franks, who's looking to play at the next level. One other note is that Franks followed Dearmon on Twitter as the transfer portal nears.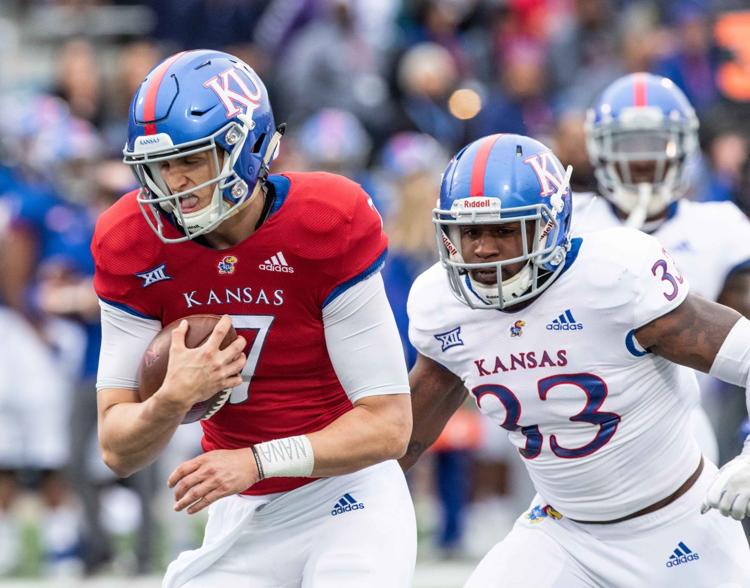 Redshirt junior Jake Bentley, South Carolina
The second of the options for Miles that is coming off injury, Bentley was a three year starter at South Carolina under coach Will Muschamp. During Bentley's tenure in Columbia, he passed for over 7,500 yards and 55 touchdowns, the most by a quarterback under Muschamp.
His 27 touchdowns in 2018 ranked fourth in the SEC. The injury he suffered this season sidelined him and he was eventually overtaken by freshman quarterback Ryan Hilinski. Bentley's experience against SEC could prove to be a key point for Kansas in search for a seasoned veteran.
Senior Thomas MacVittie, Kansas
MacVittie is a transfer from last year's class but was ultimately beat out by eventual starter Carter Stanley. His lone pass of the past season was an interception. He comes from Mesa Community College and was the second ranked pro-style quarterback according to JCGridiron.com. In 2018, MacVittie threw for 1,064 yards and 18 touchdowns at Mesa.
The familiarity with the offense will certainly be a leg up for MacVittie as well as having a relationship with the players on the roster. Staying in house could prove to be the most beneficial for Kansas as the program tries to develop some of the younger quarterbacks on the roster.