It doesn't come as too much of a surprise that Kansas is an overwhelming three-touchdown underdog on Friday against Boston College. For starters, the game will be hosted at Alumni Stadium in Chestnut Hill, Massachusetts. With that being said, the Jayhawks have won just two road games in the last 10 seasons.
Kansas took down UTEP back in 2009, and in the win against Central Michigan a year ago, the Jayhawks snapped a 46-road game losing streak. Now they will have to overcome the stacked odds in hopes of emulating a similar outcome. But although the Eagles open as a 21-point favorite, Kansas players still have reason to believe they have the edge in certain aspects.
Senior running back Khalil Herbert said one of the team's advantages is speed.
"Being able to go fast enough. I think it's definitely our speed," Herbert said. 
With the short week, it comes at both a perfect and challenging time. On one hand, Kansas has sped up its practice plan on a short week, having to cover all the scouting in less than a week. However, on the other hand, the Jayhawks certainly want to wash the bad taste out of their mouth from the loss to Coastal Carolina last Saturday.
"You know, it's definitely a challenge," Herbert said on the loss and short week. "Anytime you lose it's heartbreaking. But we took the next day and learned from it and got right back on it. It's a good thing it's a short week, so we are able to bounce back quickly and play on Friday. So I think everyone has bounced back and is getting ready for [Boston College]."
Although they have sputtered out of the gates offensively, averaging just 15.5 points per game on 624 total yards of offense in two games, the defense has been a positive takeaway through the first two weeks.
"I feel like we're playing good," senior safety Mike Lee said about the defensive unit. "We still got to fix some things, but as a whole, we're playing good."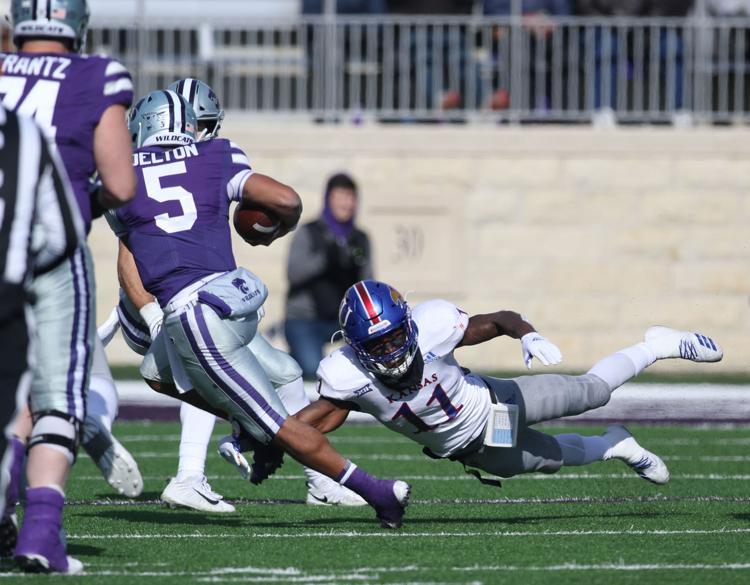 In the first two games, the Kansas defense has allowed 14.5 points per game and has managed to put pressure on the opposing quarterback consistently, resulting in six sacks. This has been largely in part of the front seven of the Jayhawks, whom Lee has been impressed with in the early going.
"Just their energy and how they want to go out there and make plays for the team," Lee said. "It's always two sacks. If they don't get it, they go for two sacks on the next drive. That's always going through their heads."
Whether it plays to the advantages or not on Friday, the goal seems to be clear in the heads of the Kansas offense, especially at running back. Putting up just seven points to the Chanticleers the last time out, a chance of redemption lies ahead of the Jayhawks.
"Help the team win any way we can," Herbert said.