In its second showing of the season, Kansas volleyball coasted over the Omaha Mavericks in a 3-0 sweep.
The Jayhawks took over at the beginning of the match, winning the first set 25-11. Redshirt freshman middle blocker Kailea Carrier saw her first ever career start, and after starting slow, she eventually began to make a name for herself.
Carrier ended the set with one kill and two blocks, but soon she got more comfortable in the lineup.
Carrier ended the match with a hitting percentage of .600, the highest on the team. Her performance included three kills, four blocks and a dig. Although statistically she was not the best performer for Kansas in the match, her performance likely gave coach Ray Bechard confidence in her moving forward.
The Jayhawks ended the second set in a 25-16 victory, and it began to feel like the Mavericks were starting to heat up a little bit despite losing the set overall.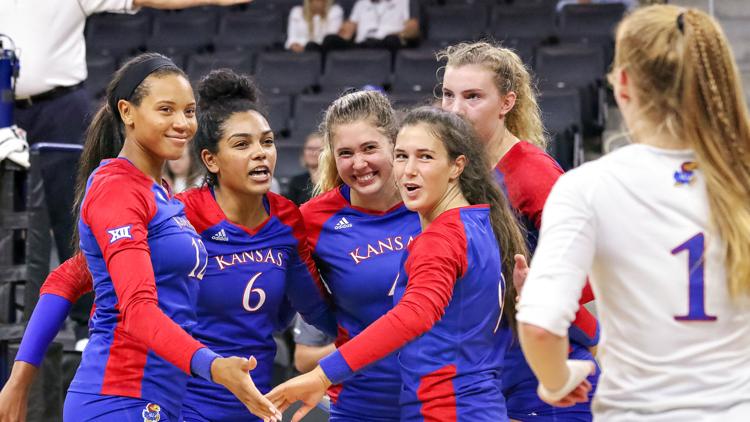 Omaha's energy then was felt in the third set of the game as both teams went back and forth all the way down to the final point. The Mavericks increased their .154 hitting percentage in the second set to .176 in the third.
Although not a tremendous increase, it was enough as the fatigue of the Jayhawks seemed to set in. In the first set, Kansas had a hitting percentage of .364 and then increased it to .395 in the second set.
That hitting percentage seemed to wash away in the final set as the Jayhawks fell to a hitting percentage of only .242. Kansas had five attack errors and three service errors in the third, which helped the Mavericks even more in trying to come back in the match.
The two squads started the set back and forth, going neck and neck. Rather than the Jayhawks taking the lead in the set, however, Omaha had the upper hand.
The Mavericks went on a run, taking a 12-7 lead at one point, but Kansas refused to back down and tied it up at 13-13.
The set went down to the wire, but with a 24-23 lead, the Jayhawks would pull off a service ace to win the set and complete the sweep.
Kansas moved to 2-0 on the season behind 13 kills from freshman middle blocker Gracie Van Driel and 29 assists from junior setter Sara Nielsen.
The Jayhawks return to action Friday, Sept. 6, when they begin the first match of the UCF Challenge against Albany. The match begins at 4 p.m.