Taking a brief leave of absence from conference play toward the conclusion of the 2019 season, Kansas baseball continued its road trip on Thursday to take on the Air Force. Unable to surmount a complete comeback, the Jayhawks stumbled at Falcon Field, losing 3-2.
Giving the nod to sophomore pitcher Steve Washilewski, Kansas failed to back him with much run support despite a career-best showing. Walking zero hitters for the first time in his career, Washilewski turned in six and one-third innings, striking out two on 79 pitches.
"It was a much better performance today by him," Kansas coach Ritch Price said in a Kansas Athletics press release. "He hadn't been quite as good as we had hoped his last three times out, so it was nice to see him bounce back on a really bad day to pitch and pitch well."
Dealing with a weather delay, the pitching on both sides held its own even with the nasty weather. Hoping to give Washilewski the win after his efforts resulted in a quality start, the offense never managed to tack on enough runs.
However, the low run total did feature a home run by junior outfielder Brett Vosik, notching his second in his last four games. This comes after spending much of the season without a long-tripper to his name.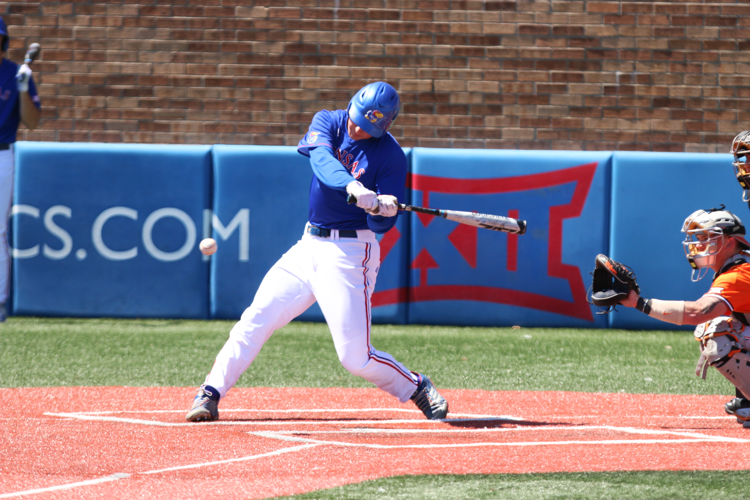 Trailing in the ninth, sophomore Conner VanCleave gave the Jayhawks a chance to tie it up, driving in a run on a pinch-hit double to cut the deficit to one. Unfortunately for Kansas, the lone run was too much to overcome, dropping Kansas back to one game over .500.
"We only had one quality at-bat in the first three innings and that was when James Costentino lined the ball to second," Price said. "One of the things that we preach to our guys is that you have to have a quality at-bat, and you can do that without getting a base hit. We had way too many first-pitch outs and swung at too many breaking balls in the dirt early in the count against the lefty."
Kansas will look to tie the series back up at one a piece on Wednesday. First pitch is set for 1 p.m.