KANSAS CITY, MISSOURI — After plenty of speculation, the postseason journey for Kansas men's basketball has finally begun. And the Jayhawks started off on the right foot as Kansas defeated Texas 65-57 in the Big 12 tournament quarterfinals.
"It was a typical March game when you're playing somebody for the third time," Self said. "Not many easy baskets."
Kansas entered the Big 12 tournament as the No. 3 seed for the first time since 2004, ending a 10-year run as the No. 1 seed. Of course, seeds are irrelevant in the Big 12 tournament, as No. 10 West Virginia toppled No. 2 Texas Tech 79-74 right before this game.
It started out good enough for Kansas, though, with freshman forward David McCormack getting things going with five quick points to help give the Jayhawks an early 11-4 lead on Texas.
"If you've followed us at all for the last 20 years, we love throwing the ball inside early in the game," Self said. "And David has scored the ball better of late and he's getting more and more confident and playing at a much higher level now that he's gotten more and more opportunities over the last month."
Of course, as has become commonplace with Kansas this season, that lead didn't last long. The Longhorns promptly went on a 7-0 run while also holding the Jayhawks scoreless for over three minutes.
And outside of a putback dunk from McCormack, the game got pretty sloppy for both sides. Texas went on a scoreless stretch of 4:24 while Kansas just failed to capitalize on the other end.
Before either side knew it, the game was tied at 15-15 at the under-8:00 timeout and momentum split pretty evenly.
On top of that, redshirt junior forward Dedric Lawson picked up two personal fouls, sending him to the bench and forcing McCormack and junior forward Mitch Lightfoot down low.
For the most part — outside of a few bad switches on pick and rolls — Lightfoot and McCormack held it down while Lawson sat out.
But, once Lightfoot picked up two fouls of his own, Lawson stepped back in, finishing the half with nine points.
Meanwhile, Kansas took back the lead with a Lawson three-pointer to give the Jayhawks a 23-22 advantage at the 4:19 mark.
Once again, though, Texas kept this game tight by firing back with a 7-0 run to bring the score to 29-29 at the halftime break.
McCormack finished the first half with nine points, providing some highlight reel dunks, as well as an emphatic block at the end of the half that sent the ball flying into the KU band.
The Kansas defense also played well in the first half, forcing two shot clock violations and holding Texas to just 38.5 percent (10-of-26) from the floor.
The second half continued to be controlled by the big men, even as Lawson and Texas center Jaxson Hayes each picked up a third foul in the first two minutes.
"I thought it probably kept both teams from being their very best," Self said. "That was a break for us for [Hayes] only playing 14 minutes."
Nonetheless, Texas forwards Dylan Osetkowski and Jericho Sims picked up the slack and kept the Longhorns in the game. Osetkowski finished with 18 points.
Lawson, on the other hand, stayed in and helped orchestrate a Kansas run that gave the Jayhawks a 42-35 lead at the under-16:00 timeout after a corner three-pointer from freshman point guard Devon Dotson.
That lead just kept growing to 49-40 at the under-12:00 timeout as Kansas found itself continuing to pound the ball inside. The Jayhawks outscored Texas 34-20 in the paint.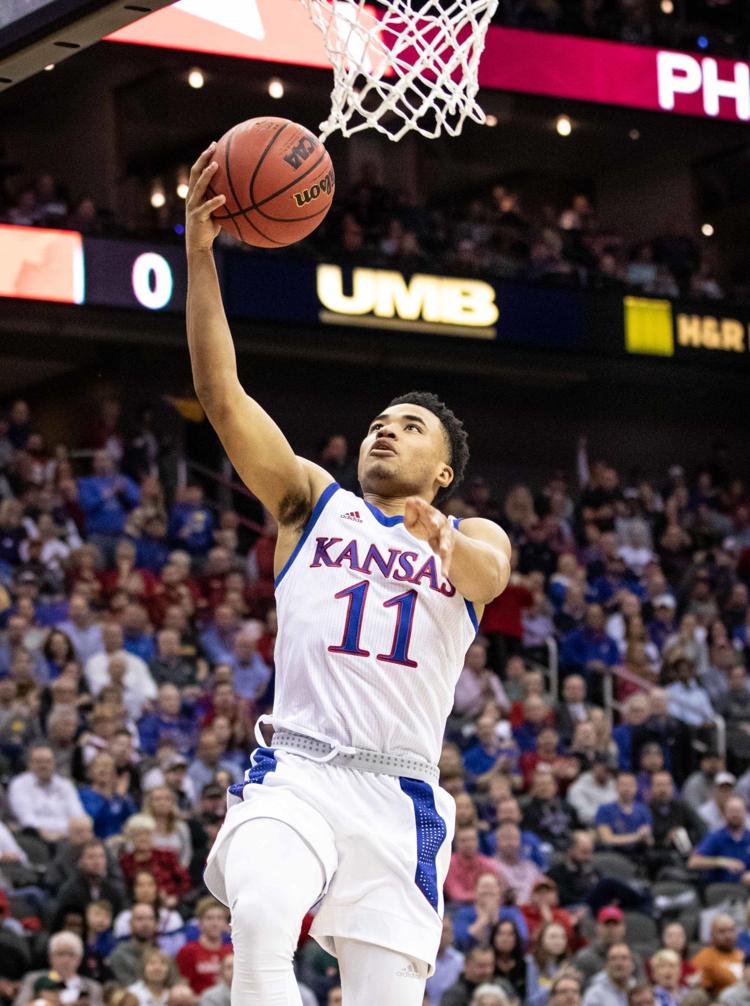 "Having a presence inside and making them want to take outside shots was definitely an advantage that we had," McCormack said. "It was one of the things that we did to force them to take bad shots."
The Longhorns did try to stretch the floor at times, but they were mostly unsuccessful, shooting 8-of-25 from beyond the arc.
But as Texas seemingly continued to struggle, Kansas' lead was cut to 56-51 at the 5:14 mark.
Later, a three-pointer from Texas guard Kerwin Roach cut the lead to 61-57 with 2:43 to go.
A failure to hit shots and get defensive stops ultimately sank the Longhorns, though, most likely ending their season barring a surprise on Selection Sunday.
For the Jayhawks, McCormack finished strong with 13 points and nine rebounds, which surely will just continue the comparisons of sophomore forward Silvio De Sousa's run in March 2018.
Dotson also finished with 17 points while Lawson had a quiet night for his standards, with 16 points and six rebounds.
Now, the Jayhawks will look to get on a bit of a roll as they continue their Big 12 tournament title defense.
"I'm certainly happy that we get to spend another night here and get to play a much improved and tough West Virginia team," Self said.
Kansas will next face West Virginia Friday, March 15, in the Big 12 tournament semifinals. Tipoff is set for 8:30 p.m.