Column
It's been one week since the sports world shut down and all activities were put on halt for the time being. With the COVID-19 virus hitting spring sports hard, as the NCAA shut down the season to prevent spread, fans are left with little to talk about when it comes to sport. 
However, when play does resume, one program will have limited time to make a critical decision. Without spring practices or the annual spring game in the foreseeable future, Kansas football will have the task of mulling over its options at quarterback. 
Following Carter Stanley's senior season, in which he threw for 2,661 yards and 24 touchdowns — the most by a quarterback in a single season since Todd Reesing in 2009 — the Jayhawks will return a few names with limited experience.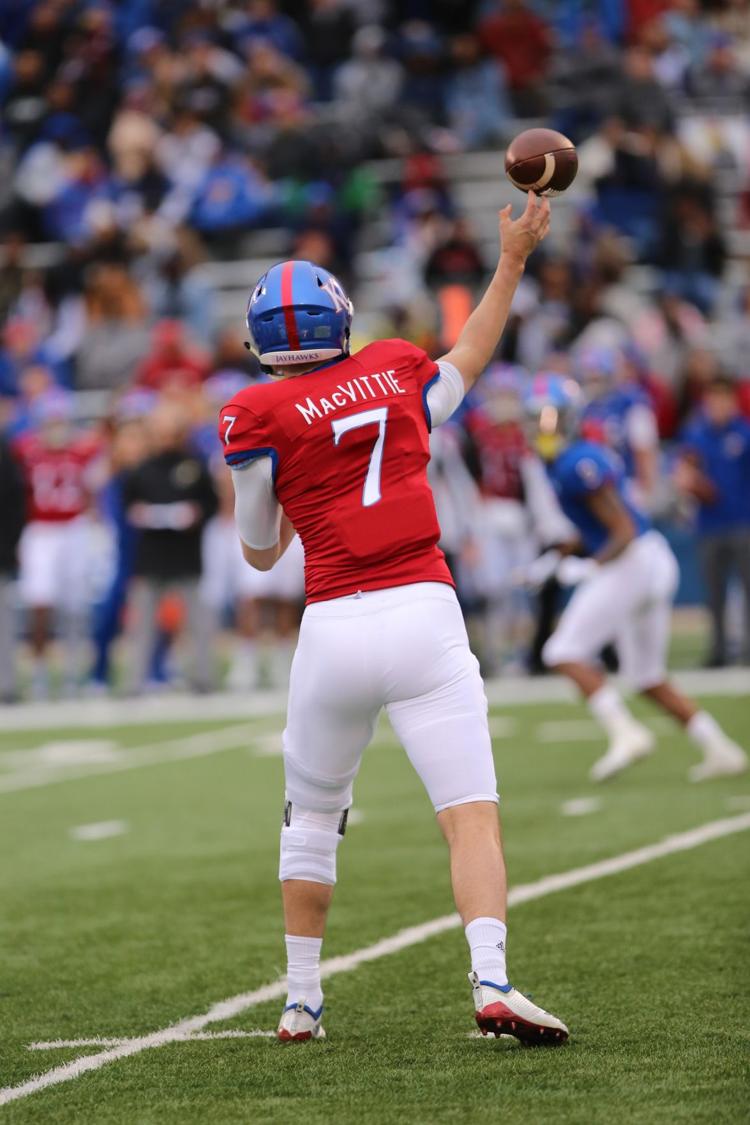 Senior quarterback Thomas MacVittie
The 6-foot-5 Cincinnati native didn't turn in the season he, or most, thought he would in 2019. Last offseason, MacVittie was dubbed as the favorite to land the starting role over Stanley in the season opener. But when Stanley took the field for the first series against Indiana State, that controversy was put to rest.
Over the course of 12 games, MacVittie appeared in just two of them (Kansas State and Oklahoma State). He threw one pass on the season, and it was intercepted. This year, the former No. 2 pro-style quarterback in JUCO will have another opportunity to lead the Kansas offense under center. 
Junior quarterback Miles Kendrick
Kendrick was one of three quarterbacks to take meaningful snaps in former Kansas coach David Beaty's final season in Lawrence in 2018. In four games, Kendrick completed 11-of-19 passes and threw for 100 yards and one touchdown. He also carried the ball 16 times for 47 yards (2.9 YPC) and one touchdown. Kendrick tallied career-highs in nearly every category against Rutgers in 2018, as he totaled 66 yards through the air and 28 yards on the ground with two total touchdowns. Kendrick did not see any action in 2019.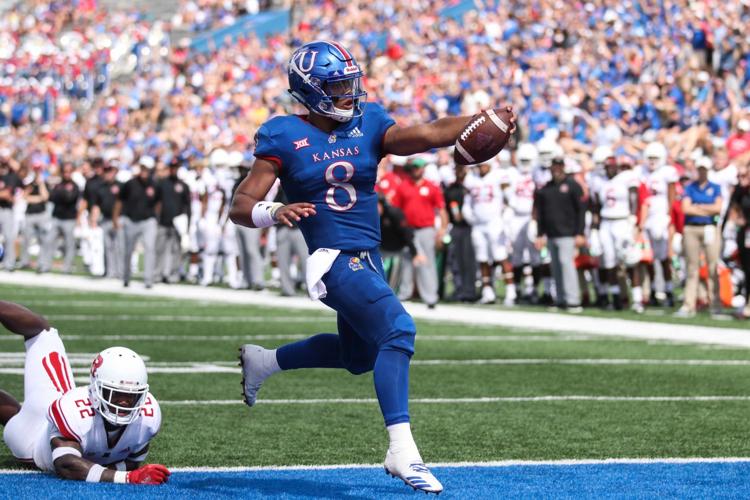 Junior quarterback Miles Fallin
The product of Canyon County, California, has yet to record any numbers at Kansas. However, Fallin is a record-holder at Canyon High School where he threw for 6,887 passing yards and 61 touchdowns in his career. He did see action against Rutgers in 2018 but did not attempt a pass or rush. 
Freshman quarterback Jalon Daniels
Daniels was one of the top offensive recruits coach Les Miles was able to add from the 2020 class. Rated as a three-star recruit out of Lawndale High School in California, Daniels is a dual-threat quarterback that can hurt you with his arm or legs. In his junior season of high school, he threw for 2,351 yards and 26 touchdowns, while also rushing for 940 yards and 10 touchdowns on 96 attempts. 
Redshirt freshman running back Torry Locklin
Yes, Locklin is listed as a running back on the Kansas roster. However, he was recruited as a quarterback and turned into a unique offensive weapon when Brent Dearmon took over as offensive coordinator in October 2019. Starting with the game against Texas on Oct. 19, Locklin was utilized in the wildcat formation on short yardage situations. With his size at 6-foot-2, 210-pounds, he played as a battering ram to pick up first downs. Though he only rushed the ball three times for four yards in 2019, in high school, Locklin was named TWSA 3A Offensive Player of the Year after passing for 2,536 yards with 27 touchdowns and rushing for 2,434 yards with 32 touchdowns. 
There's a lot of time between now and the season opener, which is still scheduled for Sep. 5 versus New Hampshire. But under the current circumstances, Miles and his staff will be challenged with constructing his depth chart before the Jayhawks are allowed to take the field again.