The 2019 men's basketball recruiting season has slowed down and the majority of recruits have signed letters of intent to their respective universities. However, as one recruiting season seemingly ends, coaches are still looking toward the following seasons.
Kansas men's basketball coach Bill Self is actively seeking players to be the future of the program. In the class of 2020, numerous prospects are getting looks from the Kansas coaching staff with some strongly considering playing for the crimson and blue.
The biggest target for the Jayhawks in 2020 is five-star combo guard Cade Cunningham. Cunningham is 6-foot-6, 215 pounds, and hails from Montverde Academy in Arlington, Texas.
The Jayhawks already have a loaded backcourt which includes sophomore point guard Devon Dotson, sophomore guard Ochai Agbaji and freshman guard Christian Braun. The backcourt for Kansas is rather young, but also very talented, meaning multiple players could declare for the 2020 NBA draft.
Assuming Dotson and Agbaji leave after the 2019-20 season, Cunningham would likely be a starter and would play a major role on the squad.
Another combo guard being recruited by the Jayhawks is Bryce Thompson. Thompson is a five-star recruit from Tulsa, Oklahoma.
Kansas has a strong chance of landing Thompson, as he has already taken a visit to the university.
Had a great visit at KU! Thanks to Coach Self and the Jayhawk staff for being wonderful hosts. #RockChalk 🔵🔴 pic.twitter.com/x1oyxd1atX

— Bryce Thompson👑 (@B3thompson__) June 29, 2019
However, the Jayhawks will be competing with Big 12 rival and Thompson's local school the Oklahoma Sooners.  
Much like Cunningham, Thompson's role will be dependent on what the current crop of backcourt players do at the end of the season, but either way, he would play a major role on the squad.
Two forwards being recruited by Kansas include five-star power forward Greg Brown and four-star small forward Kyree Walker.
Brown, coming out of Austin, Texas, will be a tough snag for the Jayhawks, but would be a major one if succeeded. Kansas will have to compete with the Texas Longhorns for Brown, but the Jayhawks are no strangers to competition.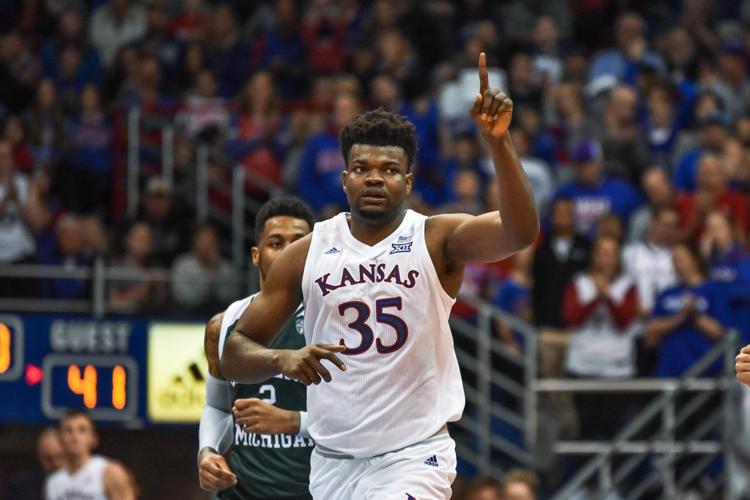 With the departure of senior center Udoka Azubuike at the end of the season, Brown would play an important role as he could fill in at the four with sophomore forward David McCormack.
On top of that, junior forward Silvio De Sousa has not played at the Division I level in a year, so it is hard to say how big his role will be in the upcoming year. If De Sousa were to have a down year, Brown could be the surge of competition needed to bring De Sousa back up.
As for Walker, the belief is he is currently leaning toward joining Kansas, but rumors have circulated about him playing overseas. If Walker were to join the Jayhawks, he would bring an athleticism very similar to Agbaji and could be a motor off the bench in his first season.
Kansas has also issued offers to four-star small forward Cam'Ron Fletcher and four-star point guard R.J. Davis.
For the 2021 class, the Jayhawks seem to be pursuing mainly small forwards such as Harrison Ingram. Ingram is 6-foot-7 and is currently rated as a four-star recruit.
It would also not come as a shock if Kansas pursued combo guard Trey Alexander from Oklahoma City. Alexander is rather close for the Jayhawks to pursue, plus he fits the role of the type of backcourt player Self looks for. He is a spot-up shooter that also has some ball-handling skills.
Not much has happened yet for the 2022 class, however, five-star recruit Tre White did commit to Kansas. If he were to keep the commitment all the way through high school and eventually sign to Kansas, he would be a major addition for coach Self.
Despite the minor down season last year, the Jayhawks still seem to have recruiting in the bag. As long as Self leads the group, Kansas should not have to worry too much about recruiting.