Last week, head football coach Les Miles noted how talented his offensive line will be. Toying with the idea of being "one of the better offensive lines in the country," Miles reeled it back in. However, that didn't discredit the large aspirations he has for his experienced group. Starting all juniors and seniors on the offensive line, Kansas will present a veteran-filled lineup to pair with its rushing attack.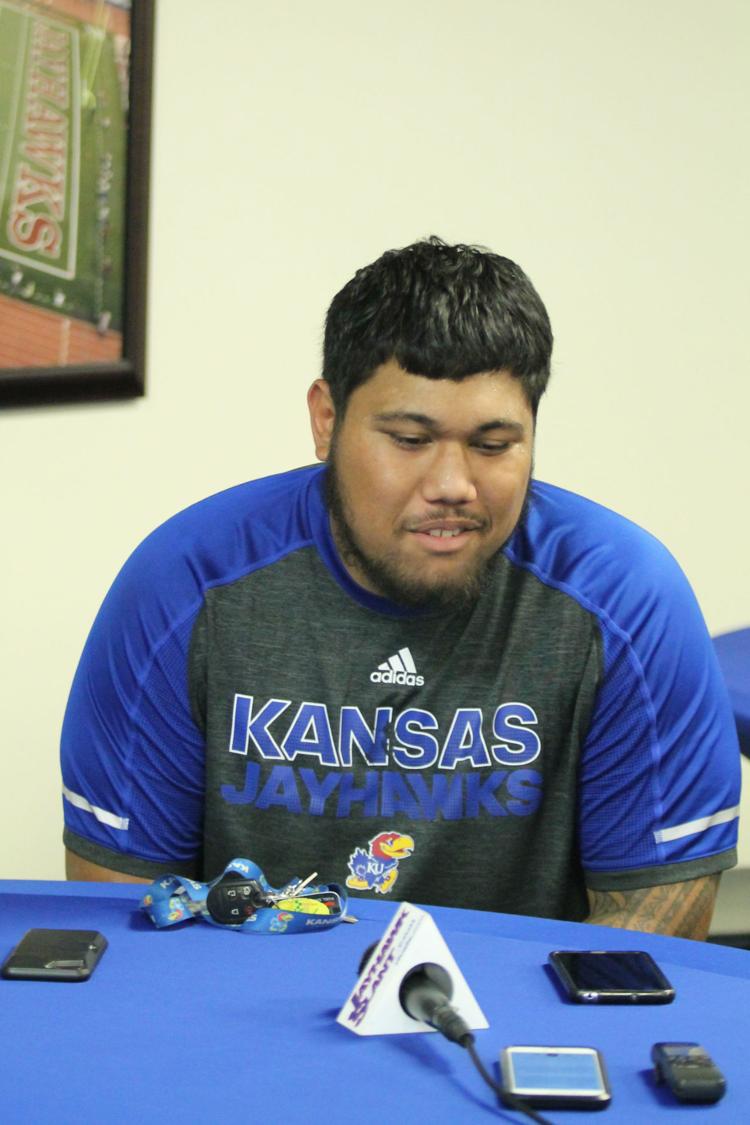 "The experience is going to help since the majority of the offensive line is upperclassmen," senior offensive lineman Andru Tovi said. "It kind of brings us together since we have that experience. With the challenges we've been through, we just want to change the culture with the younger guys." 
Matching up on Saturday with the Indiana State Sycamores, who allowed 197.6 rushing yards per game and 18 rushing touchdowns in 2018, the Jayhawks have the opportunity to flex their ground-game.
When asked how he wants teams to remember Kansas when playing them, Tovi pointed towards the backfield.   
"Our run-game no matter what and being physical on the line," Tovi said. "As offensive linemen, we are the unsung heroes. So, we want to make our receivers, running backs, quarterback and all be on their A-game." 
One of Tovi's fellow teammates on the offensive line, redshirt junior Adagio Lopeti, will look for an increase in snaps as Kansas gears up for week one. Sitting out last season after redshirting, Lopeti was listed as one of the Jayhawks' starting right guards on the depth chart with junior Chris Hughes. 
#KUfball starters on O, per depth chart
LT Adeniji
LG Clark
C Mane
RG Hughes OR Lopeti
RT Feder OR McCauley
TE Luavasa
FB Hall/Miles
RB Herbert/D. Williams
QB MacVittie/Stanley
WR Robinson
WR Charlot
WR Parchment

— Benton Smith (@BentonASmith) August 26, 2019
"We don't know about the depth chart yet, so we are still working on that," Lopeti said. "I'm just working hard and trying to play as good as possible. Wherever that takes me, it takes me."  
Lopeti, who hails from East Palo Alto, California, believes in the physical play style on the line but to do it with an intelligent mindset.
"You can play physical, but you got to play smart," Lopeti said. "You can play smart, but you got to play physical. Those two sort of correlate each other." 
On the point of Miles' statement about the group's high ceiling, Lopeti said there's no holding back at practice in making sure the linemen know their ability. 
"He tells us every day that we have the talent and potential to be good," Lopeti said. "As long as we believe we are good enough, we know he's telling the truth." 
Without sophomore running back Pooka Williams Jr., it will be their job in creating a big afternoon for senior running back Khalil Herbert. It will be a game of ground-oriented teams this weekend. Whoever controls the line of scrimmage has the best shot of walking away 1-0.  
Kansas will open up at 11 a.m. against the Sycamores this Saturday in Memorial Stadium — in other words, it will be the first time this offensive line gets to back up Miles' compliments.