Grace Hagan has spent her college career as a staple in the Kansas women's soccer program. Hagan, a senior forward, has had many brilliant moments in her career, whether it was the assist to Lois Heuchan in the NCAA tournament first round win against Missouri her sophomore year, or the hat trick that lifted the Jayhawks past St. Louis earlier this season.
You could probably tell her that she's sixth all-time in scoring at the University, or that her hat trick against St. Louis were the first in a decade for a Jayhawk, but the memories of playing with her teammates are what stick out to her the most in moments of reflection.
"The things that I'm never going to forget are the little things," said Hagan, a Wichita native. "Just small interactions with the girls before and after practice and getting to know them better. That's really been my favorite part of it. I don't think I would have been as happy at another university considering I wouldn't have gotten to play with these people, been coached by these people and worked with other support staff members."
Her impact on others was evident when talking with junior forward Katie McClure, who has shared a lot of the spotlight with Hagan this season.
"She's been a really good teammate," McClure said. "She's a leader, a role model, somebody everybody looks up to on our team. So not having her here next year is going to have a big impact, but we know there's other people that can step up to help fill the role that she's played over the years."
McClure's response was representative of all those that have come to know Grace as both a competitor and person. Hagan, a future University of Kansas School of Medicine student, is always looking to improve herself and is admired for her commitment to such a tough field of study.
"I think it's molecular cell biology. I'm not totally sure. Something big," McClure joked about Hagan's focus.
Medicine and service is something that runs in the Hagan family. Hagan has had both a brother and her mother go through the medical school at the University. It was almost expected of her to follow down that path from birth, a torch she wasn't necessarily wanting to take on.
"At the beginning I wanted to do anything but that because I didn't want it to be so expected, and I felt like I wanted to separate myself and do my own thing," Hagan said. "So, first I looked into other fields that I might like but I think in the end, I have a heart for service and helping other people and I feel that my skills can be best used in a medical setting."
Just as finding her way to medicine wasn't a guarantee, neither was making her way to the University. The big-school feel just wasn't something that she was sure of at first and found that medicine and the possibility of playing soccer was actually the way for her to adjust to such a big change.
Kansas soccer fell to North Carolina 4-1 in the NCAA second round on Friday to bring an end to its season.
"I think seeing my brothers go through, I didn't want that big of a university," Hagan said. "I think I wanted something on the smaller side but that was before I knew I wanted to play soccer. Once I knew that there was a possibility I could play soccer here, I felt that would give me the opportunity to find my niche and make the University a little smaller by having a smaller community. I looked at other schools and considered them deeply, but my heart was always pulled toward KU."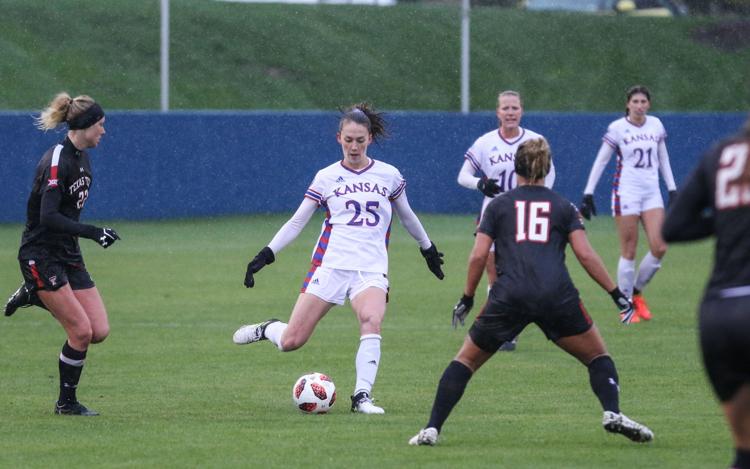 Managing it all has been something that has been something that people are concerned with for student athletes, and many falter under the pressure of all that is demanded of them. Being able to overcome so much of that early is something that Hagan finds that she's most proud of.
"My dad always said that he thought I was burning the candle at both ends, but I love being busy and getting to meet new people," Hagan said. "I think soccer, a sorority and those in my major who were also pre-med opened a lot of doors for me. I don't think I would've been the person I am today had I chosen to cut any of the activities that I did my freshman year and decided not continue it throughout my four years."
With all the success that she's had on the pitch in her career, this is something that she says would have been hard to imagine as a freshman. Coming in early as a freshman was nerve-wracking after questioning whether she belonged, but after her and her roommates' first practice, there was that moment of clarity of knowing that they could compete at this level. Getting herself to the level of being able to compete at a high level is something she credits to her dad, who taught her to "push herself and test her limits."
The moments in Hagan's career have been spectacular and a testament to her dedication as a student athlete. Her success, however, is something that she credits to those that she's known here at the University. 
"I would say thank you to KU soccer, to my teammates, my coaches, the support staff and the Lawrence community for not only believing in me, but KU women's soccer as a whole," Hagan said. "There's been a lot of ups and downs and we still had wonderful support. I don't think there would be a place for me that I would feel more loved and supported by my peers. I think they're the reason I was able to have success at KU."