Kansas soccer continued its spring dominance in a 7-0 victory over Sporting Blue Valley U14 boys soccer on Wednesday.
The Jayhawks got things started quickly as junior defender Eva Elíasdóttir scored off a rebound in the 6th minute to give Kansas an early 1-0 lead.
Yet despite the hot start, Kansas' young opposition kept the score close until junior defender Elise Reina scored on the stroke of halftime with a shot from the top of the box.
"The girls really did a good job of just keeping it simple," Kansas coach Mark Francis said in a Kansas Athletics press release. "We talked about playing two-touch, keeping the ball moving and just staying simple, and I thought they did that."
In the second half, Kansas exploded on offense, putting up five goals in the second 45 minutes. 
Much like the first goal of the game, junior forward Katie McClure scored off of a rebounded header from a saved shot by junior defender Addisyn Merrick.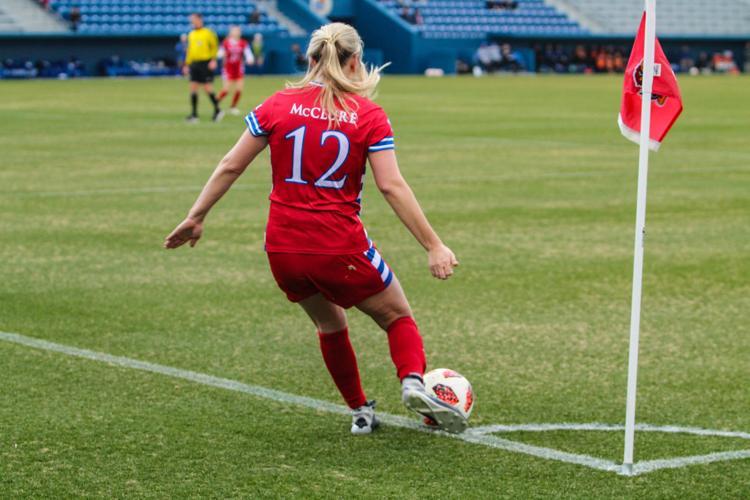 The most impressive goal of the game came from junior midfielder Sophie Maierhofer, who scored a long range shot from well beyond the box.
By the end of the match, five different Jayhawks scored as McClure and Elíasdóttir both scored two apiece.
The Kansas offense looked well-composed and continued to move the ball well. As the offense exploded, the defense only continued its dominance.
"We've got girls back there that have been playing for three years, and they just understand each other and what we're doing in this system, so the defense is looking pretty efficient right now," Francis said.
Much like the team in the fall season, Kansas turned defense into offense with the speed of its defenders. As soon as the Jayhawk defense forced a turnover, the team would immediately move the ball up the field and put the pressure on the opposing defense.
Kansas has now won 15-straight spring games and will look to continue its streak on Monday when Sporting Blue Valley returns with its U14/U15 team.