In the final two games of the regular season, Kansas softball could not overcome Iowa State and dropped both games of Saturday's doubleheader. Despite the result, Baylor's failure to win over the weekend means Kansas clinches the final Big 12 Tournament spot.
Game one was a pitcher's duel between Kansas senior Brynn Minor and the Cyclones' senior Savannah Sanders that ended with a 1-0 Iowa State victory.
The pitchers were stellar with both going for complete games, but Sanders and the Cyclones prevailed through a second inning RBI single off Minor for the game's only run. 
The Jayhawks' recent offensive struggles continued on Saturday as they only managed three hits and left four runners on base in the first game.
Only needing one win to secure the final spot in the Big 12 tournament, Kansas got off to a fast start in game two with a solo home run by freshman Morgyn Wynne in the first inning.
Minor started in the circle again for Kansas in game two, but allowed a game tying home run in the bottom of the first to Iowa State sophomore Talyn Lewis.
Wynne again gave the Jayhawks the lead with a third inning double that scored redshirt freshman shortstop Sydnee Ramsey.
Freshman Lexy Mills replaced Minor in the third and pitched a scoreless inning, but Iowa State responded for a second time in the fourth with senior Kirsten Caudle's RBI single.
Kansas threatened Iowa in the seventh with runners on first and second with no outs, but could not push across the leading run off senior Emma Hylen and the game went to extra innings.
The Cyclones brought Sanders out of the bullpen for the eighth, and she promptly delivered a three up, three down inning to add to her already dominant senior day performance.
Mills returned to the circle in the eighth for her sixth inning and after a pop out, a walk and then a strikeout, had a 3-2 count on junior Sami Williams. However, the payoff pitch was launched over the left field wall and gave the Cyclones a 4-2 walk-off win.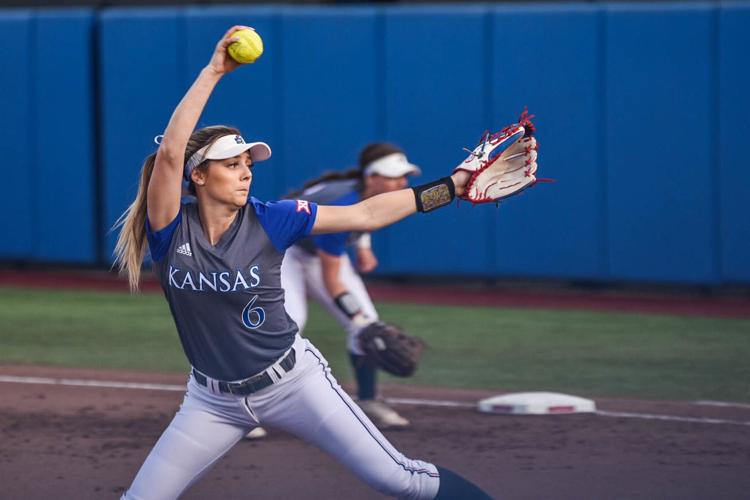 Kansas ends the regular season with a 15-35 overall record and a 3-15 conference record. The Jayhawks will take the final spot in the conference tournament and will play fourth seed Texas Tech. The winner of that game will take on the top seed and No. 1-ranked Oklahoma.
The Big 12 tournament will begin on May 10 in Oklahoma City, Oklahoma.