Kansas swim and dive added to two day-one record-setting performances with multiple strong finishes in day two of the Big 12 Championship. The Jayhawks are sitting in 2nd place in the standings after the first two days.
On Wednesday, the 800-yard freestyle relay team of freshman Claire Campbell, sophomore Lauren Parrish, junior Jenny Nusbaum and senior Haley Bishop set the school record with a time of 7:10.74.
Nusbaum also set a school record and personal best during the same race with a 1:45.68 leg time.
"You are really happy when athletes work so hard for something, and then they realize it," Kansas coach Clark Campbell said, according to a Kansas Athletics press release. "And all four of them have worked really hard towards being better 200-yard freestylers, which led to us having a record-setting 800-yard freestyle relay. You love when you see hard work paid off."
After two events in day one, Kansas was in third place with 93 points trailing West Virginia, 95 points, and defending champion Texas, 146 points.
On day two, the Jayhawks took full advantage of their opportunities and landed 18 swimmers and divers into final events including six "A" finals. 
Senior Vicky Xu earned Kansas' best finish on the day with a third-place mark in one-meter diving with 322.35 score.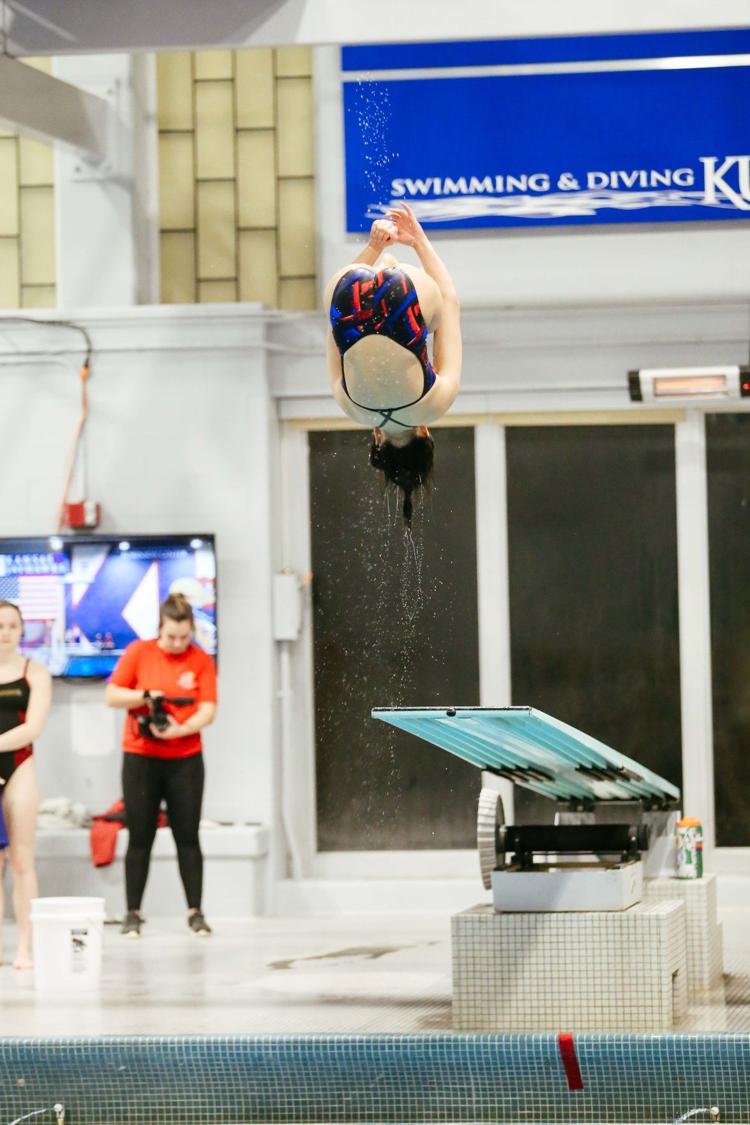 Freshmen Kate Seward and Paige Riekhof both set personal records in the 200-yard individual medley with Seward finishing fourth and Riekhof eighth.
Kansas added 148.5 points to their day one total and leapfrogged the Mountaineers for second place with 241.5 total points and now trail only Texas' 384.5 points.
"We have to remember to keep doing what we are doing," Campbell said in a Kansas Athletics press release. "We have been talking about not worrying about times or places or points or anything like that and just focusing on competing and being the best versions of ourselves." 
Day three starts off Friday with preliminary rounds for five events at 10 a.m. and then the finals for those events at 6 p.m.
Three-meter diving will also take place at noon Friday as Xu will look to top her conference record performance.
"Going into Friday, this is the best day and a half we have ever had," Campbell said. "We have never gone into Friday with more than 200 points. So, if we just keep doing that, we are going to continue to do really good things."