After a lights-out performance on Friday night, Kansas swim and dive did not ease up on day two of its double dual, finishing just as strongly as it started.
The Jayhawks picked up a pair of victories over their two opponents, defeating South Dakota (252-98) and Missouri State (219-128).
Kansas, just as it did on day one, jumped out of the gates in ideal fashion as it picked up a first-place finish in the 200-yard freestyle relay to start the day.
Freshmen were a major factor in the Jayhawks day two performance with multiple top finishes including Paige Riekhof and Claire Campbell finishing first and second in the second event of the day, the 400-yard individual medley.
"I'm really impressed with all of the freshman," Kansas coach Clark Campbell said, according to a Kansas Athletics press release. "They are all stepping up and working hard and they've developed really good leadership with our upperclassmen."
Claire Campbell, in her first collegiate meet as Jayhawk, provided the crowd with the most electrifying event of the day. 
In the last leg of the 500-yard freestyle, Campbell surged her way out of a deep third place to finish in a very close second.
"We talk a lot about momentum and we had a lot coming off yesterday and I just really wanted to contribute to that," Campbell said.
After jumping out to huge leads in day one, the Jayhawks rode the momentum and swept the double dual with ease. 
"We want to build off this," Campbell said. "We'll watch the video and tune things up but now we have a starting point."
Before the events kicked off Saturday, Kansas seniors Cassaundra Pino, Haley Bishop and Taylor Sieperda were all honored for their time in Crimson and Blue.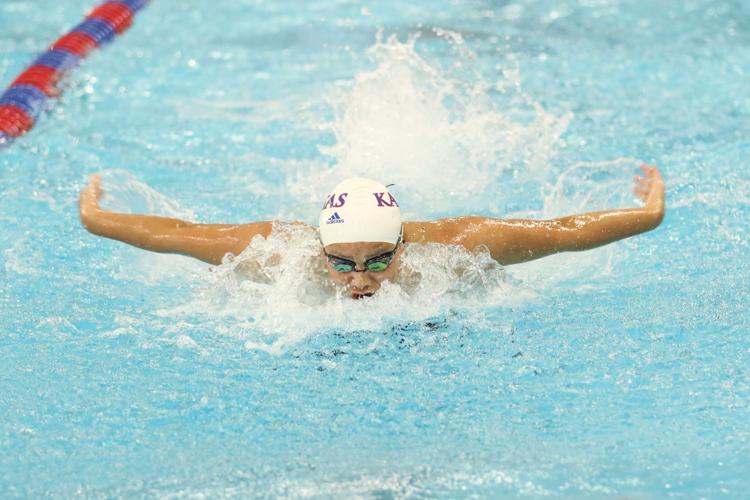 "For any senior this definitely ranks among the top three moments," Pino said. "Everyone is very supportive of the seniors and it's just a fun meet."
The swim and dive team is back in action on Oct. 27 as it takes on Big 12 opponent TCU in Lawrence.