Kansas swim and dive ended the 2018-19 season with a second place finish at the Big 12 Championship while senior Vicky Xu took home the title in three-meter diving.
Xu is the first ever Jayhawk diver to win a Big 12 title. Her 380 score on the three-meter platform sealed her short, but very successful, Kansas career.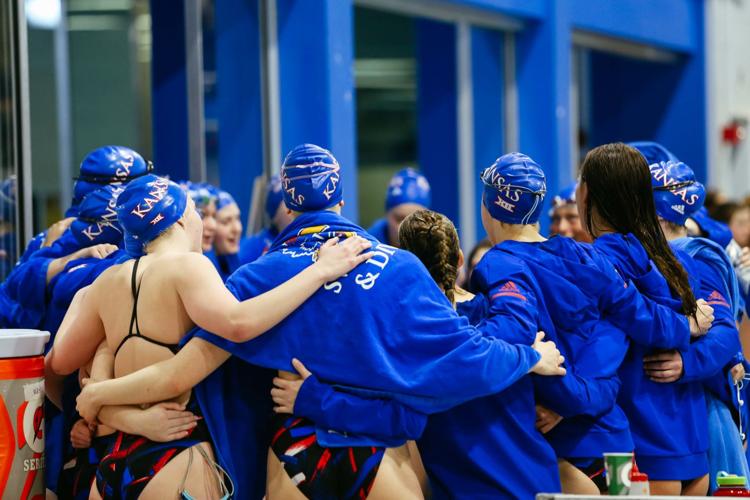 "A few years ago, Chelsie Miller won the 400-yard individual medley and she was our last conference champion since Vicky," Kansas head coach Clark Campbell said, according to a Kansas Athletics press release. "You will never forget that night, this was a special night as well."
The Jayhawks finished with a program record of 754.5 points, falling short of Texas' 1073.5. The previous team high was 683.5 points.
Freshman Kate Steward set a school record in the prelims for the 200-yard breaststroke on Saturday morning. Junior Haley Downey broke it again in the evening trials, then Steward claimed the record once again with a first-place finish Saturday night.
"It seemed like as the meet got going, we were finding our speed," Campbell said. "I think that as the meet has rolled on the girls have gotten more confident, faster and really stepped up their level."
Campbell was named Big 12 Coach of the Meet for his work this weekend after the Jayhawks' stellar performance.
"The thing about coaching awards is that it really should have been team of the meet," Campbell said. "Really good people on your team and the staff, they make each other look good."
Kansas saved its best performance for last as many swimmers set personal bests repeatedly throughout the weekend.
Junior Elizabeth Amato-Hanner came in second in the 200-yard backstroke with a 1:55.49 mark that qualifies as an NCAA "B" time.
To wrap up her spectacular junior campaign, Jenny Nusbaum, finished seventh in the 100-yard freestyle and set a new personal record.
"As far as top to bottom, every single swim and every single dive, this has been the best we've had," Campbell said.
After taking third in last year's conference championship, Kansas improved tremendously and will look to challenge for the top spot next year as it will only lose three seniors from this year's team.
With a talented roster and great coaching, it is only a matter of time until the Jayhawks take down the champion Longhorns.
"We set a new standard for our program this weekend of scoring over 700 points," Campbell said. "That has been a work of ours for 17 years now, we finally did it."