The Big 12 championship matchup: No. 1-seeded Texas vs. the No. 3-seeded Kansas. A matchup that was hyped up be an exciting slugfest between a powerhouse team and a young underdog, vying for the Big 12 crown. And for the first time in the Big 12 era, the Jayhawks were crowned Big 12 champions on Sunday with a 4-2 victory over the Longhorns.
Beginning with doubles play, both teams delivered a statement from the get go, with neither team was going down without a fight.
The Jayhawks showed off their doubles dominance by jumping out to an early lead in all three of their matches against the Longhorns. First to finish was the tandem of freshman Malkia Ngounoue and junior Maria Toran Ribes after defeating Bojana Markovic and Petra Granic, 6-3.
The Jayhawks stopped any hope of a comeback in the doubles point after freshman Sonia Smagina and senior Anastasia Rychagova beat Fernanda Labrana and Tijana Spasojevic, 6-2, to clinch the doubles point.
In singles, the Longhorns showed why they were the No. 1-seed in the tournament, as sophomore Plobrung Plipuech quickly fell to Granic, 1-6, 3-6, tying the match at 1-1. The Jayhawks responded quickly as Smagina was victorious over Markovic, 6-4, 6-0, for the 2-1 lead.
"We just had to calm down a little," Kansas coach Todd Chapman said. "I think after the doubles point, we came out a little anxious, and we knew Texas was going to respond — they're the regular season champions for a reason. They won it last year for a reason too. We knew they were going to respond."
"And there was a moment where we just got away from what we were trying to do with our game plans on a couple courts," he continued. "And I think we settled in there and put it together."
The Jayhawks then threw the next punch as senior Nina Khmelnitckaia won her match against Labrana, 6-2, 6-4, to extend the lead to 3-1 with a chance to clinch the match and the championship. The Longhorns rallied as senior Janet Koch was dispatched soon after by Anna Turati, 2-6, 3-6, closing the gap to 3-2 and giving the Longhorns a fighting chance in the match.
It all came down to Toran Ribes and Rychagova on courts six and one, respectively. As the number one player for the team, all eyes were fixed on Rychagova's match vs. Bianca Turati, as both players gave it their all on the court.
Despite being the hero of the semifinal match versus Oklahoma State, Toran Ribes again went to work with little spotlight on her. After dropping her first set, she rallied back to force a third set; and after seeing her fight, all eyes turned to her match vs. Katie Poluta.
With the crowd behind her, Toran Ribes, once again, delivered for her team and won, 2-6, 6-3, 6-4, throwing her racquet into the air, screaming. The crowd erupted as the entire team mobbed Toran Ribes in celebration.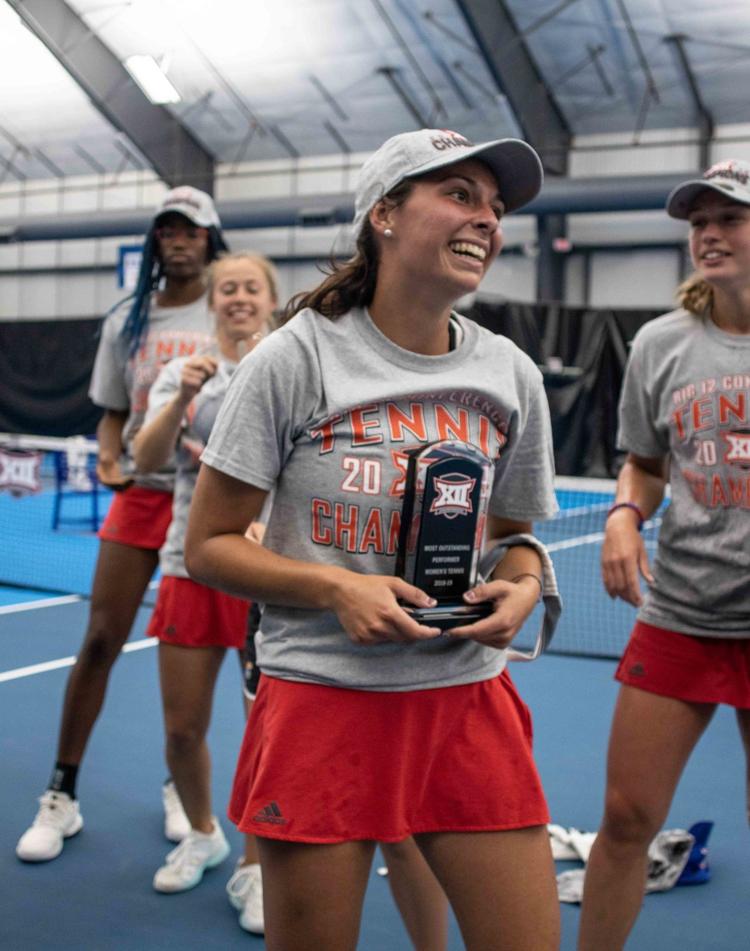 The building was electric as Chapman was doused in water and Kansas Athletic Director Jeff Long was leaping for joy. For her efforts, Toran Ribes was named the Most Outstanding Player for the tournament.
"It feels great," Toran Ribes said on being named Most Outstanding player. "But it's all thanks to my team. Us fighting next to each other, and all of us putting the effort in."
Chapman was elated to send his three seniors off with a Big 12 championship.
"It feels great, and the exciting thing is we have more tennis to play," Chapman said. "I told them that yesterday. We're not settling for just making it to the Big 12 championship, and we're not just settling for winning the Big 12 championship."
"We believe this team's built for more than that, and we've prepared for more than that," he continued. "I think now they see it, and they realize how good they can be and how good they are, and it's exciting for the moment."
Moving forward, the Jayhawks will prepare for the NCAA tennis tournament. The selection show for the tournament will take place on Monday, April 29.