The players and coaching staff of Kansas tennis sat down Monday afternoon at the Jayhawk Tennis Center to see where the Jayhawks would be ranked in the NCAA Tournament.
In their fourth straight year of making the NCAA tournament, the Jayhawks were not only announced as the No. 14 seed in the tournament, but will host the first and second rounds.
Kansas had to wait some time before its name was called as the announcers on television spent time announcing the higher seeds and delivering commentary over each of the teams. Most notably, Georgia was announced as the tournament's No. 1 seed. 
Along with Georgia, multiple powerhouse programs littered the top-10, such as Duke, North Carolina and Stanford. The Jayhawks have never entered the NCAA Tournament as a seeded team, but by virtue of winning the Big 12 conference and having a solid regular season record (19-4), they earned the No. 14 seed.
When asked how confident they are for the tournament, senior Anastasia Rychagova said all the attention is good for the team.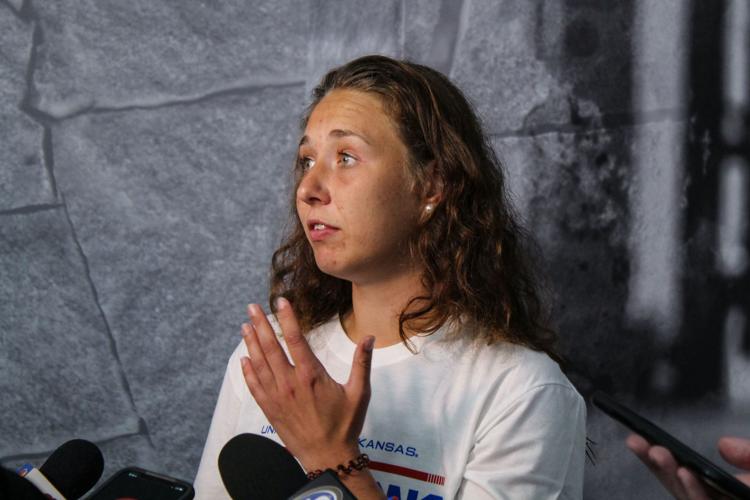 "I mean beating Texas, a top 10 team, for sure gives a lot of confidence," Rychagova said. "I remember when we were All-Americans for the first time and no one even knew what Kansas was and all of a sudden our senior year and everyone is coming to us like, 'Oh Kansas is a really big school,' and it gives us a lot of confidence, because people actually know us now."
By winning the Big 12 and earning the No. 14-seed, Kansas has also earned the right to host at least its first round match. The Jayhawks will begin the tournament by playing a familiar opponent, Denver. The Jayhawks beat Denver in the first round last year, 4-3, and now have the task of doing that again this year.
If the Jayhawks were to defeat Denver, they will take on the winner of Florida and Boston College, also at Rock Chalk Park.
First round matches for the NCAA tournament will begin Friday and will continue through Sunday.