Kansas tennis impressed in the 2018-19 season, winning the Big 12 Championship and reaching the Sweet 16 in the NCAA Tournament. The season ended abruptly however, after the Jayhawks fell to the eventual national champion Stanford Cardinal.
Kansas had three seniors on its roster, but those three seniors were arguably the team's top three players as all three seniors were ranked in their respective divisions.
The year-end ITA rankings had senior Anastasia Rychagova ranked 11th in singles play and seniors Janet Koch and Nina Khmelnitckaia ranked fifth in doubles play.
Finding replacements for the seniors was not an easy task for coach Todd Chapman, but recent events have pointed to him having a successful recruiting season.
Through two ITA summer events, incoming freshman Vasiliki Karvouni has gone undefeated in singles competition, taking two championships along the way.
Through the nine singles matches Karvouni has competed in this summer, she has not dropped more than three games in a set. In the second ITA event she competed in this summer, Karvouni dropped a total of five games and nearly shut out three different competitors.
Another addition to the 2019-20 roster will be incoming freshman Oleksandra (Sasha) Gorchanyuk, who won the 2018 Veneto ITF Championship.
"We feel very fortunate to have found Sasha when we did in the recruiting process," Chapman said in a Kansas Athletics press release. "Sasha is a really good athlete, has very sound technique, really enjoys the process of development and loves to compete. She is a player on the rise and one we really feel has her best tennis in front of her. We cannot wait to start the process of development with her."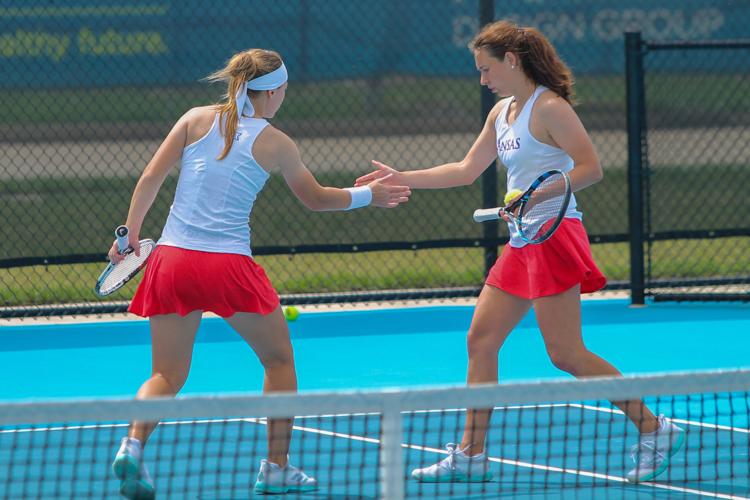 Kansas has young talent already on its roster as sophomores Julia Deming and Malkia Ngounoue won the doubles bracket in the second ITA event of the summer. The duo were runner-ups in the first event of the summer.
The additions of Karvouni and Gorchanyuk will help keep the Jayhawks competitive in the upcoming season. The young talent already on the roster will also keep Kansas from falling apart after its senior talent departed.
During its Sweet 16 appearance, the Jayhawks lost 4-3 to the eventual National Champion, thus the talent is there for Kansas to continue competing even without its seniors.
The Jayhawks also finished the season ranked No. 13 in the final ITA poll of the season, further proving they are capable of being a top team in the nation.
The turnover will be tough to overcome, but with the talent coming in for the next season, it seems Chapman made sure to find suitable replacements. Fall play will be the first time fans can see the potential of the Jayhawks, thus it will be an important time for Chapman to see where his team stands.
Regardless, the additions of Karvouni and Gorchanyuk will help Kansas keep its competitive nature and be a top team in the country like last season.