In a final push toward nationals, Kansas track and field secured seven entries for nationals at the NCAA West Preliminary in Sacramento, California over the weekend.
First, the streak continued for junior middle-distance runner Bryce Hoppel. Hoppel won his 16th straight individual race Thursday with a time of 1:50:34 in the 800-meter run.
Hoppel ran in the second heat, which overall had the worst times of all six heats. However, the heat ran with a pack mentality as every runner finished within two seconds of each other, with Hoppel at the front.
The real action, though, took place for Hoppel on Friday. In the final round, Hoppel was put to the test against names such as Texas A&M's Kenneth Dixon, who has the fastest 800-meter time in the NCAA this season, and USC's Isaiah Jewett, who has the fourth-fastest time in the NCAA.
Hoppel came around the final 100 meters and had some ground to make up on Dixon. But, Hoppel managed to catch Dixon in the back stretch, winning the race with a time of 1:46:09.
Hoppel was not the only victor over the weekend as junior hammer thrower Gleb Dudarev also claimed a victory. Dudarev cruised by his competition with a throw of 74.20 meters, nearly five meters further than his competition.
Dudarev was the highest ranked thrower in the West region (No. 3 in the NCAA). 
The other lone victor for Kansas came in the men's pole vault as freshman Zach Bradford tied with Sam Houston State's Clayton Fritsch at 5.36 meters.
Six other pole vaulters cleared 5.36 meters, including Baylor's KC Lightfoot and Texas A&M's Jacob Wooten, who are both tied with Fritsch for the fourth-best jump in the country.
In the men's 110-meter hurdles, freshman jumper Cordell Tinch snagged a qualifying time to the NCAA Championships. He took fifth in the event with a run of 13.70 seconds.
Tinch also competed in the long jump and high jump, but was unable to qualify for nationals in either event.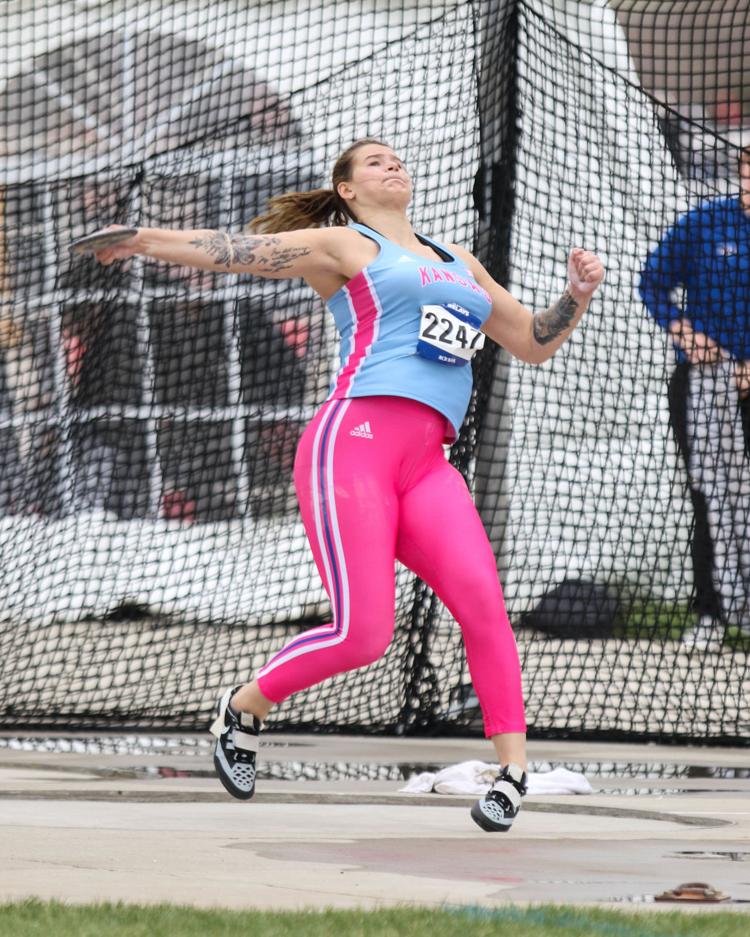 Some other qualifiers for the Jayhawks included freshman Treyvon Ferguson in the triple jump, sophomore Alexandra Emilianov in the discus and the women's 4x400-meter relay team (3:35.09).
Kansas track and field will close out its season June 5-8 when the Jayhawks travel to Austin, Texas to compete in the 2019 NCAA Outdoor Track and Field Championships.