Kansas volleyball was unable to send off its two seniors with a win on Senior Day, falling in five sets (18-25, 25-22, 21-25, 25-22, 8-15) to Oklahoma on Saturday to end the regular season at 15-12 and 8-8 in the Big 12.
Each frame was closely contested, as both the Jayhawks and Sooners largely played well. The difference, as has been the case many times this season, was simply execution.
"You fight that hard, get it to a fifth set and then – it's disappointing that you just don't execute and play better," Kansas coach Ray Bechard said. "Oklahoma's been on an uptick for the last month, been playing well. They were determined."
It's the fifth straight loss for Kansas, a muted end to what at one point looked to be a promising Big 12 season. Selection Sunday is just a day away, and while the Jayhawks certainly still could receive an at-large bid thanks to some impressive wins early, Bechard knows this stretch doesn't help their chances.
"Put ourselves in probably a difficult situation as far as postseason goes with not finishing a little bit stronger, but we'll see," Bechard said. " … but I think (a win) today certainly would've given us a lot more momentum in that regard."
But the focus after the match wasn't on the tournament, or the loss, or the losing streak.
Instead, it was on that pair of seniors playing in their final match inside Horejsi Family Athletics Center. And even though their careers may not be as illustrious on paper as others in recent memory, they still leave Kansas having made a significant mark.
Senior setter and hitter Gabby Simpson played just one season for the Jayhawks, but her impact on the program is bigger than that may suggest.
Simpson came to Kansas in 2017 after playing three years at Colorado. She's been nothing short of an anchor of the Jayhawk's offense since shedding her redshirt status, providing a versatile passing and attack option and physical presence up front.
And on a team that was as ever-evolving and ever-changing as this one, that was invaluable.
"She always stepped up and did whatever we needed her to do, and I'm proud of her for that," Bechard said.
While her stay in Lawrence may have been shorter than others, she'll forever hold her time wearing the crimson and blue close to her heart.
"Thank you guys for helping me be a Jayhawk the last two years," Simpson said to her coaches and teammates, fighting back tears.
Simpson's departure has been anticipated all season, but Kansas also said goodbye on Saturday to someone whose exit wasn't as foretold: redshirt junior hitter Patricia Montero.
Montero announced earlier this month her decision to medically retire after a string of knee injuries allowed her to play just one and a half of her four years with the Jayhawks. In the time she was able to see the floor, she contributed greatly, even leading the team in kills per set this season before going down.
Even though her career didn't go at all as planned, Montero still deeply cherishes her time as a Jayhawk.
"Thank you guys for making this the most special four years of my life," she said to the crowd through tears.
In the eyes of Bechard, Montero's career was the definition of "what could've been." He's seen her at her utmost highs and utmost lows, both on the floor and emotionally.
But the fact that she was able to battle back from those lows, no matter how many she was dealt, is what he will remember most about her.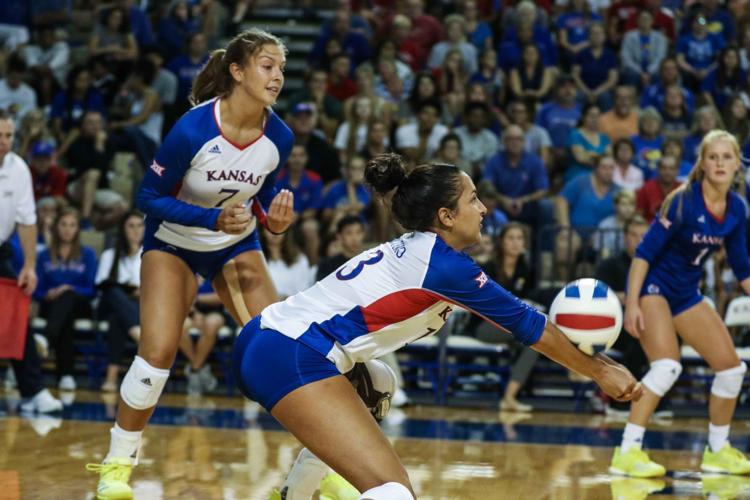 "We just didn't get to see enough of [Montero] over her career here," Bechard said. "She was a shining example of how you don't give up, and how you come back, and how you fight a little harder and how you do what you need to do."
So as the sun sets on Simpson and Montero's time as Jayhawks, it'd be easy for them to hang their heads. It's certainly disappointing to go out with a loss, to not reach the level of success they wanted, to ultimately come up short.
Kansan sports editor Braden Shaun names the athletes of the week in Kansas men's basketball junior center Udoka Azubuike and volleyball's senior setter Gabby Simpson.
But as their feet left the hardwood and crossed into their next chapter of life, wherever that may be, their coach knows they'll find their way, and that they'll never be forgotten.
"They're both going to move forward and be very successful," Bechard said.