Senior guard Devonte' Graham — 5 stars
With the departure of Frank Mason III to the NBA ranks, senior guard Devonte' Graham is positioned to become the leader of the Kansas backcourt this season.
Graham, who was named to the All-Big 12 Second Team last season, started in all 36 games and averaged 13.4 points and 4.1 assists in 2016-17, both career highs.
Even with an expected increased workload, Graham should continue his efficient shooting. The 6-foot-2 guard made a career-high 94 three-pointers and shot 38 percent from behind the arc last season.
In his final season at Kansas, Graham will enter the year 45th on the Kansas all-time scoring list (1,075 points), seventh in three-point field goals made (186) and eighth in three-point field goals attempted (452).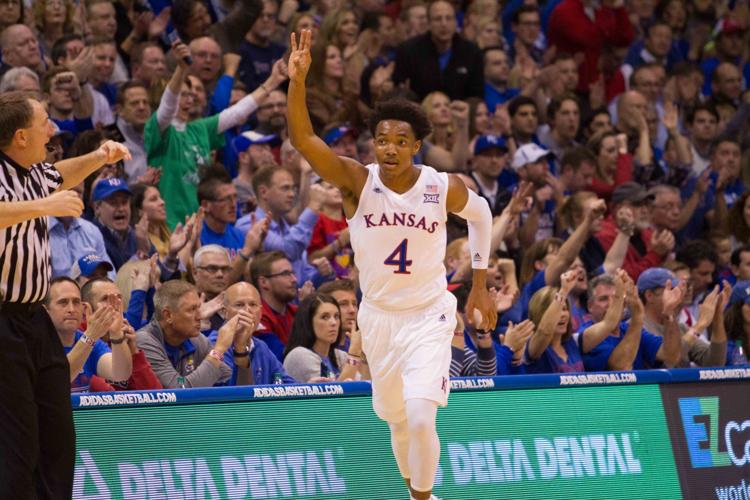 Expect Graham to build upon that production at the point guard position for the Jayhawks this season. 
Redshirt-sophomore Malik Newman — 4 stars
After sitting out last season due to NCAA transfer rules, redshirt-sophomore Malik Newman will make his long-awaited debut for the Jayhawks.
The 6-foot-3 Newman, a transfer from Mississippi State, averaged 11.3 points during his freshman season at the school, which was fourth on the team. Now, Newman, No. 8 in the 2015 class according to 247 Sports, will join Graham in a revamped Kansas backcourt.
Although it was against a lower level of competition, Newman showed his ability to score at a high volume during the Jayhawks' trip to Italy this summer when he posted a trip-high 32 points against the Italy All-Stars on Aug. 6.
Senior guard Sviatoslav Mykhailiuk — 3 stars
Senior guard Sviatoslav Mykhailiuk toyed with the idea of declaring for the 2017 NBA Draft this summer, but he ultimately chose to return to Kansas for his senior season. He'll return noticeably thinner, as the 6-foot-8 Ukrainian dropped 20 pounds—from 227 to 207—over the summer to better suit his playing style.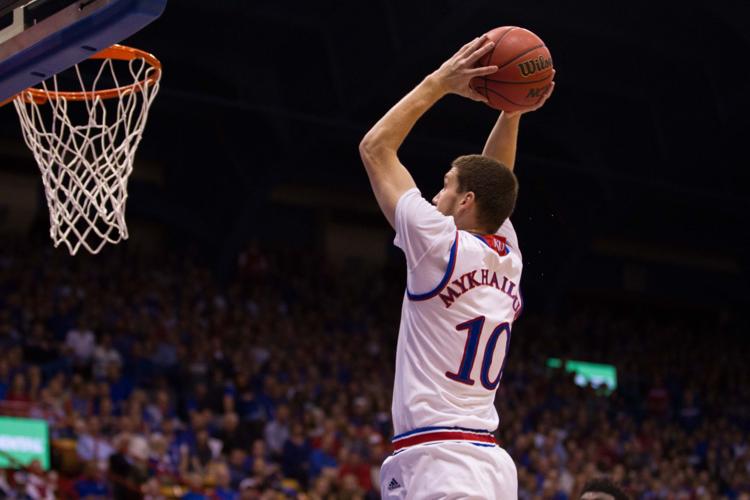 Mykhailiuk, known as a sharpshooter, made a career-high 70 three-pointers and shot 39 percent from three-point range last season, along with a career-high 9.8 points per game.
After starting in 25 of a possible 36 games last season, expect Mykhailiuk to secure a permanent starting position in 2017-18.  
Freshman forward Billy Preston — 4 stars
Freshman forward Billy Preston is expected to be a starter in his first year as a Jayhawk. Kansas has been used to depth at the guard position for the past couple of years, but the addition of Preston puts the Jayhawks frontcourt in a great spot, too.
Alongside sophomore center Udoka Azubuike, Preston will get opportunities to score the ball and facilitate in the paint. His size and length make him a unique fit for the four-spot. Preston is the Jayhawks' highest ranked freshman in the 2017 class at No. 8 according to 247 Sports.
Preston will also get the opportunity to be in small-ball lineups this year, as he will likely share the court at times with four guards in Graham, Mykhailiuk, Newman and junior guard Lagerald Vick.
Sophomore center Udoka Azubuike — 3 stars
Not getting significant play time in 2016-17 due to an injury may have made sophomore center Udoka Azubuike a better player for 2017-18. He has seen what coach Bill Self's system is like now and will be able to play with a guard-heavy lineup often.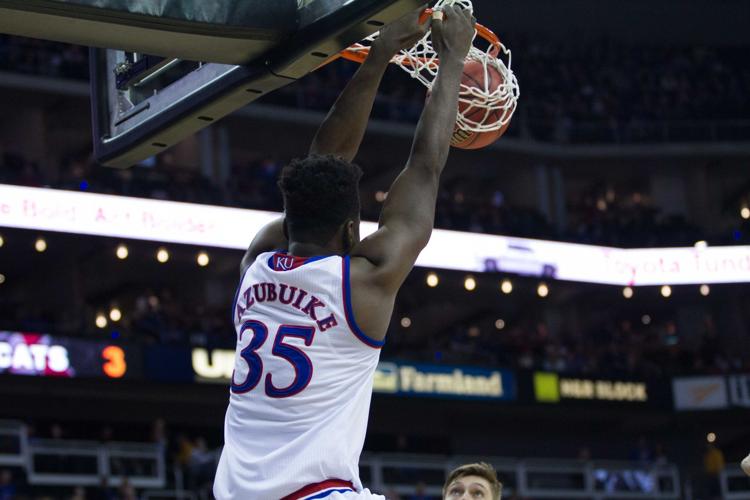 Azubuike only played 11 games last year, but in that time he was able to get a 12-rebound game and a 17-point game playing limited minutes. Azubuike could end up playing a similar role to what former senior forward Landen Lucas did last year. A lot of the rebounding will be expected from him and Preston.
Azubuike and Preston both have the size and athleticism to control the boards for Self and the Jayhawks.
What to watch for: The four-guard offense
Graham, Mykhailiuk and Newman will headline the starting lineup in the backcourt. Self has been working with these guards for several years now and their development will come together in the 2017-18 season.
2016's season saw a herculean effort from former senior guard and National Player of the Year Frank Mason III dominate the competition in an offense built around guard play.
Expect to see that same offense utilized by Self again, and with guards junior Lagerald Vick, freshman Marcus Garrett and sophomore K.J. Lawson coming off the bench.
This team has more depth than it had in the past couple seasons, and that may be what takes them to their 14th straight Big 12 title.
—Edited by Brianna Childers