Kansas softball was unable to avoid a series sweep on Senior Day, falling 4-2 to No. 11 Texas on Sunday.
In what was her final appearance as a Jayhawk at home, senior Brynn Minor earned the start in the circle and pitched well outside of one bad inning.
Minor began the day with scoreless frames in the first and second, but was unable to avoid the big inning in the third.
The inning began with a single and a double to plate the first run. Three straight singles, along with a passed ball, plated the next three runs and Texas took a 4-0 lead.
Minor settled down and allowed only one hit, and only three baserunners total, the rest of the way.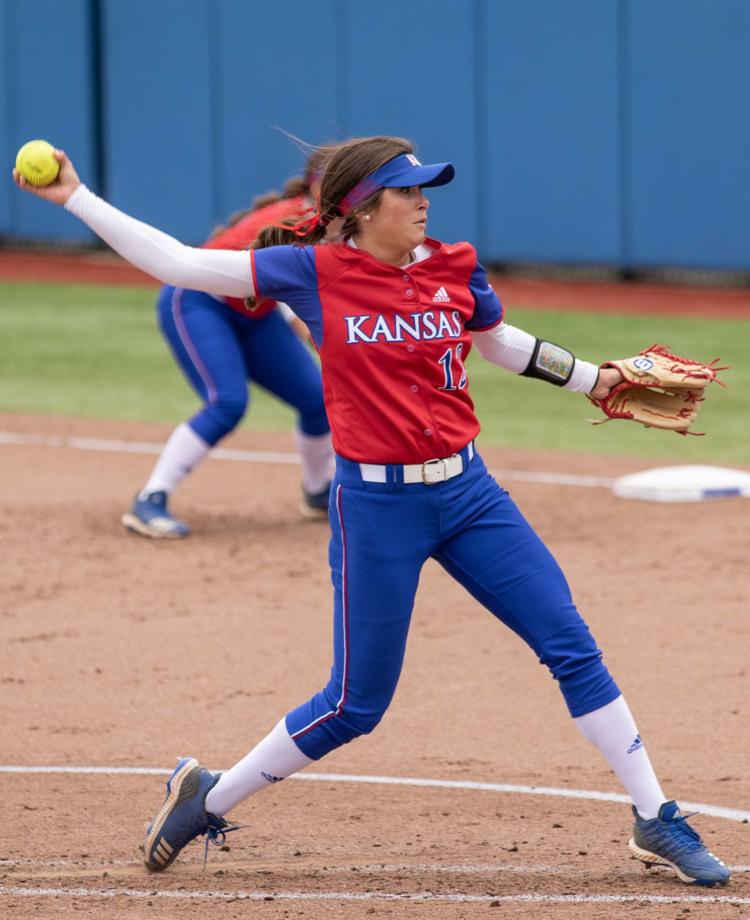 In her final start at home, Minor went seven innings, allowing four runs on seven hits. She walked two and struck-out one.
Offensively, Kansas had its opportunities but was not able to capitalize.
The Jayhawks had a chance in the third when senior outfielder Emily Bermel and redshirt freshman infielder Sydnee Ramsey gave Kansas two on with one out, but the Jayhawks were unable to score in the inning.
Kansas finally broke through in the seventh inning as a leadoff double by junior infielder Madison Sykes was followed up by a pinch hit single by sophomore pitcher/utility Tarin Travieso drove her in to give Kansas its first run.
Ramsey gave Kansas some more life as she hit an RBI single up the middle to cut the lead to 4-2 and get the go ahead run to the plate in the form of sophomore outfielder Brittany Jackson.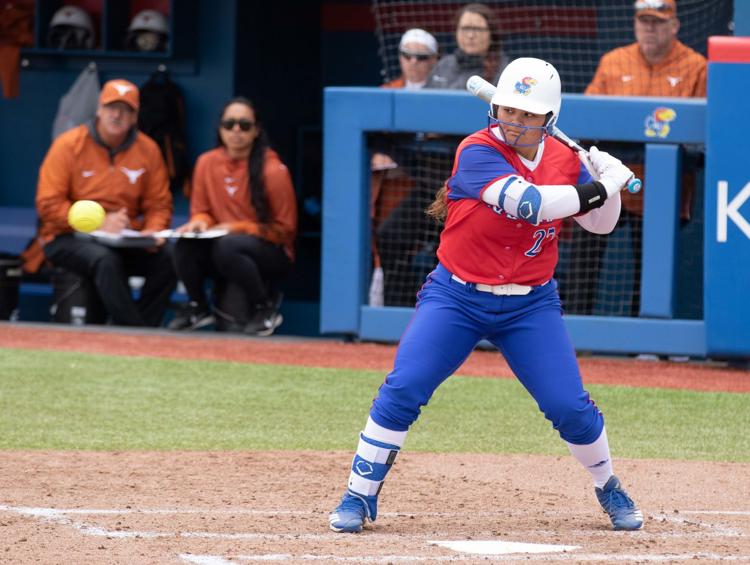 Jackson hit a sharp chopper to the pitcher but was unable to beat it out, and the rally fell short.
In the final games at Arrocha Ballpark, Bermel went 1-for-3 and senior outfielder Jennifer Marwitz went 2-for-3 with a run scored.
After the game, Bermel reflected on her last home game as a Jayhawk.
"It was cool. Luckily, our season isn't over today too so it wasn't as sad as it could've been," Bermel said. "It's just bittersweet and it's pretty surreal, it's been a long time coming. It's cool to have been here for awhile and watch other people play on this field and then now finally I got to do it for my last game."
Bermel had an opportunity to tie the game coming to bat with two on in the seventh and down three, but she was unable to put the ball in play and struck out.
Bermel still felt like she had a good at bat however.
"If you can stay on it then you can hopefully get a hit off of [Elish] and I got one earlier in the game so I was hoping it would turn out the same way and I think I had a good at bat and it didn't turn out the way I hoped but it was still fun," Bermel said. 
Kansas will hit the road for their final three games of the regular season as it takes on Iowa State in Ames, Iowa. First pitch is scheduled for 4 p.m. on Friday evening.