Marlene Mawson knew it wouldn't be easy to bring the 1971 national volleyball tournament to Kansas. With a budget that was less than one half of 1 percent of what the men's athletic program had, she knew everything had to run perfectly.
Before finalizing the request, she reached out to staff members at Allen Fieldhouse, hoping the tournament could be hosted there. She recalled the answer as short and dismissive.
"We can't schedule that here, period," Mawson said. "We don't have to negotiate with you."
Four decades later, Mawson walked across Naismith Court in the building that once marked forbidden ground for female athletes. Standing at center court, she was inducted into the Kansas Athletics Hall of Fame.
She smiled as she recalled the memory.
"We did it," she said.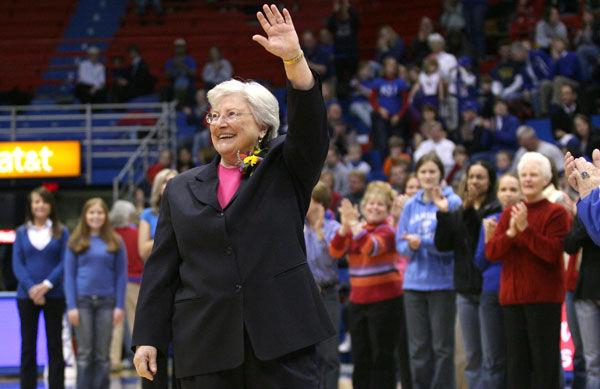 It had all come full circle for Mawson, yet the path was never easy.
The "Mother of KU Women's Athletics" was nothing of the sort when she accepted an unknown, undefined job as a 28-year-old in 1968.
Armed with a $2,000 budget and what she viewed as a clear message that there would be no additional support, Mawson set out to establish a women's athletics program in a time when gender equity wasn't considered a pressing issue.
Those priorities were reflected in the budget.
"When I got to KU, it was sort of like, 'Wow, we got $2,000. That's a lot of money,'" Mawson said. "I didn't realize the men had [$541,000]."
But she made do.
In 1971, with the door to Allen Fieldhouse shut, Mawson finalized the proposal for the tournament; the venue became the smaller Robinson Gymnasium.
Mawson's proposal won out. Kansas became the host site.
Faced with adversity, Mawson persevered. She came into her position knowing there were going to be challenges, but she had goals she wanted to accomplish, and she continued to push for them regardless of what was happening around her.
And according to Mawson, it all went back to the feelings she had as an athlete. She said she loved competition and felt others should have the same opportunities that she had.
"I was trying to find any route to do what we possibly could do," Mawson said. "Of course it wasn't full fledged like the men's, but it was something. And it grew and grew."
A competitor, a coach and a teacher
A self-described competitor, Mawson holds her athletic achievements in high regard. She was a multi-sport athlete in high school, which carried over into college.
At the University of Central Missouri, Mawson played softball, basketball and volleyball. She continued to play basketball and volleyball while she attended graduate school at the University of Colorado and coached at the high school level.
However, for Mawson, that competitive spirit wasn't something left only for games.
"I think that applies to my entire life," she said. "I was always looking for that next edge. What else can we do?"
For that, even at the age of 75 Mawson has adopted a unique mantra. She drew a comparison to golf, saying it's not about trying to get the best score in any given group of people. Instead, there's another focus.
"Even when it's not against somebody else, it's my own competition to see if I can match my score or better it," Mawson said. "It's my nature."
As a coach, it only seemed logical that her philosophies would be the same: focus on yourself and focus on the details, and good things will come.
A big emphasis for her was on the little things, helping athletes improve even without the widespread competition that would be seen in today's game.
However, that didn't mean her coaching style was authoritarian.
Joan Wells, who played volleyball and softball for Mawson from 1968-71, credited Mawson as a coach in a couple of different ways.
She said Mawson was clearly intelligent when it came to the actual games, but that wasn't her only distinguishing characteristic.
"A lot of people wouldn't step up and be active in professional organizations," Wells said. "She did."
The '60s and '70s marked a different era for coaches. During games, Mawson wasn't allowed to stand up off the bench and call out to players. The only real "coaching" occurred in practices and during timeouts.
However, Mawson still embraced the role as a teacher. She wanted to win, but she also wanted to make sure things were being done the right way.
"The thing I remember most about her was she was very professional," Wells said.
The professionalism spurned from another idea that Mawson carried throughout her career. For Mawson, being able to compete was a thrill. It was special. It meant something.
When she got to the college level and realized that feeling wasn't universal, it laid the building blocks for her future. She said she believed everyone deserved that feeling of competition, which is something she preached then and continues to with current athletes.
"Their grandmothers did not get to play; their mothers may not have even gotten to play," Mawson said. "This is not something they should take for granted."
The challenges
In Mawson's first year at the University, she met with representatives from other schools to create a rotation of games for various women's sports.
Before long, a constitution had been established. The meeting became recurring and those attending the meeting became official representatives of their Universities.
"Every year we met to [make] a schedule. And every year the schedule got a little bit fuller," Mawson said.
The progress was there, but it was still slow moving before Title IX was signed into action in 1972.
In 1971, Mawson's women's basketball team travelled to Cullowhee, N.C., for what eventually became the NCAA women's tournament.
That same year the men's basketball team reached the Final Four in Houston. It took planes and stayed in hotels, according to Mawson. The women didn't have that luxury.
Instead, the team rode in station wagons, rotating drivers and passengers, who slept on air mattresses in the back. When they finally arrived at the Western Carolina University host site, they pulled mattresses off bunk beds and slept in a lounge on the second floor of a dorm.
It was a different time. In the pre-Title IX days, colleges didn't have to strive for equity. There was no legal basis holding them accountable, something that is obviously different today.
"Dr. Mawson clearly did some groundbreaking work," said Debbie Van Saun, Kansas associate athletics director and senior woman administrator. "We are a long ways from [1968]. Our men and women eat the same; they travel the same."
From the start, Mawson said she realized that she was going to be alone. It wasn't so much that a portion of the staff was actively trying to suppress what she was doing, but that didn't mean they were offering help either.
When the team wanted to go on trips, it was up to players to volunteer cars and pay for gas — they were reimbursed $0.05 per mile.
Even on the trip to Cullowhee, N.C. — in which the team had help from Emily Taylor, dean of women, in securing two leased station wagons — the team still needed drivers for the 20-hour trip.
"I was a senior, and I didn't play basketball, but I was 21," Wells said. "So she asked me to go on the trip and drive."
It was the same way for most trips, but it was the reality of the situation. Mawson wasn't getting any handouts from the administration.
The name "Kansas" was stitched across their jerseys, but in many ways, it could be argued they were their own entity. Certainly Mawson said she felt that way from the start.
"Who was going to help me?" Mawson said. "We had 14 faculty members; 10 of them were men who couldn't have cared less."
But there was never really one moment where it stopped. Each day presented a unique challenge. And it wasn't just for Mawson.
Even after Title IX was implemented, those associated with women's athletics at the University faced the challenges day after day.
But that was the challenge Mawson accepted. Even though it wasn't easy, she said it was important to do. And throughout her 22 years with the University, she continued to fight what she believed was — and is — a crucial fight.
Keeping in touch
Mawson officially retired from coaching in 1975. She left the University in 1990. Still, you'd be hard pressed to find someone within KU Athletics who hasn't heard her name.
And today, she continues to promote women's sports by speaking with players, coaches and administrators. She's perhaps most present in volleyball, where she can be seen in the crowd at home games.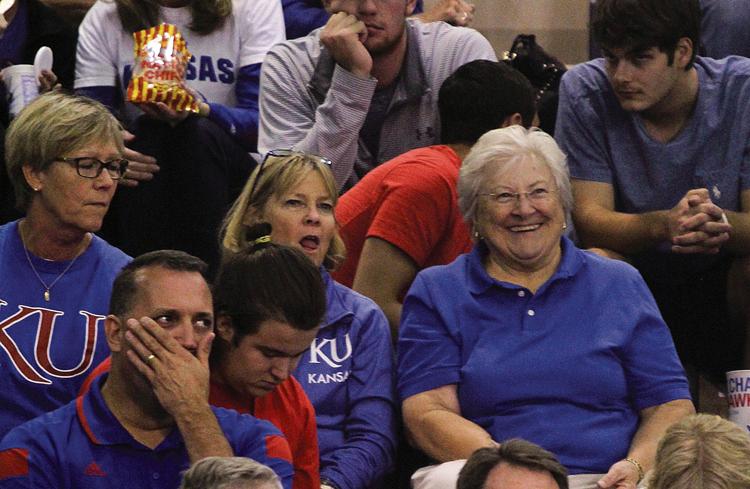 Kansas volleyball coach Ray Bechard said she's always welcome whenever she wants to stop by, whether it's at games or behind the scenes.
"I introduced her to the team, and they quickly figured out that obviously we have things a little bit better than what they did back then," Bechard said.
One thing that has changed is the venues. Whereas in 1968, the women's athletics programs were relegated to a lesser facility, things are different.
Mawson described her first time visiting Rock Chalk Park — a $39 million facility that will eventually house five sports, four of which are women's. As she walked onto the concourse, she felt a sense of pride for what had happened over the last five decades.
Today, the focus on the athletics staff is on equity, which sends a very clear message to the athletes, according to Van Saun.
"When you know you're important and you see things being built for you [...] that goes a long way," Van Saun said.
Still, the job is not done. In 2016, things are not perfect. Total gender equality in sports has yet to be reached.
This year, the budget for men's athletics at Kansas is just over $37 million, with more than $32 million coming from the "revenue sports," football and men's basketball. On the other side, the budget for women's athletics is $15 million.
However, the 2.5-to-1 ratio between the men's and women's athletics budgets varies sharply from the 270.5-to-1 ratio that existed in 1968.
Furthermore, the smallest budget for an individual women's sport is golf, which still receives upwards of 300 times what Mawson had for all six sports in her first season.
But for Mawson, this is a issue larger than budgets and facilities. Similar to her coaching philosophy, it's about doing things the right way.
Mawson said she has spoken with Kansas' Athletics Director Sheahon Zenger about moves that affect women's sports, most recently expressing her concerns with the hiring of the current women's basketball coach.
She's certainly not shy with her beliefs.
Off campus and online, the Lawrence Journal-World has published three letters to the editor from Mawson, all advocating for expanded coverage of women's sports.
 "Even though the media is not held legally to Title IX compliance, it is time for the J-W to equitably report the competitive coverage for all of the sports teams at KU," Mawson said in a letter to the editor on Dec. 13, 2013.
Women's athletics have progressed far from where they were in the 1960s. The journey may not be complete, but Mawson said things are still moving in the right direction, even if the progress is slower than it was decades ago. 
And looking at Kansas, it can be argued that the change in culture occurred because Mawson was brought in as the right person at the right time to lead the charge. 
When she came on campus, she was far from as established as she is today. Yet she persevered and left an impact that remains nearly five decades later. 
"I was 28 when I came to KU. You think about a 28-year-old now and you think, 'Oh they can't do that,'" Mawson said. "But nobody ever told me I couldn't."
— Edited by Mackenzie Walker